The End of the World in Flagstaff is a really incredible spot to sight see, camp, and enjoy some unique views looking down on Sedona!
This area is formally named East Pocket, but is known as the End of the World for the canyon it overlooks, and the sheer drop offs on the rim. This would be a great spot to hang out for the day to sight see, but its most spectacular as an overnight trip! The sunset and sunrise overlooking Sedona is truly hard to beat!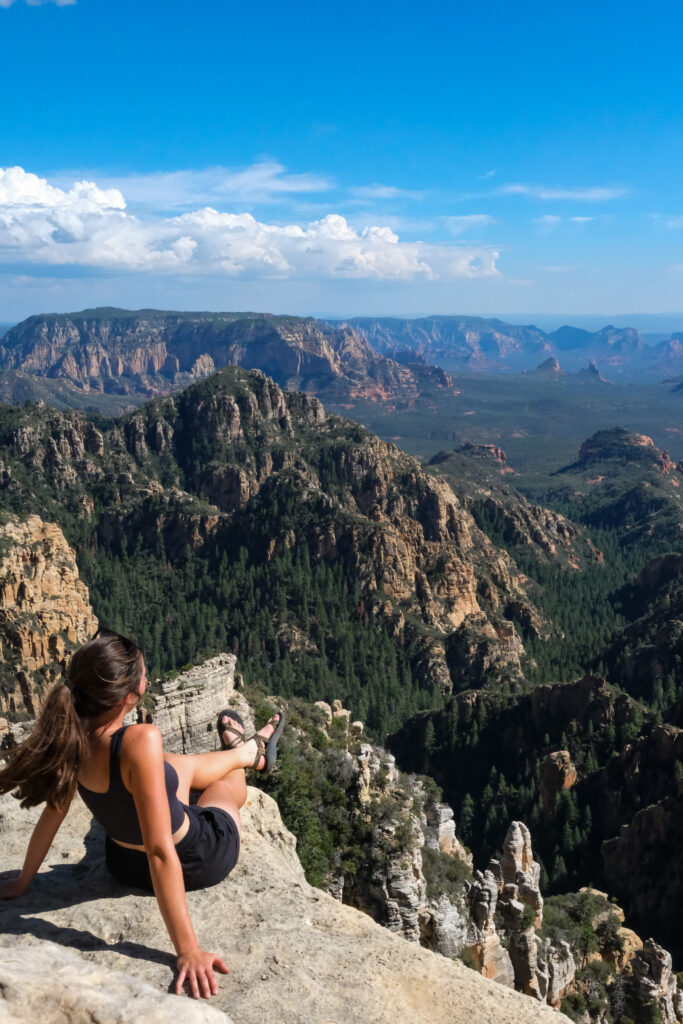 Getting There
To get to this spot from Flagstaff, take Historic Route 66 west out of Flagstaff, and turn left on Woody Mountain Road. This road will turn to dirt, and you will follow it for about 23 miles. Stay on this road until you see the break in the trees on your right, and you'll make a right hand turn towards the opening. You'll immediately see camping locations and Jenga Rock (in the cover photo) when you get to the rim.
There are a few potholes in the dirt road on the way up, and lots of braking bumps. However, most cars should be just fine getting here (high clearance would be best)! We read somewhere that 4×4 was recommended, however we are positive that 4×4 is not necessary in dry conditions. We would recommend checking weather conditions, as rain or snow could change the road conditions drastically.
Camping Here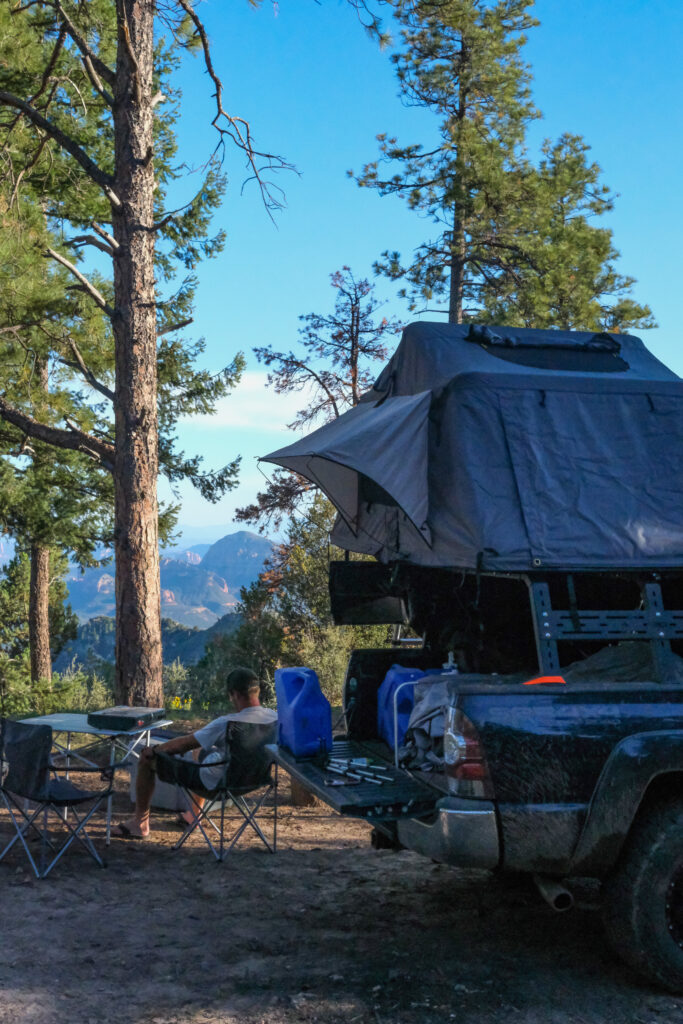 This area is part of Coconino National Forest, and camping here is free! There are no services, water, camp hosts, bathrooms, or trash cans, as this is all dispersed camping. You must pack everything you need in, and pack it all back out, and be prepared to take care of "business" responsibly! Camping on National Forest land is allowed as long as you remain on hard surfaces/already formed campsites. There are a number of sites close to the rim at this first location, as well as multiple other dirt roads just past this spot with more sites open. If you can't find any sites on the rim, you can camp on the road up as well! You will pass numerous sites along the way!
This area is pretty popular, and if you want a campsite along the rim (especially on a weekend), we recommend showing up early! We scored a great campsite with stellar views a couple dirt roads down from Jenga Rock later in the afternoon, but saw many other cars searching for sites not long after we found ours.
Please Leave No Trace, and even better, leave this spot better than you found it! With it being such a popular area, its easy for the land to get thrashed, and common for trash to be left behind. If you see some at your campsite, it goes a long way to pick it up and bring it home with you! We want this area to stay free and beautiful for everyone to visit!
Why We Loved The End of the World
This was such a cool weekend camping trip! We found a spot that was super quiet, and our tent view overlooked Sedona! Watching the sunset and sunrise over Sedona was truly incredible. We brought our Smittybilt Gen 2 rooftop tent, and were able to find a level spot very easily! The red rocks glow at those times of the day, and its a perspective on our current home we had never seen before!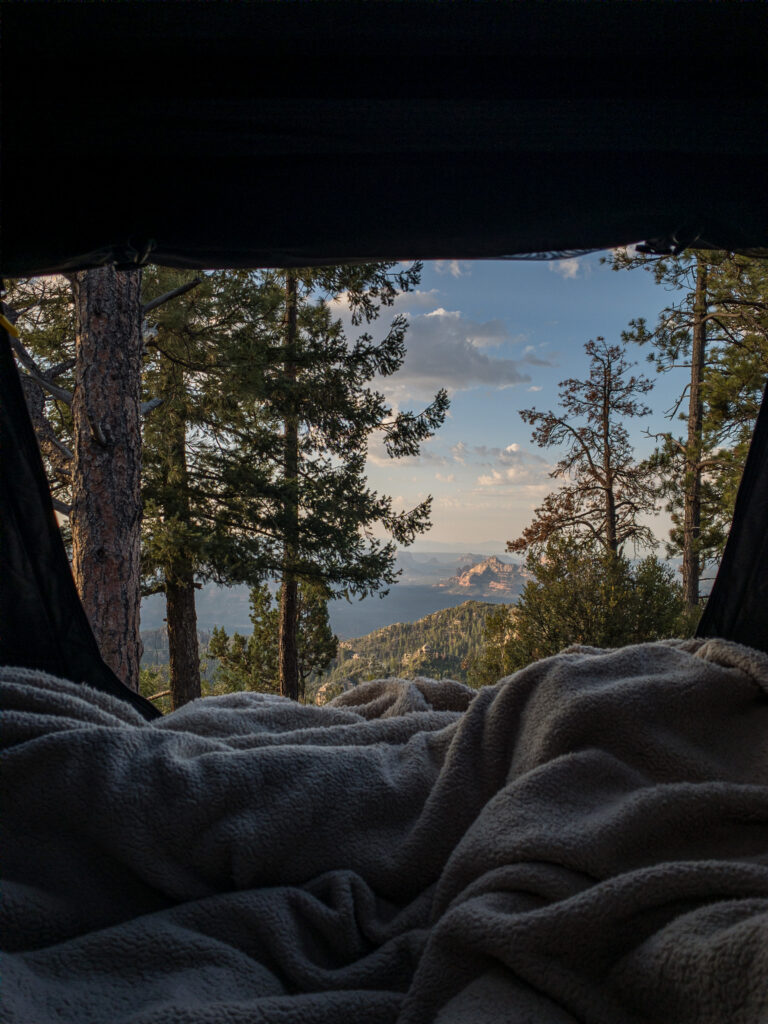 Jenga rock was really awesome to climb around on, and those who love heights would love being on the edge on the other side! There is a ton of exposure underneath your feet, and the rock formations are absolutely stunning. Be careful over on the rocks! It can get super dangerous very quickly between getting out there, and climbing around on the rocks. This is not for the faint of heart!
A Few Extra Things to Note
There were a lot of mosquitos when we visited! This was in September, bring bug spray!
Fires are allowed provided there isn't a fire ban in the forests.
There is also a fire lookout we would love to visit next time!
The 23 miles on the dirt road can take quite a while! Be patient, it will be worth it!
There are a lot of people/cars/offroaders/dirtbikers/quads on this road! Please drive carefully!
Check out a few more photos from our trip!