Our favorite adventure we've had was our climb up the north ridge of Mount Conness in Tuolumne this past June. This was our first alpine climbing trip, and not going to lie, the hardest adventure we have ever been on. Originally, Zoe's dad, Tim, was going to take us up Mount Shasta and teach us the basics of mountaineering. We bought some new gear, read up on mountaineering techniques, practiced on Mount Whitney a month before, and were feeling really stoked for this new outdoor sport.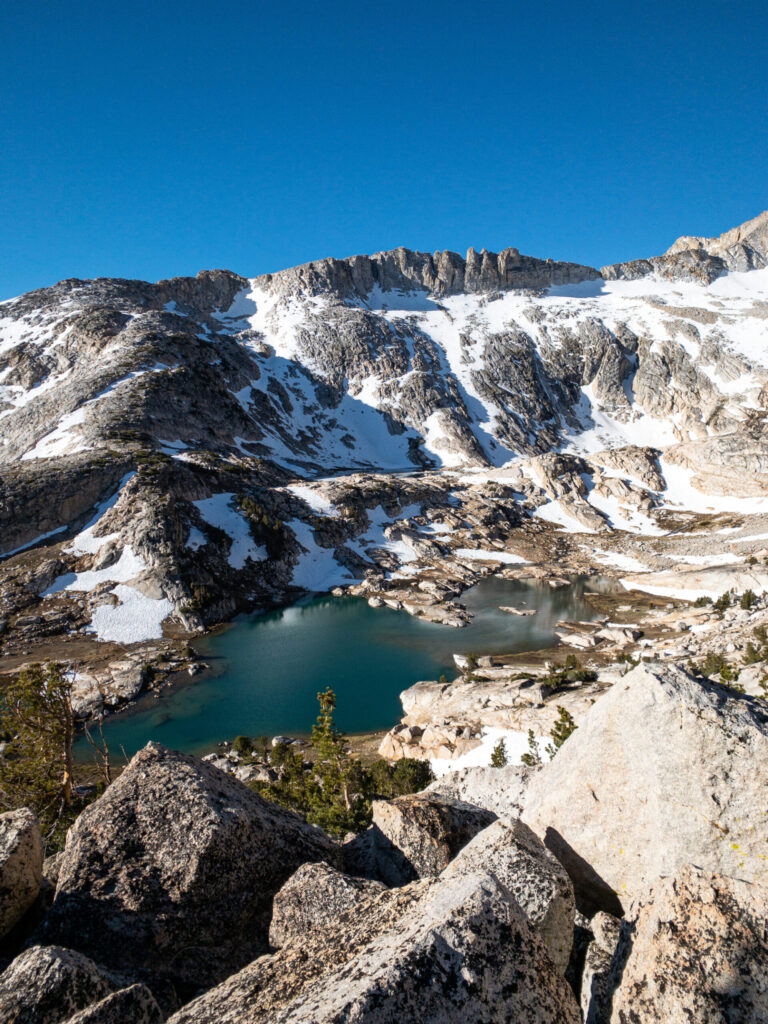 We drove 14 hours to Shasta from Arizona, and after a long drive on the dirt road to the trailhead, we really needed to stretch our legs. We decided to hike up the trail a couple miles to get our blood flowing, and see the part of the trail we would be doing in the dark on our alpine start the following morning. We hiked up about 2.5 miles, and decided we were feeling good and would head back to camp to pack our backpacks and cook some dinner. Not 2 minutes after we turned around, snow started to fall. As we made our way back down, it snowed so much that the trail was completely covered. After a few hours of contemplating, and inches piling up, we ended up deciding the mountain was telling us that it wasn't our time. Bummed, and absolutely soaked, we packed up and drove back to the highway. Little did we know, a new adventure was waiting.

Tim had climbed the north ridge of Mount Conness back in his 20's and suggested it as our backup. We drove south the following morning to Lee Vining, set up camp, and talked about the new route as we ate dinner.

We woke up from our dispersed camping site at 4:00 AM, and drove to the trailhead at Saddlebag Lake. Just as we started the hike to the route, the alpenglow was making its way over the tops of the mountains. The hike to the base of the north ridge follows saddlebag lake, and then through some incredible meadows with waterfalls and sharp peaks behind them. We were in awe as the sun came over the ridge and the grasses were glowing. We hiked a few miles, before the trail got steep as we crested over the first ridge.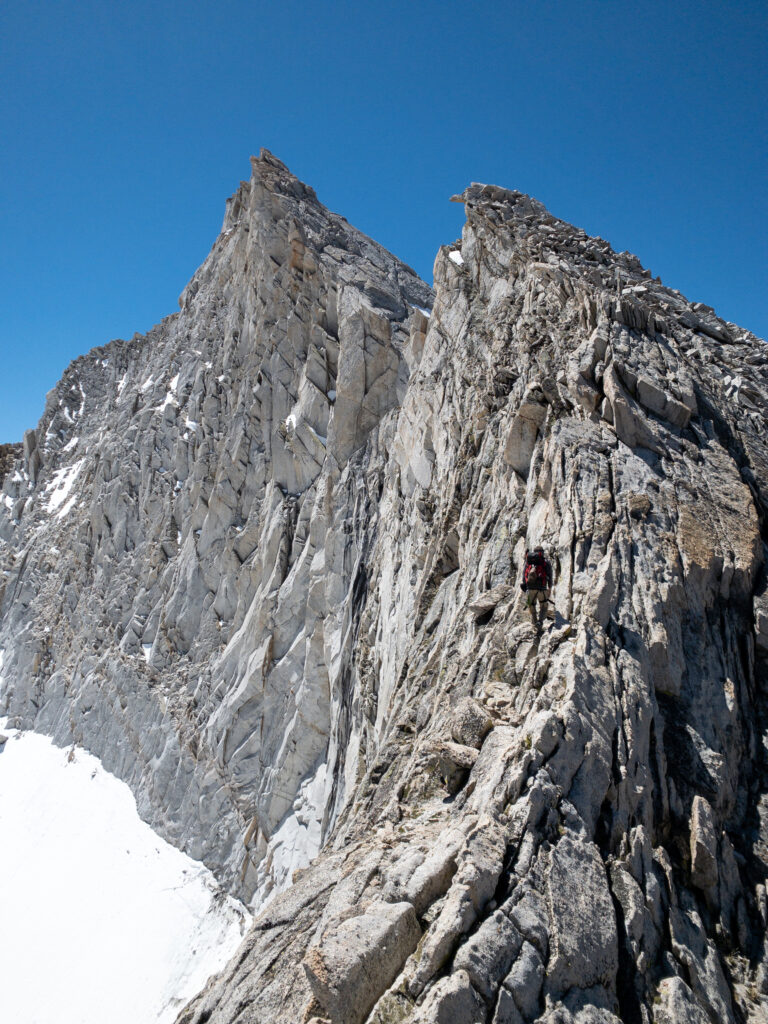 We finally saw the peak of Mount Conness. Mount Conness stands at 12,590 feet and has this incredible sharp ridge line (the north ridge) with much of it overhanging thousands of feet of air. We had seen photos of people on the ridge, and we were finally there. We put our harnesses on, but didn't rope up for the beginning. The start of the ascent is 3rd class scrambling with a lot of exposure. The climbing was super fun and exciting. As we ascended, the climbing turned into class 4+ with 2 rappels. Time started ticking away between us finding the best routes, finding the rappel anchors, and learning how to climb with this much exposure. We had never done anything like this before, and we were having a great time. After the second rappel, the climbing turns into easy class 5, with a few possible 5.6 moves. The exposure was something we had never experienced. We are used to climbing 50-70 foot walls at our local crags, not looking down to thousands of feet of granite below us.

We roped up and started simul-climbing (also new to us). At this point, it was about the time we hoped we would be at the summit (1 pm), and we had a long ways to go. We made our way up the ridge, with lots of bomb proof holds, and huge cracks for our feet. We were feeling good, but the sun was telling us that the day was fading quickly. Bailing out on this route was nearly impossible, and would require really difficult down climbing, or rappelling and using every last piece of gear we had to make it to the bottom (maybe). The summit became all we could think about. Self-care (food, water, rest) went out the window, and we just needed to get to the top. The hardest part was, we couldn't see the top. We had absolutely no clue how close or far we were, and we just had to keep going.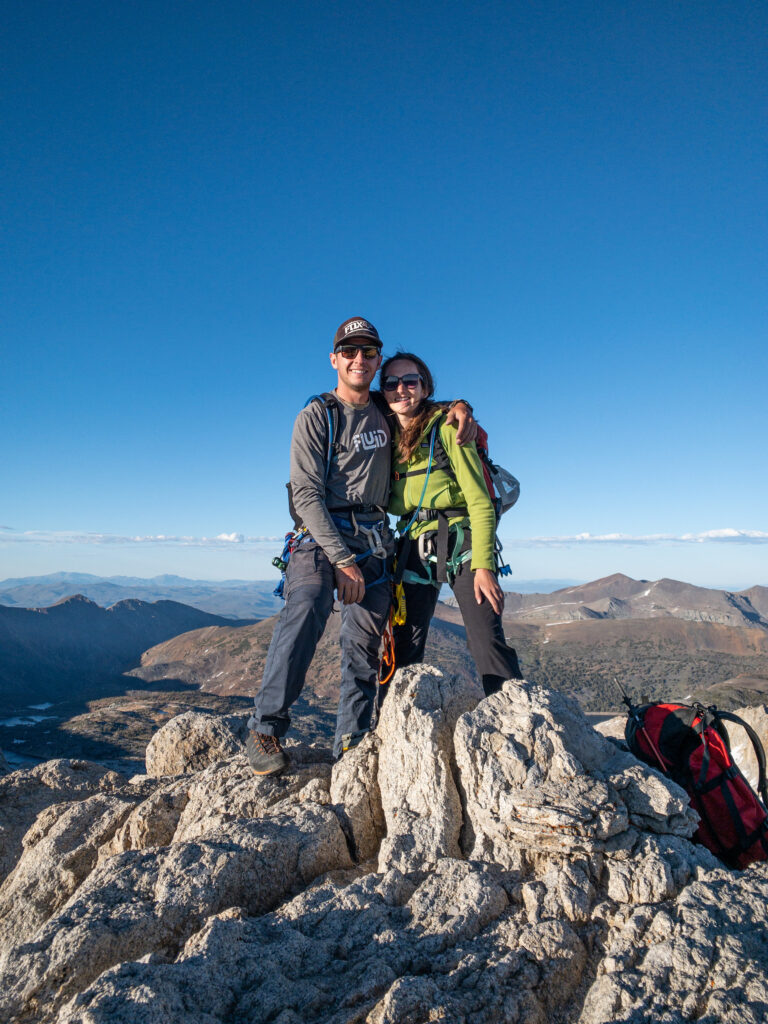 After hours and hours of climbing, we finally made it. That was the best feeling any of us have ever felt. So much hard work, and confusion (and a little fear), and we finally made it… at 6 pm. We took a summit photo and started on the descent. We were loosing light quickly, and had to make it down a poorly marked trail on the other side. We had about 8 miles back to the car, and were absolutely exhausted. Our bodies kicked into gear and we were ready to keep going. We hiked in the dark until 1 AM when we finally made it back to the car at the trailhead. We laid out a tarp and slept in the parking lot, because there was no way any of us could drive safely.

This trip is when we truly learned the meaning (and feeling) of type 2 fun. We went through every emotion possible on this trip: excitement, happiness, stoke, exhaustion, confusion, and uncertainty. Yet all we look back and remember is the incredible view, the rocks we sat on overhanging thousands of feet, and the feeling of accomplishment at the top. Don't get me wrong though, we learned a ton about safety, preparedness, and how to not let the time get away from us like that again. We can't wait to do more alpine climbing, get stronger, and feel even more confident with tons of exposure. This was, by far, our favorite adventure. 
Check out some more photos from this adventure!