It's finally backpacking season again! Do you have all of the gear you need to get out there? We'll cover our new and improved backpacking checklist for this season, with all of our favorite gear, clothing, and things that are often forgotten for your next backpacking trip!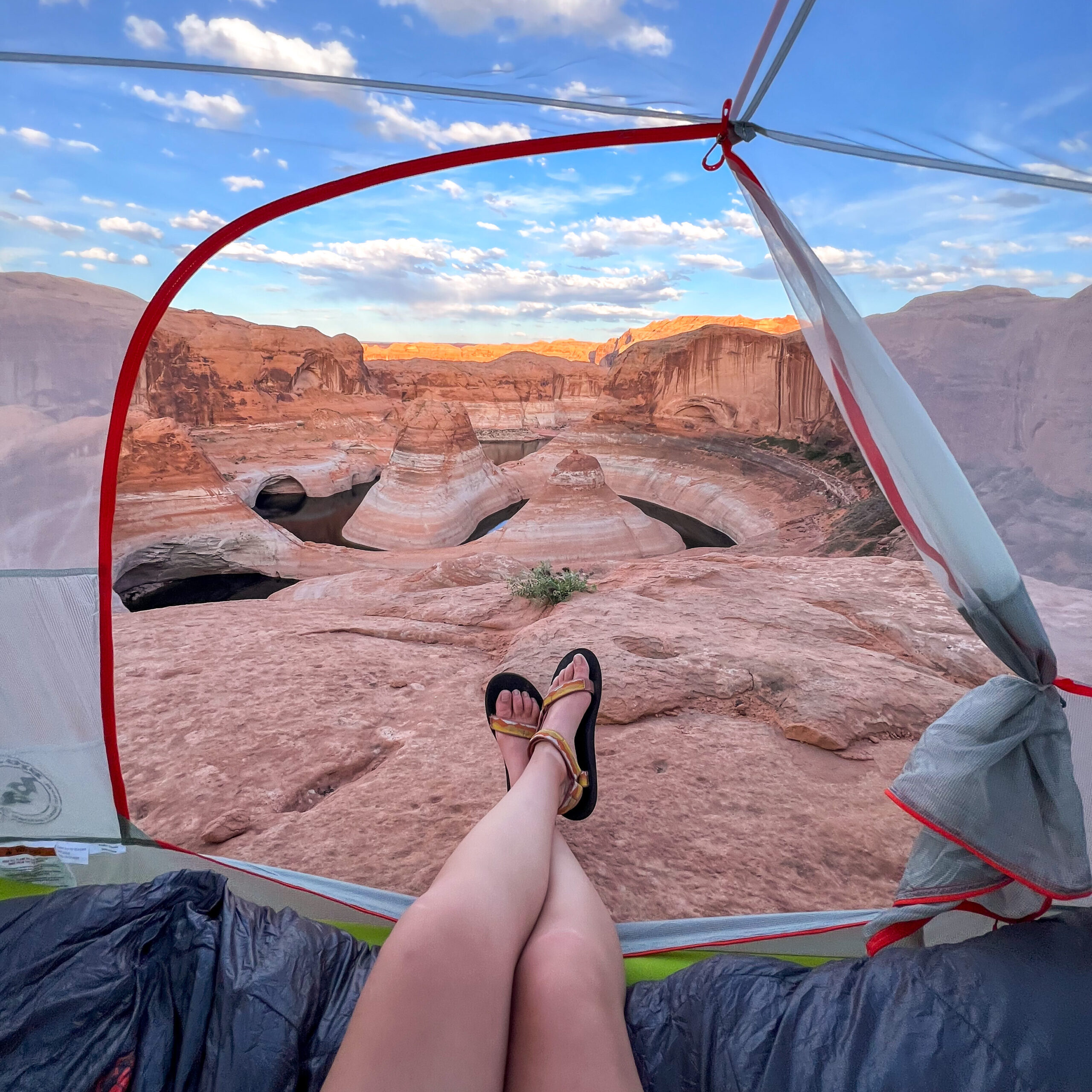 We have been backpacking for quite a few years now, and each year we make a few changes: our gear gets lighter, we make cuts on some gear that just doesn't feel worth the weight, and our trips get a little more difficult (hence why we like to cut down the weight!).
Getting the gear to start backpacking can be really intimidating. There is SO much to choose from, it's hard to tell what's worth spending the money on, and it can get expensive quickly! We are excited to share this gear list that has become a full pack we are really happy to carry. We feel like each piece of gear is tried and true, crucial to our adventures, and also have a few budget vs splurge options based on what you are looking for!
Disclaimer: This post contains affiliate links! This means if you purchase an item from the links, we make a small commission on the sale at no extra cost to you. If you do use the links, we really appreciate the support!
Our Printable Backpacking Checklist
We have created a full checklist for you to print or download onto your phone to reference when you're packing! We still use this list every single time we pack, because it can be really easy to forget something! I have added two check boxes: one for when you acquire the piece of gear (so you know you have it already), and a second for when you actually pack it for your trip.
Now let's get into the gear!
Sleep System
Tent
We recently upgraded to this Big Agnes Copper Spur HV UL 2 and are absolutely in love with it. It's quite an investment, but we did a TON of research before choosing this tent, and it's one of the best on the market. The Copper Spur is a 3 season tent that is known for its' ability to weather storms, and it's impressively light weighing in at a trail weight of 2 lbs 11 oz. It has enough room for both of our sleeping pads to lay out next to each other, and has vestibules we can leave our backpacks under while we're sleeping.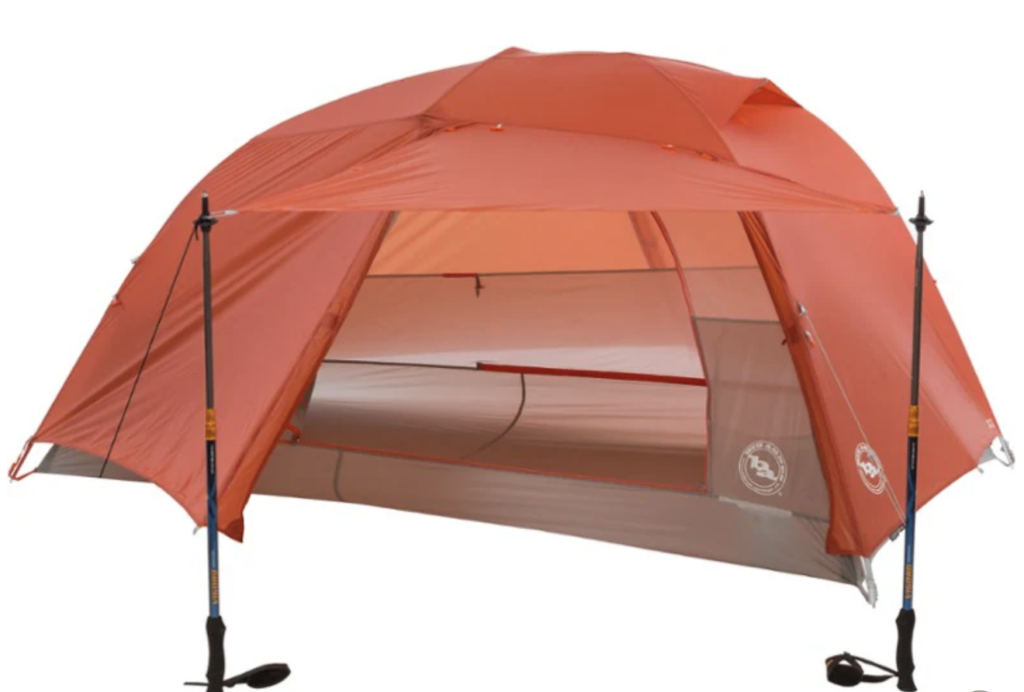 Shop the Big Agnes Copper Spur UL 2 at:
If you're planning to bring a dog, a kid, or want the option to have some extra space or bring your backpacks inside the tent each night, the Copper Spur HV UL 3 is a really popular option with more room to breathe!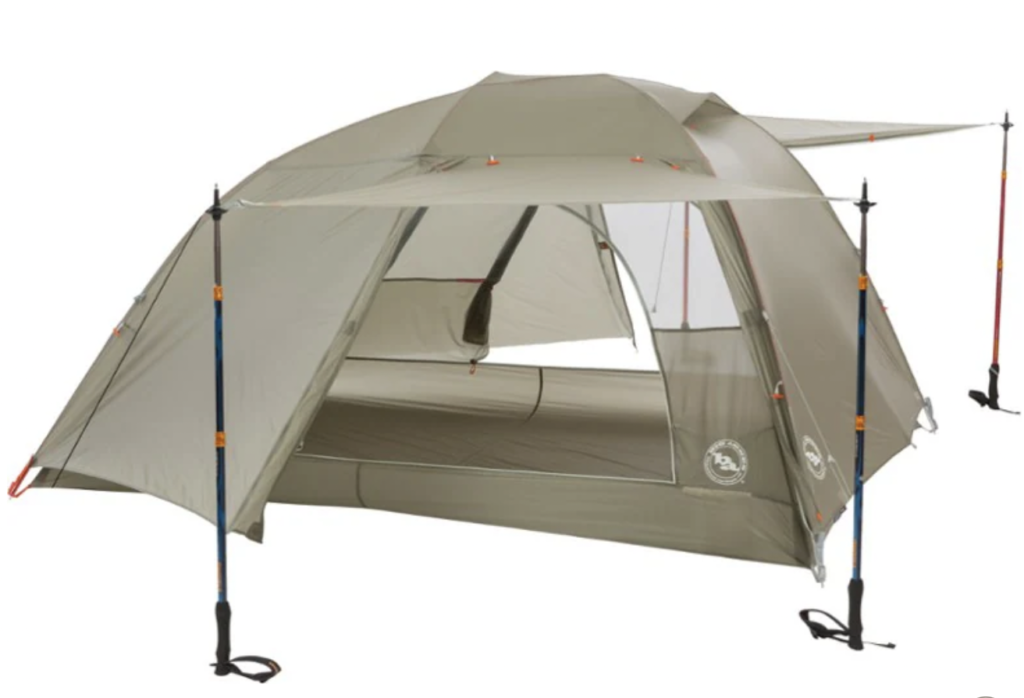 Shop the Big Agnes Copper Spur UL 3 at:
If you're not ready to make the leap into a big investment like the Copper Spur, this is a great budget-friendly option that will get you out on the trails!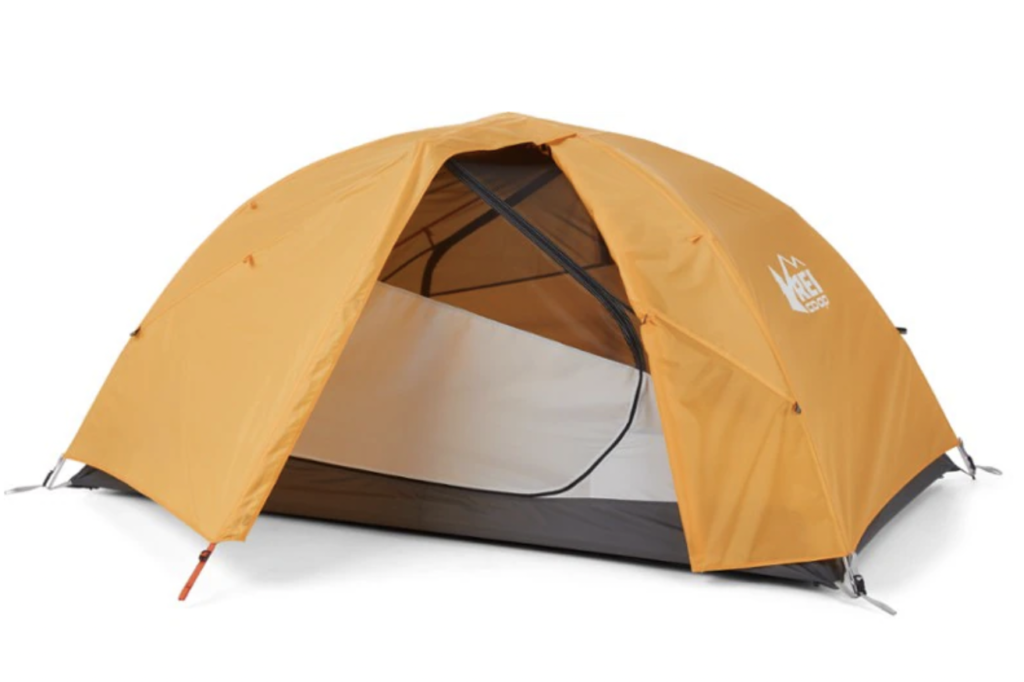 Shop the REI Trail Hut at:
Ground Cloth
A ground cloth for a tent is a non-negotiable for us. It helps to preserve the lifespan of your tent, keep it from getting holes, and will make a huge difference in keeping you dry and warm in a storm (or on snow).

Shop the Big Agnes Ground Cloth at:
Sleeping Bag
A good sleeping bag can really make your trip, as one of the worst things about camping in the mountains would be getting too cold! We have been using our REI Magma 15s for the past year and absolutely love them. They are impressively warm (even in really cold temperatures), pack down really small, they weigh less than a pound and a half, and the men's and women's bags zip together.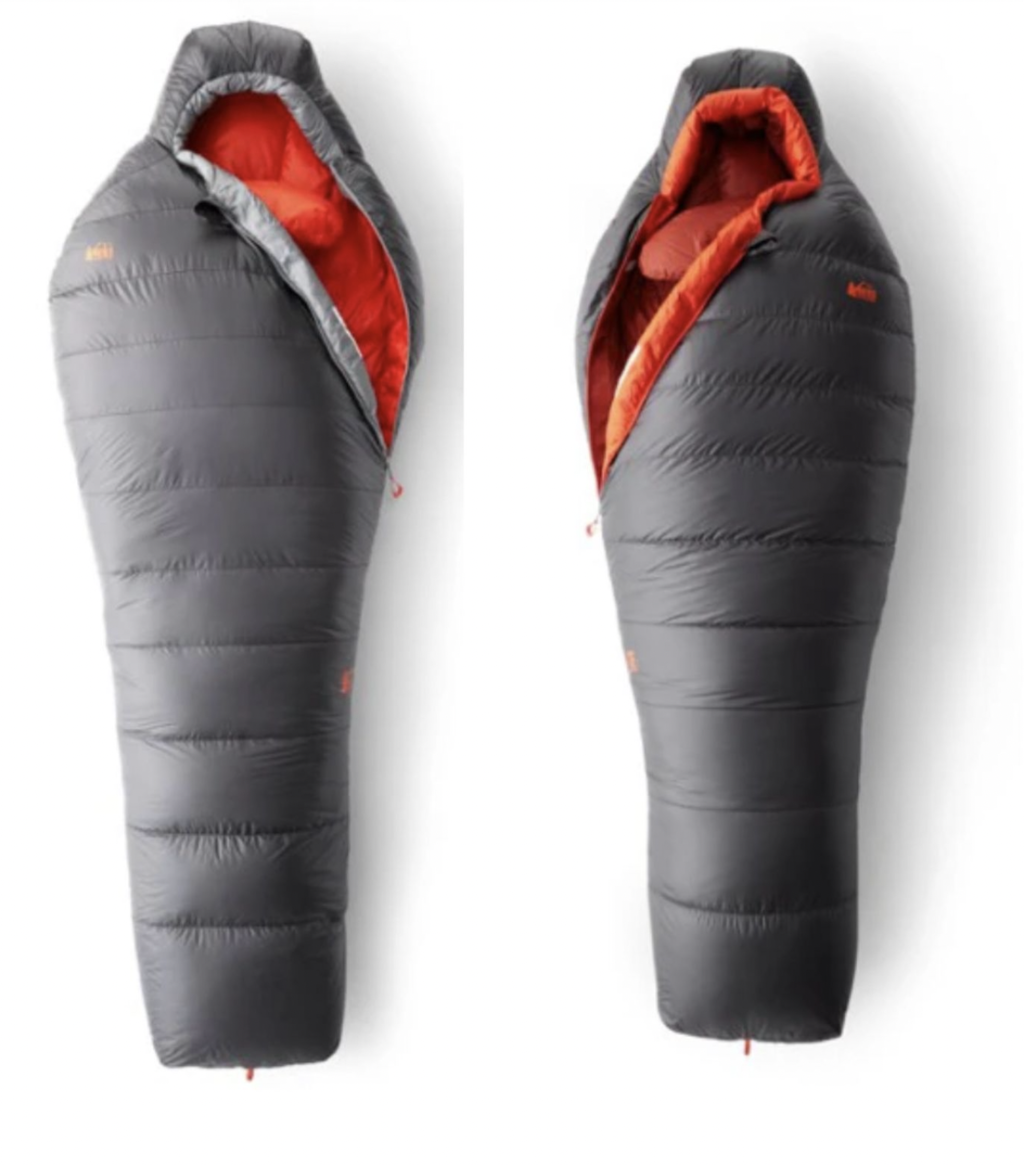 Shop the REI Magma 15 at:
If you're planning on spending most of your backpacking trips in warmer weather, they also offer the Magma in a 30 degree bag!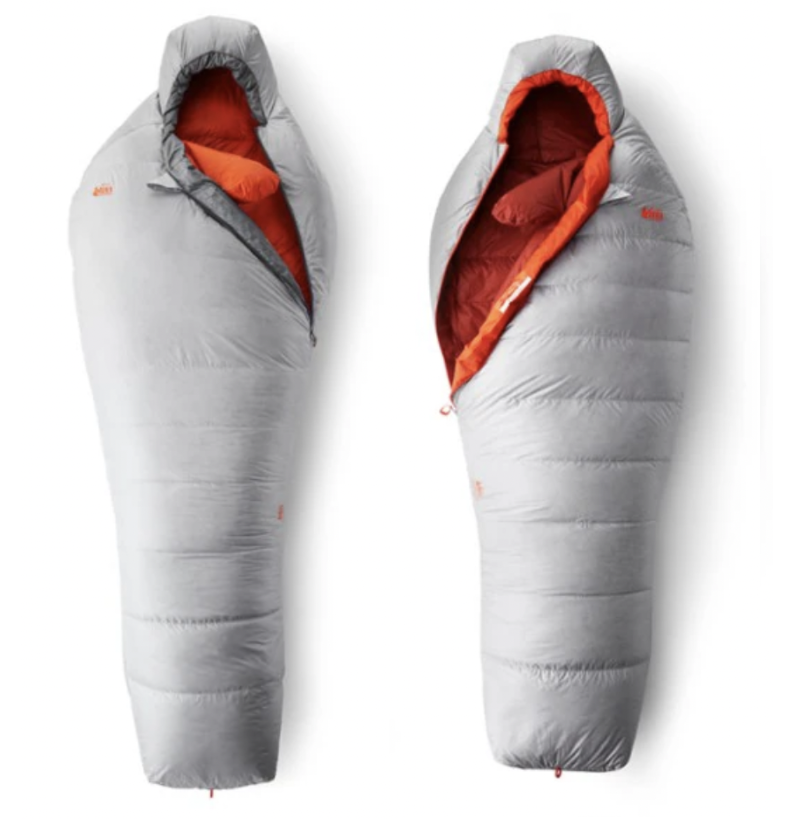 Shop the REI Magma 30 at:
Compression Sack
Most sleeping bags will come with some sort of a packable bag, but we always use a compression sack to really squeeze the bag into it's smallest capacity possible. This makes a huge difference when it comes to packing!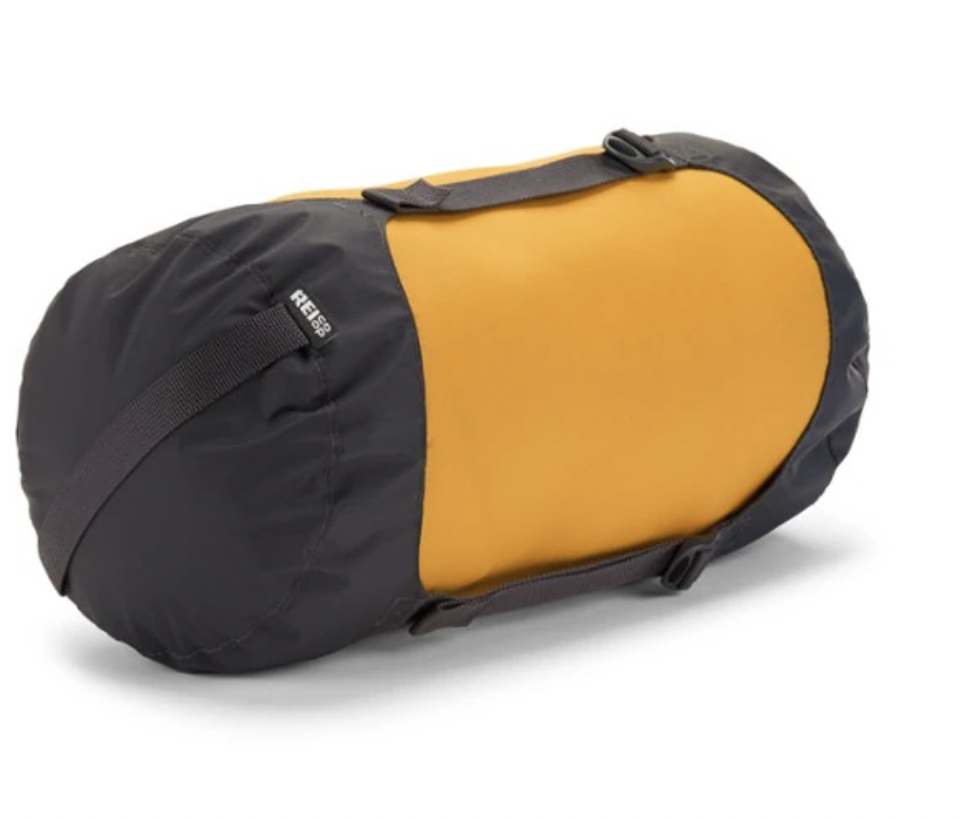 Shop the REI Lightweight Compression Sack at:
Sleeping Pad
I cannot emphasize enough how much a sleeping pad will change your quality of sleep. We have tried many over the years, and now use the Nemo Tensor, which is one of the best and most popular pads available. It's incredibly comfortable, inflates to 3 inches thick, comes with a pump sack to inflate, and packs down smaller than my Nalgene. Weighing in at 15 oz, this pad is one of our all-time favorite pieces of gear. We haven't had any issues with durability (and we've used it on many rocky sites), and I sleep really well every night.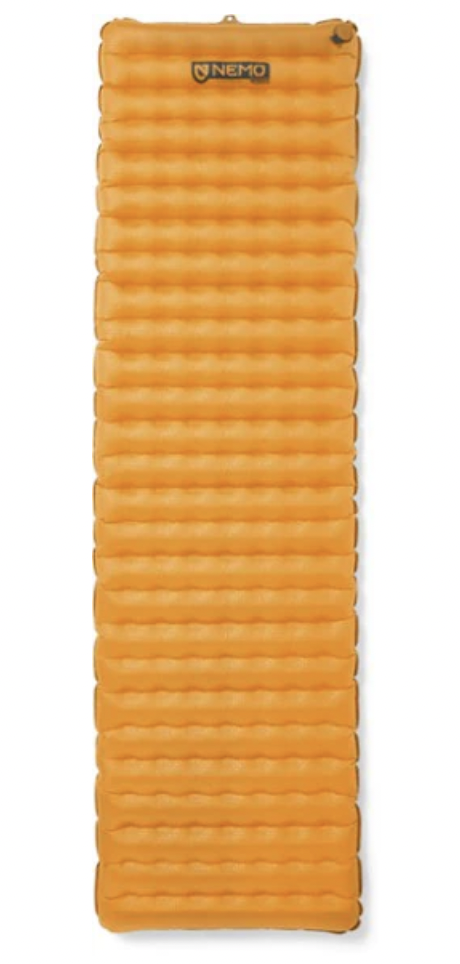 Pillow
A pillow tends to be an "optional" backpacking item for many, but we no longer feel that way. While you can stuff some clothing into a stuff-sack, it will never be as comfortable as a good pillow (and sleep is really important to us). We have used many pillows over the years, and these are two that we have fallen in love with and now come on every trip. If you're looking for lightweight, the Nemo Tensor packs down so small.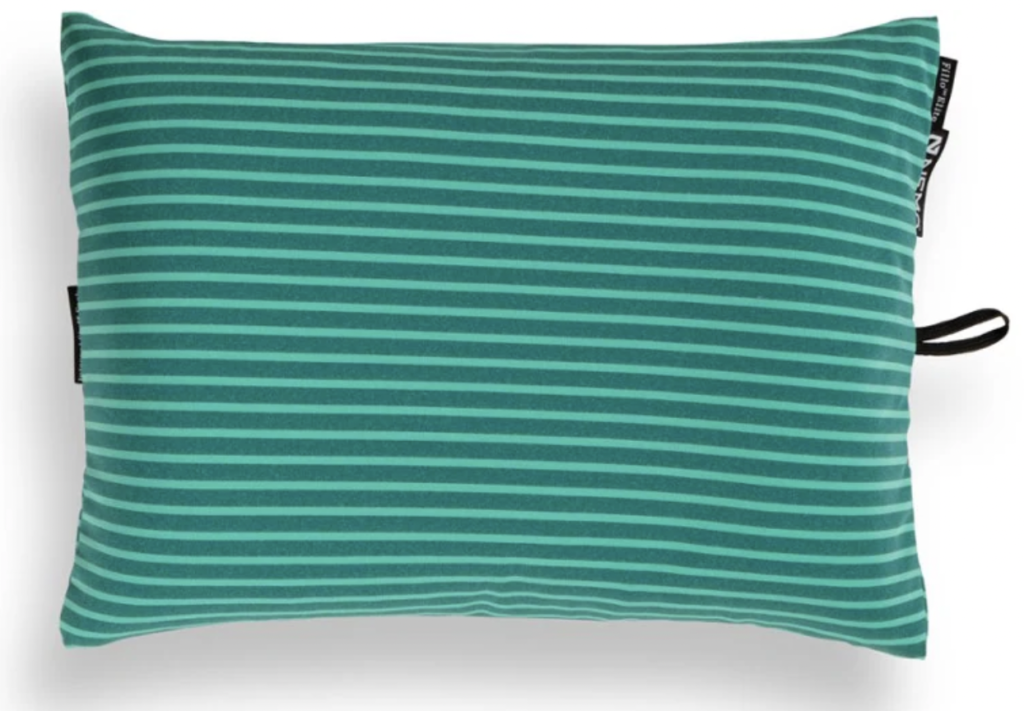 Shop the Nemo Fillo Pillow at:
If you're more focused on extreme comfort, the Exped Mega Pillow has our whole heart.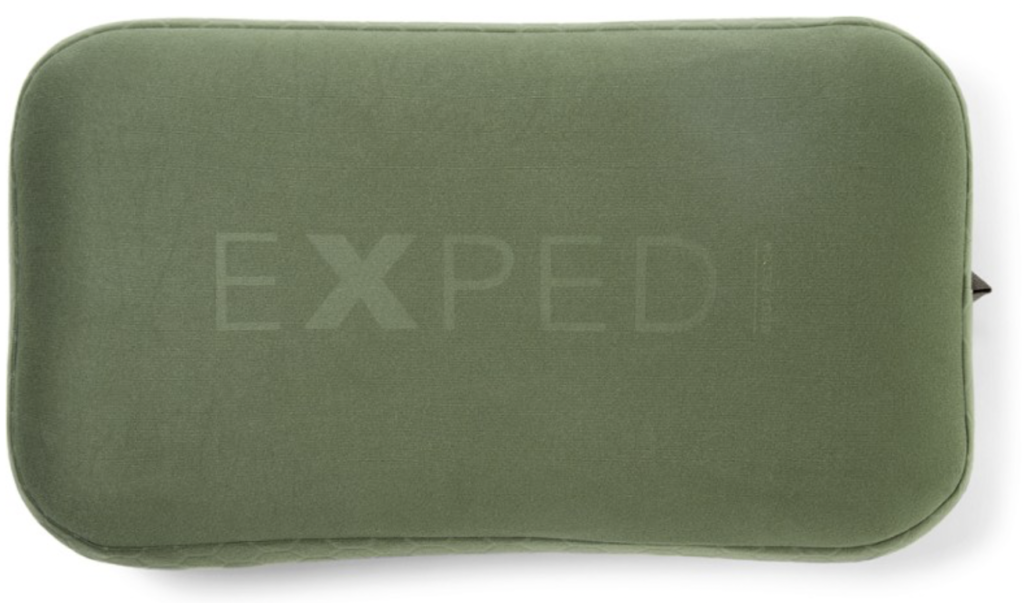 Shop the Exped Mega Pillow at:
Gear
Backpacks
This is obviously one of the most important pieces of gear you'll purchase! Getting a backpack that is comfortable will make your life infinitely better on the trail. We prefer to have a pack with good suspension and ventilation built into the frame, hip pockets, and numerous accessory pockets for smaller items.
Picking the size of your backpack really depends on what type of trips you are going to be doing, as well as the gear you'll be bringing most often. If you're using a lot of budget gear, you're headed out on a winter trip, or you need to pack a bear canister you may need a larger pack, as it typically won't pack down quite as small.
The packs we use most frequently are the Osprey Aura AG 65L (women's) and the Osprey Atmos AG 65L (men's). We feel like a 65 L can cover just about every base there is, and it's always nice to have extra space in case you need to take weight from someone else, you pack a bear canister, or you are just an over-packer. It also has a detachable brain, so you can take it off for shorter and lighter trips, and have a 57 L pack as well! If you're just wanting to buy one pack for everything, this is the pack we recommend!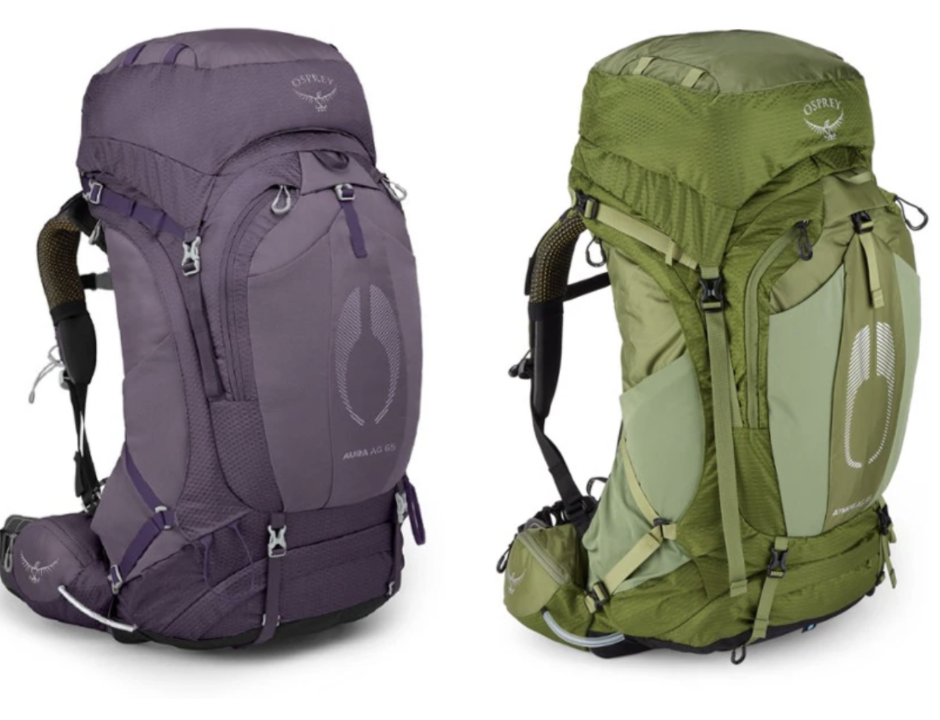 Shop the Osprey Aura and Atmos 65L at:
Over the years, we have built up a backpack collection to have numerous packs to choose from for any trip, and here are two other packs we love for lighter, faster, and shorter trips.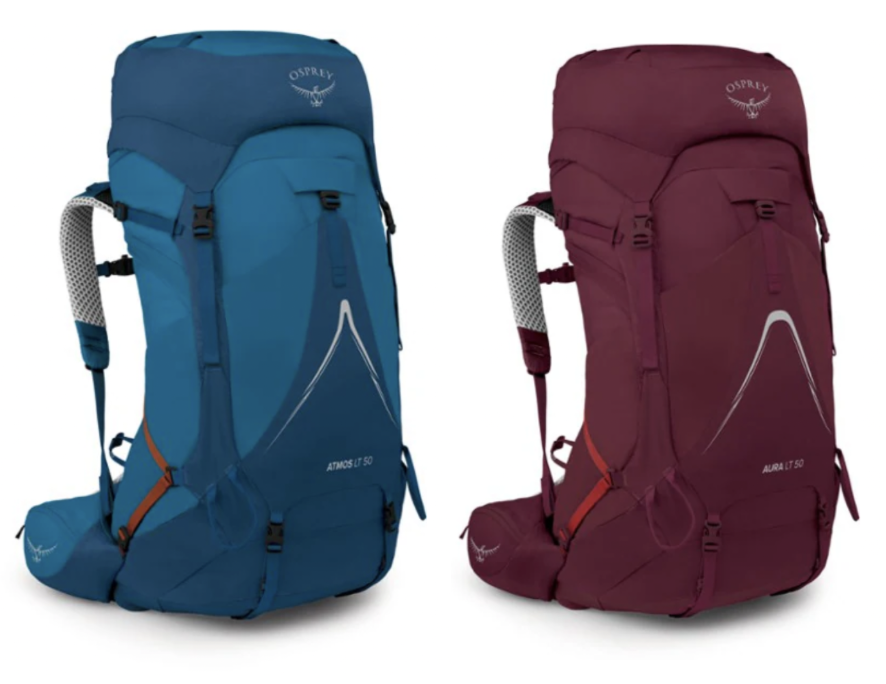 Shop the Osprey Aura and Atmos 50L at:
Backpack Rain Cover
Many backpacks (like the Aura and Atmos) come with rain covers now, but if yours doesn't, it's a must-buy add-on! Rain in the mountains (and desert) can come on so quickly without being in the forecast, so being prepared for it is crucial, no matter the trip. This will allow everything in your pack to stay completely dry, and can often be wrapped around anything strapped to the exterior as well.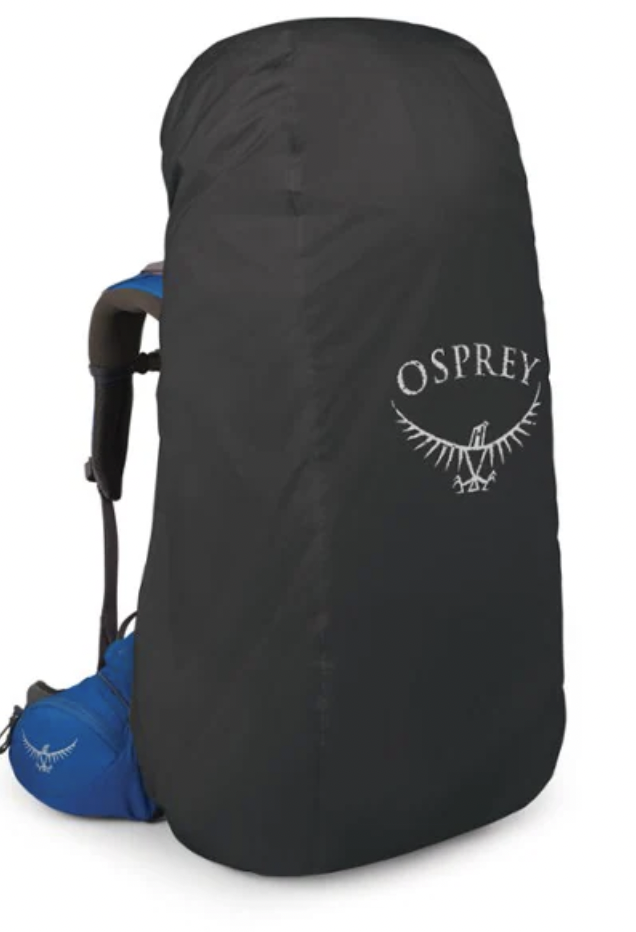 Shop the Osprey Raincover at:
Knife/Multi-Tool
These always come in handy more than you think they will. We typically will each bring our own multi-tool that has a knife for things like: slicing food (cheese and crackers, anyone?), fixing gear, cutting bandages, and tons of other random moments. Here is one that is a good balance between light enough to bring while carrying many things that would be helpful on the trail.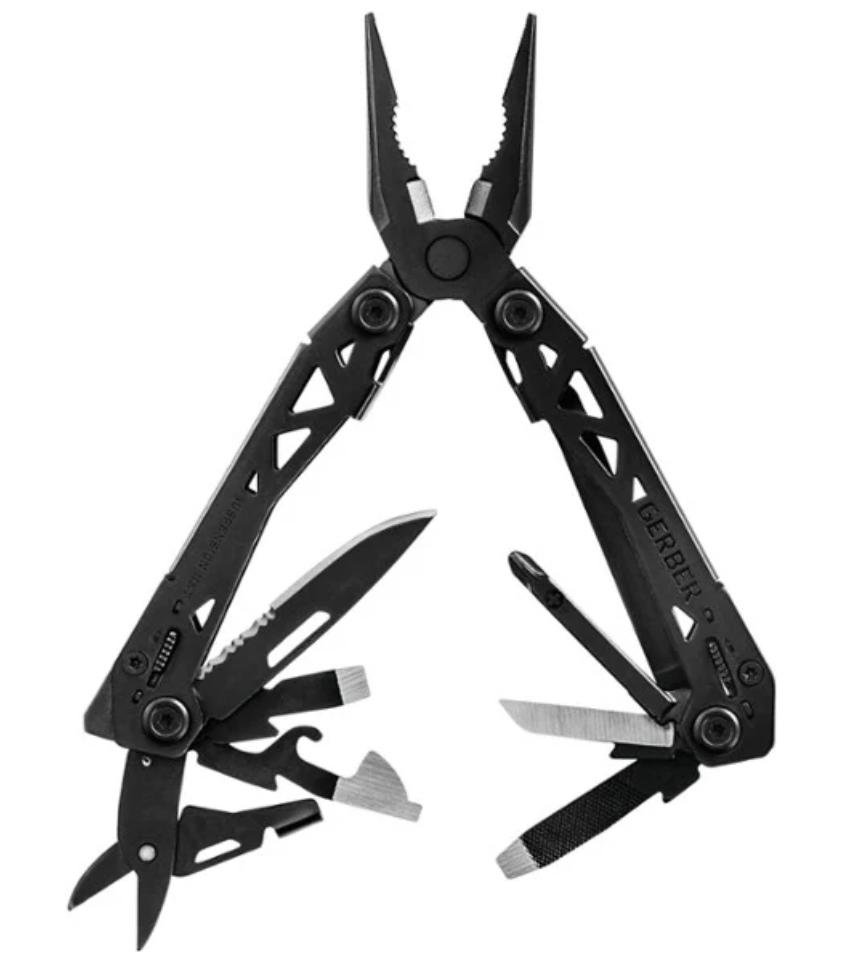 Shop the Gerber Multi-tool at:
Headlamp
Crucial for walking around at night, early morning starts, and possible emergencies! Always remember to replace the batteries or bring some additional ones in your first aid kit.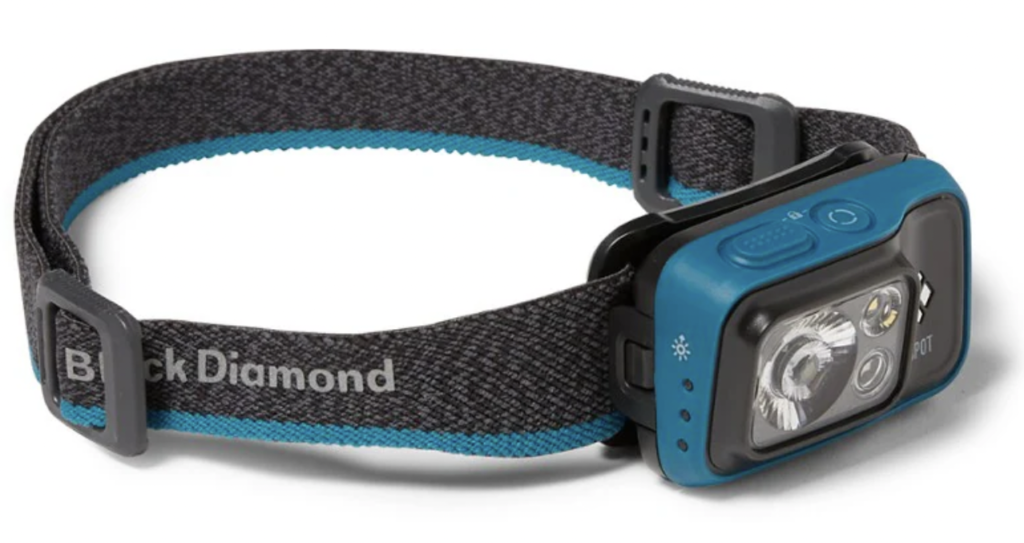 Shop the Black Diamond Spot 400 at:
Navigation & Satellite Phone
Having a way (and often multiple) to track your route is crucial for safety and your ability to follow a trail. We always download a trail on AllTrails and put a route into our Garmin InReach mini 2, and you can also bring paper maps and a compass (but make sure you know how to read them!).
The Garmin InReach mini 2 is also a satellite communicator that allows us to send texts to family and friends, check the weather forecast, and call emergency services if needed. We don't go on any adventure without this anymore, and cannot recommend it enough for safety and comfort in the backcountry.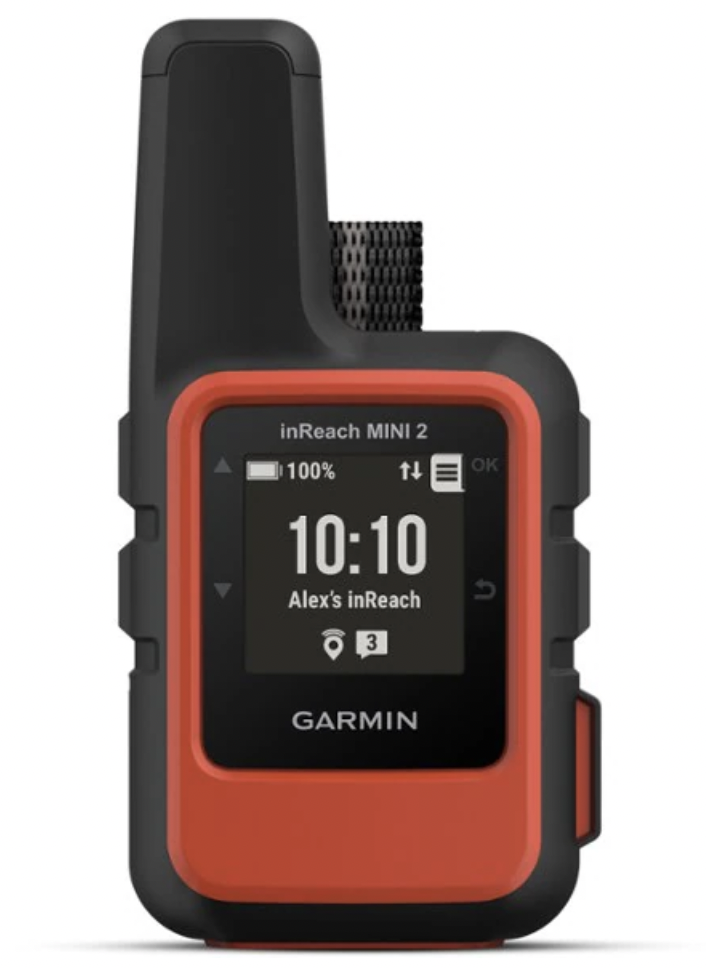 Shop the Garmin InReach mini 2 at:
First Aid Kit
I end up using this on almost every single trip, whether it's a cut I get, a blister a friend starts feeling, to help a stranger on the trail, or to even fix a piece of gear. These can save lives in the backcountry, and you can get one with everything you need from REI.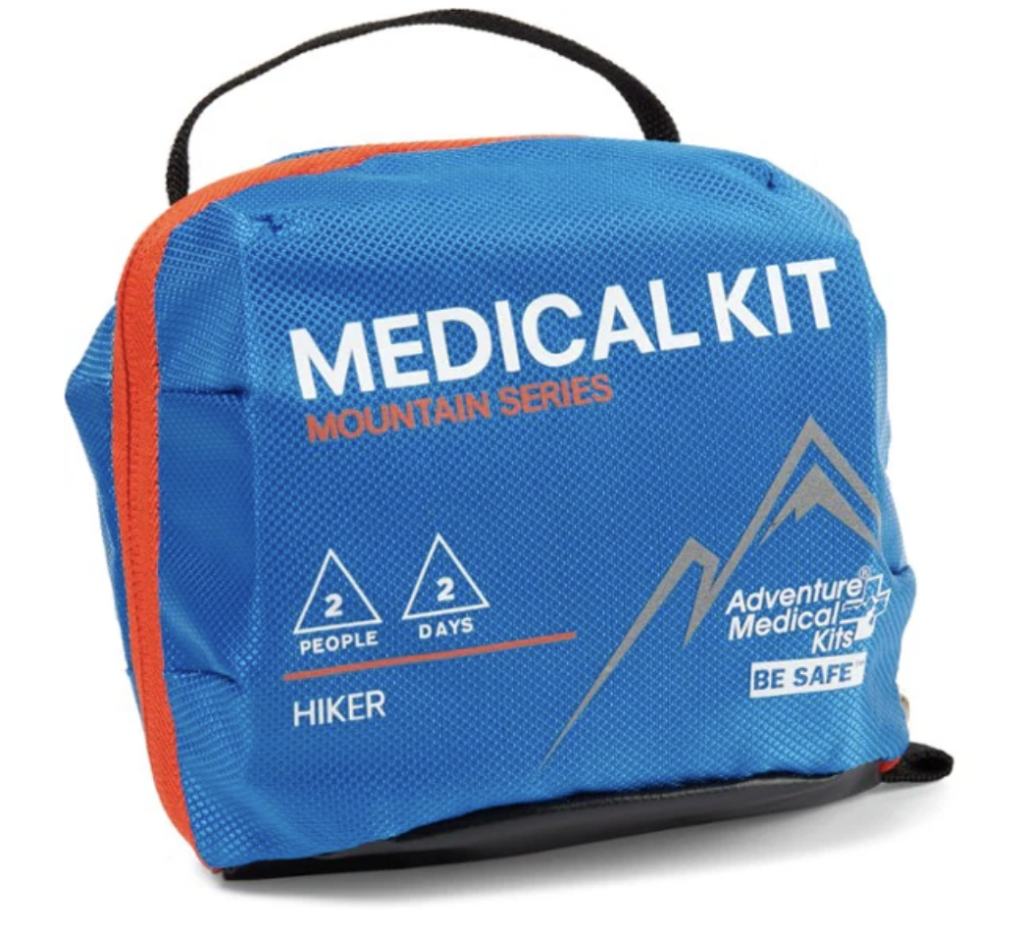 Shop the Mountain Series Medical Kit at:
Emergency Bivy
I am vey glad to say we have never had to use these, but also want to share how important an emergency shelter is! This bivy packs down to the size of a small backpacking pillow and acts as an emergency bivy, a sleeping bag liner, or a sleeping bag shell to protect it from water. These would be used if you get caught in a storm or if your tent starts leaking to keep you dry and warm, and can save a life in an emergency circumstance. We always keep one in each of our backpacks!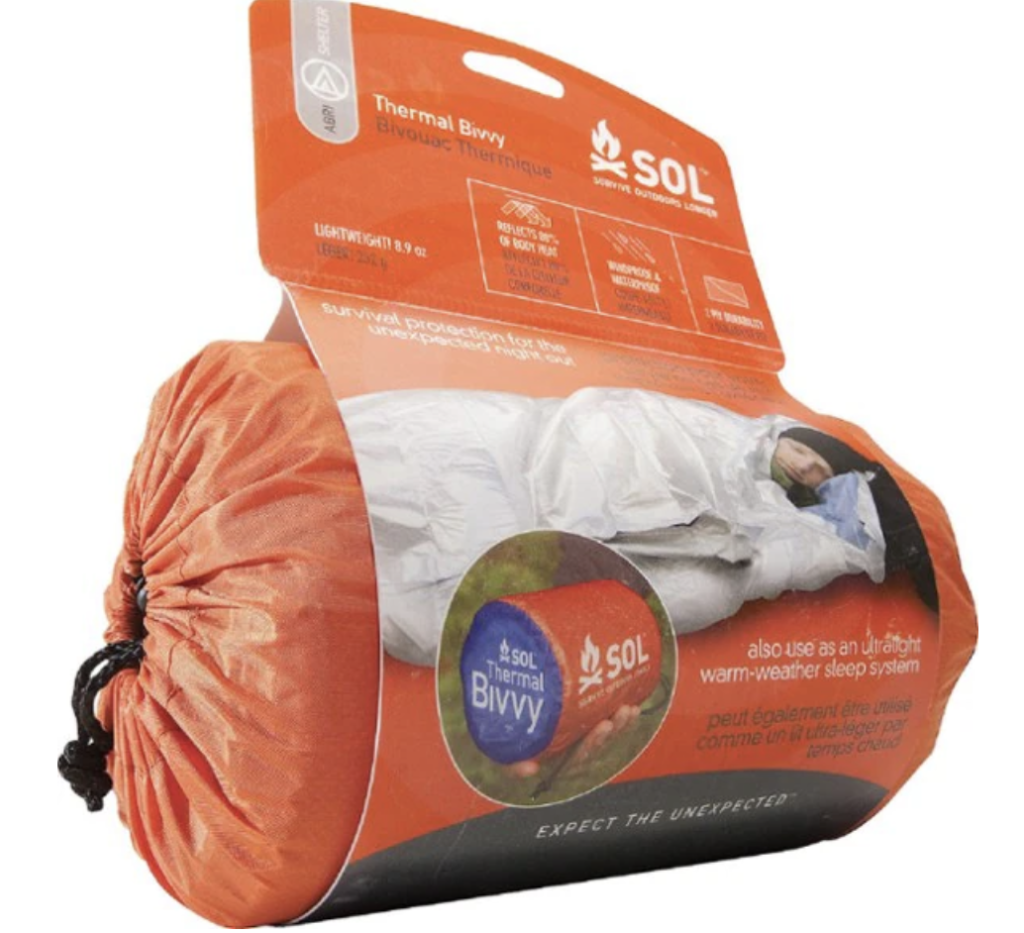 Shop the Sol Emergency Bivy at:
Battery Pack and Cords
We bring a battery pack to charge our phones, cameras, and anything else on the trail. These ones from Anker are absolutely amazing and last at least 6 full phone charges.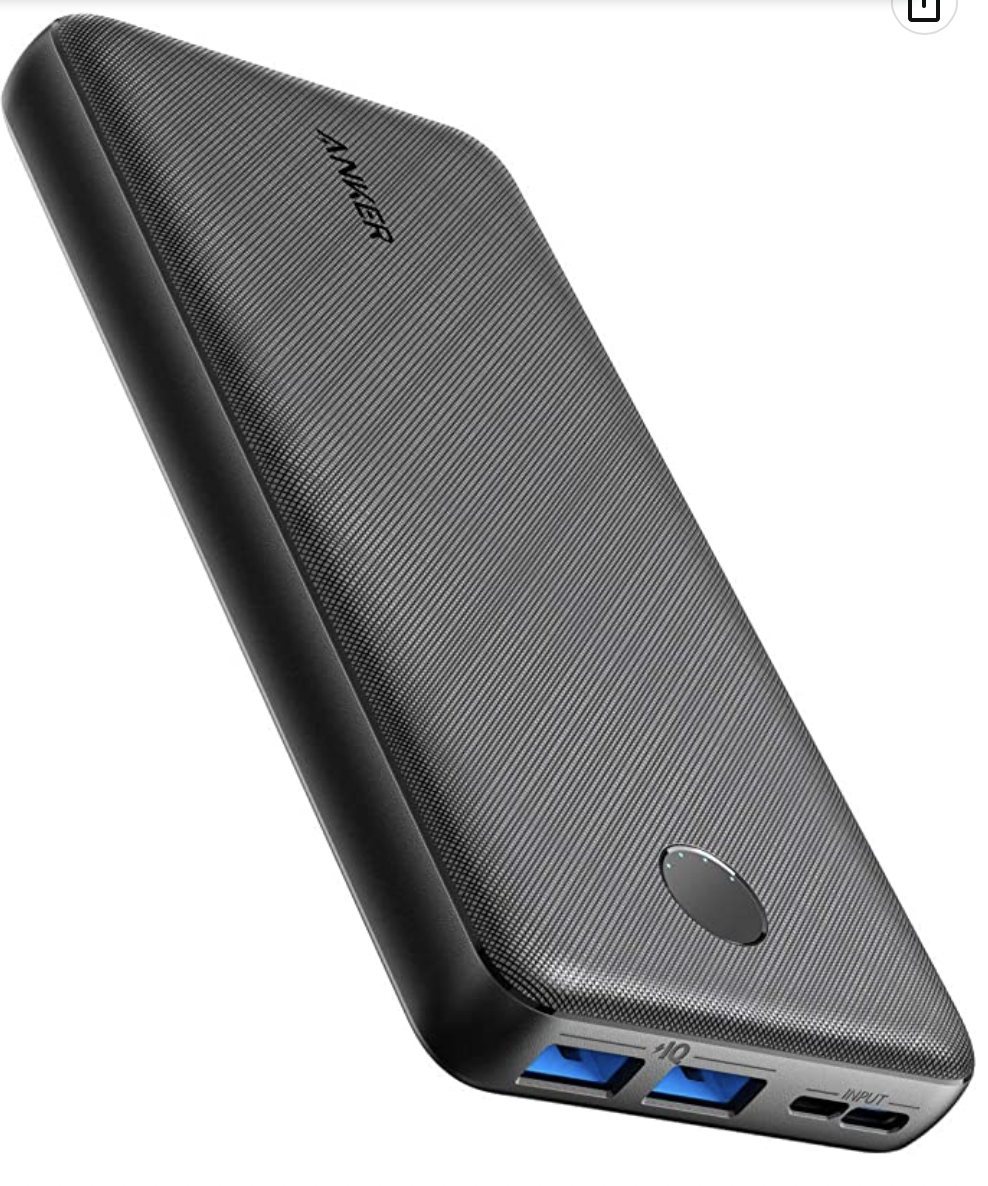 Shop the Anker PowerCore at:
Trekking Poles
We didn't hike with trekking poles at first, but now we don't hike without them! They are really helpful for getting up steep inclines with weight, protecting your knees on the way down, and they also allow us to set up an awning on our Big Agnes Tent. You can strap them to your pack when you're not using them too. These REI Traverse Trekking Poles are a great pair of poles at a great price point for a cork handle (doesn't get slimy when your hand's sweat). They're lightweight, easy to adjust, and pack down small.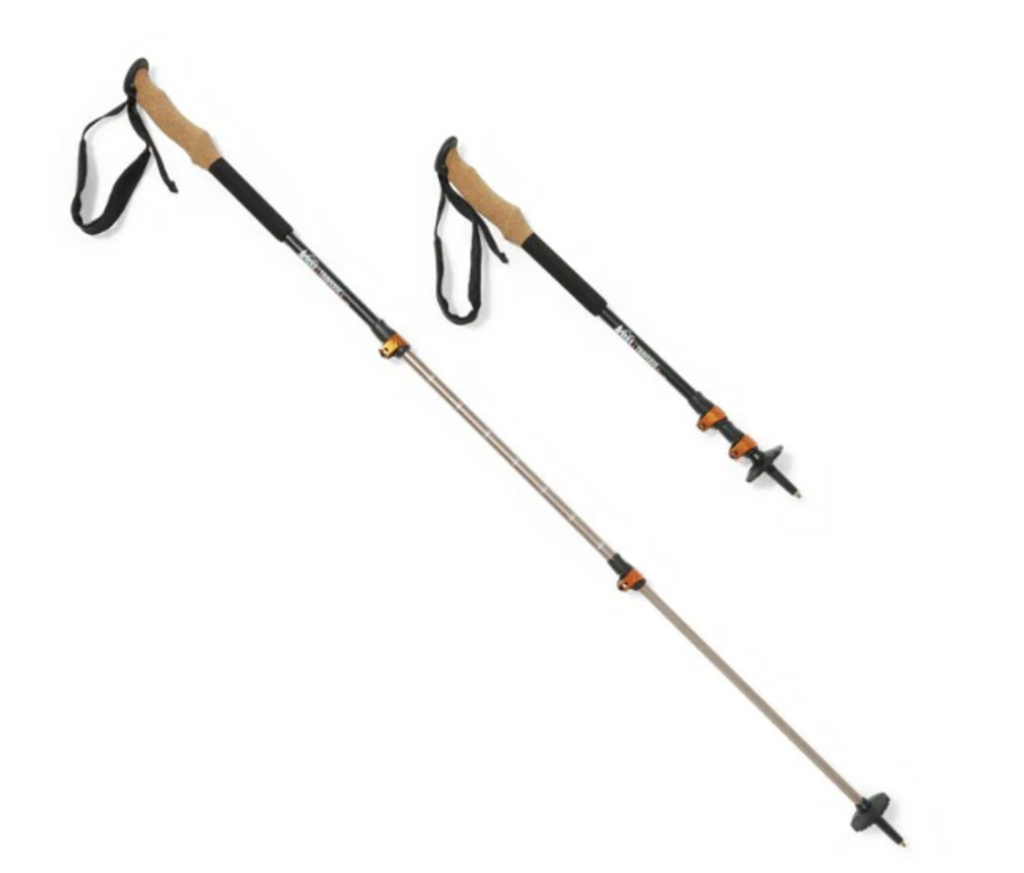 Shop the REI Traverse Trekking Poles at:
Daypack:
Sometimes we will go on a backpacking trip where we set up camp for a few days and just do day hikes from that camp, rather than moving camp each night. When we do, it's nice to have a small daypack to bring food and water with you without having to bring your whole 65L pack. These small packs from REI are great because they pack down really small and barely weigh anything.
Shop the REI Flash 18 at:
Chair/Sit Pad
This is actually something we have opted out of bringing on our trips, but it is a piece of gear many find very valuable! We choose to sit on rocks and what we can find, or we'll bring a sit pad if we are feeling like we really want the extra comfort. If we were going to bring a chair, this is the one we would bring: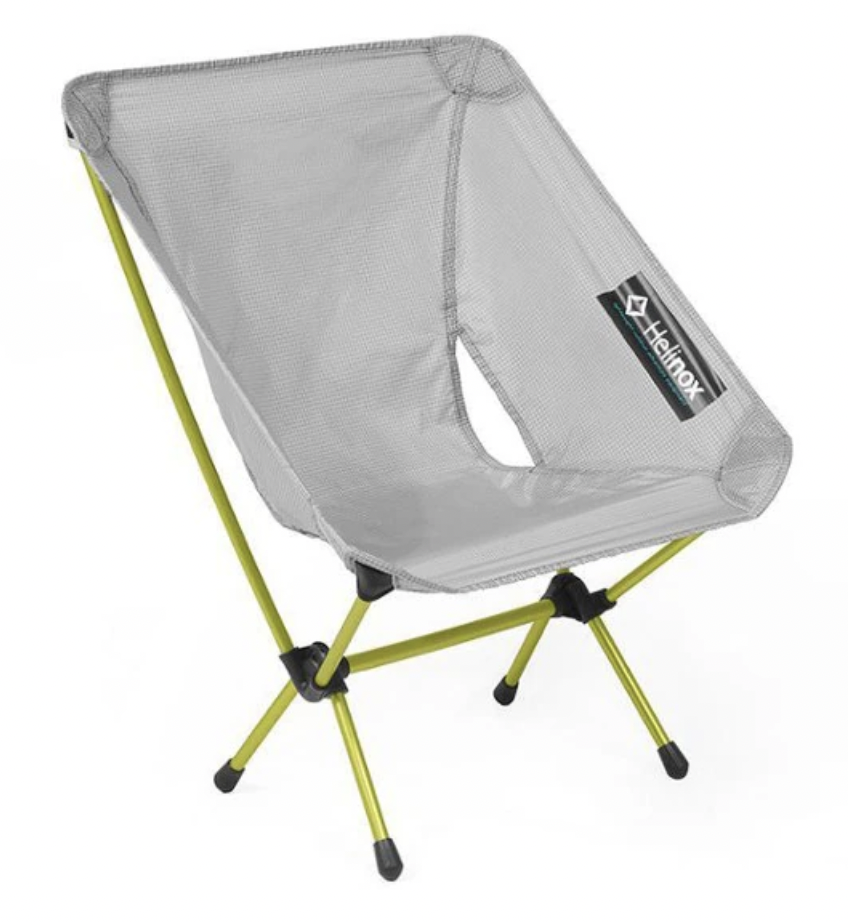 Shop the Helinox Chair Zero at:
And this is the sit pad that allows you to sit comfortably in less than ideal spots, and it's super light!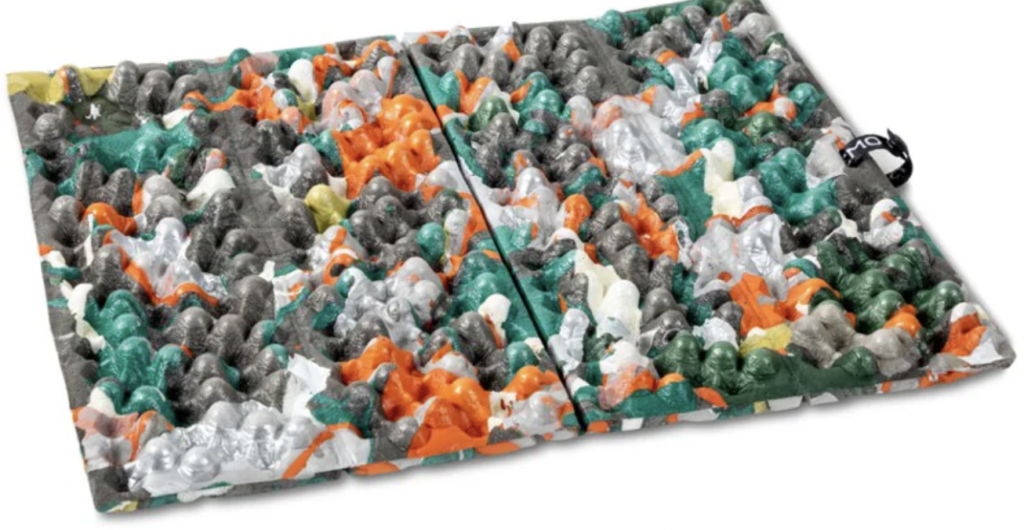 Shop the Nemo Seat Pad at:
Water Filter
A water filter is a must for any backpacking trip (unless you have to bring in all of your own water). The Sawyer Squeeze is our tried and true filter that lasts a long time, is super easy to use, screws onto most water bottles, and has a great flow rate.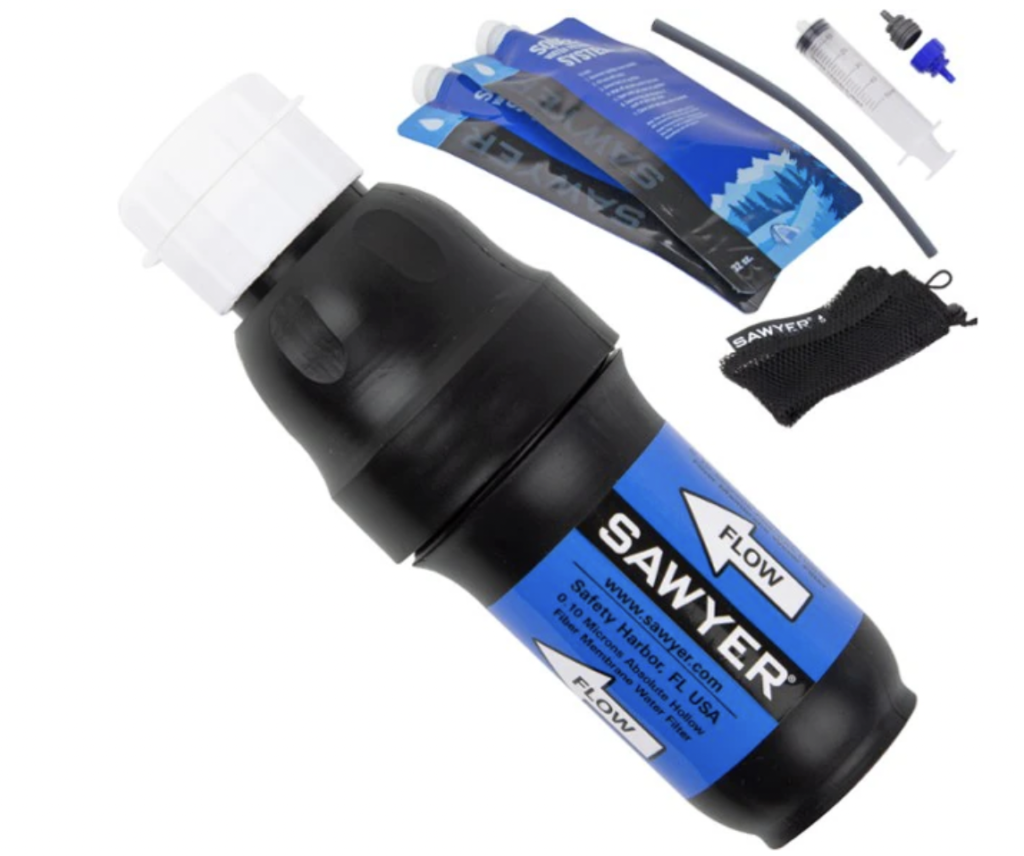 Shop the Sawyer Squeeze at:
Water Bottle
We always each bring a Nalgene for storing water while hiking and to drink out of at camp. These larger bottles are our preferred ones in case we need to carry extra water.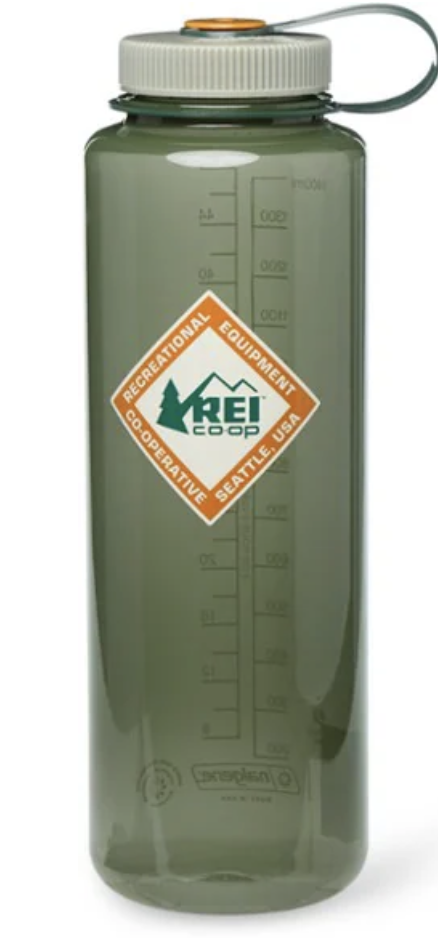 Shop the 48 oz Nalgene at:
Reservoir
We each always start our trips with a 3L water bladder in our packs. These really help me drink enough water, as when I only use a bottle, I don't take it out frequently enough because of the extra effort. I love that having a bladder allows me to drink water and hike at the same time.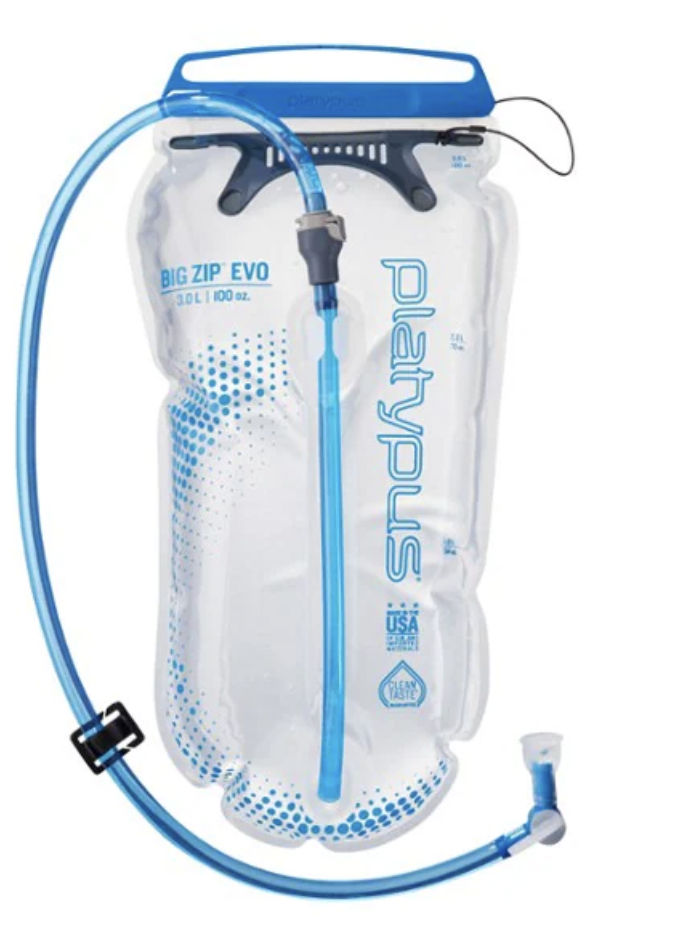 Shop the Platypus 3L Bladder at:
Extra Water Storage
Depending on the trip, we will bring some combination of the below water bags. These allow us to either carry more water than usual, bring water from the lake or stream to camp for the night, and to filter our water. These CNOC bags screw onto our filters, so these usually stay "dirty" and are used to get water from the source.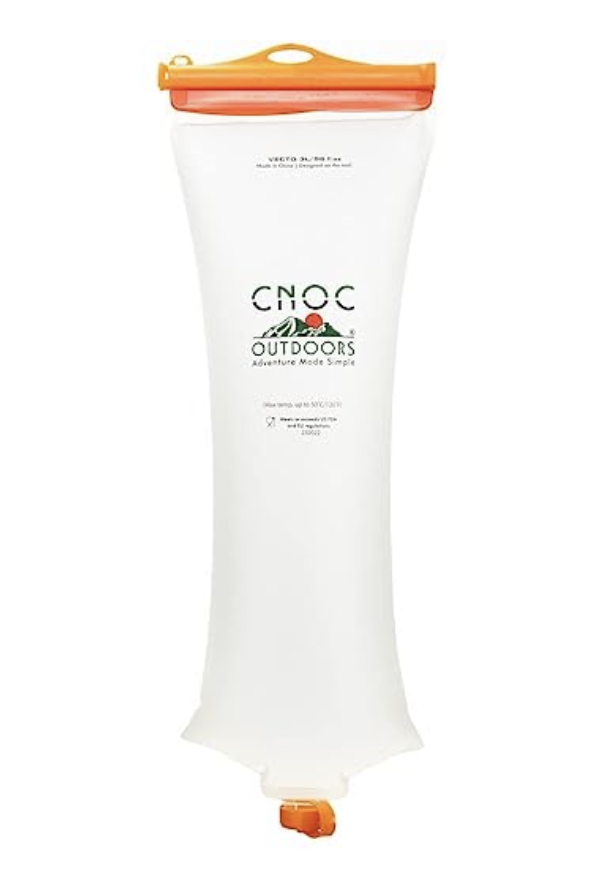 Shop the CNOC 3L Reservior at:
Backup Water Purification
Filters can break or clog up, so having a way to get water without your filter is necessary! You can put these tablets into your water to purify it without a filter (the taste just may be a little off, but it's better than nothing!).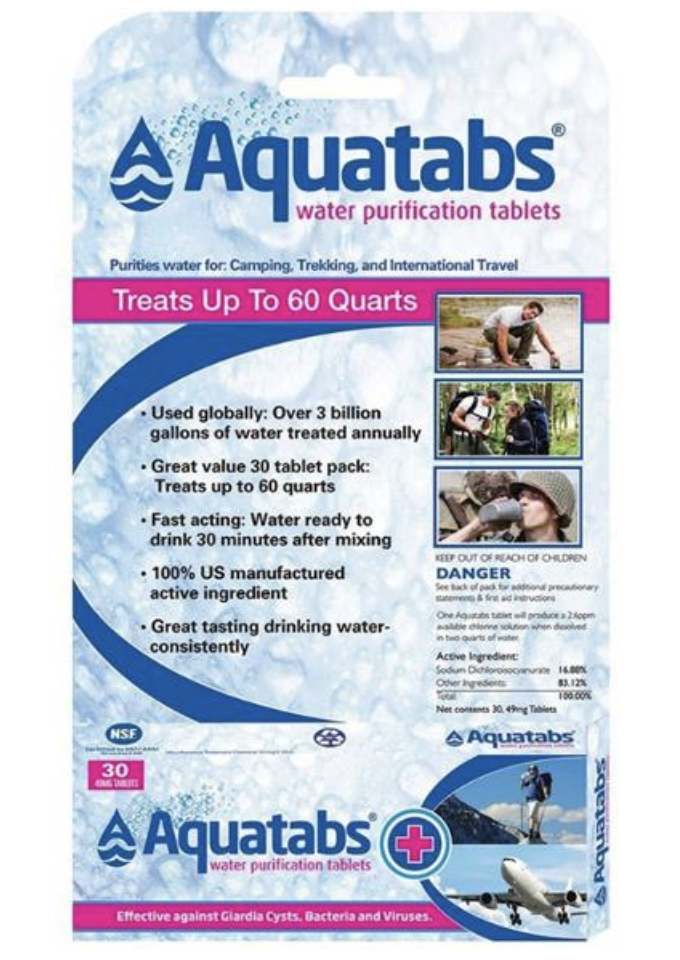 Clothing
Hiking Boots/Shoes
The pair of hiking shoes you choose to take backpacking can truly make or break your trip! Ideally you'll have a pair that are lightweight, comfortable, and won't give you any blisters. We swap back and forth from hiking boots to hiking shoes depending on conditions and time of the year. Salomon has been out favorite hiking shoe brand for years, and I am not sure we'll ever find another brand that compares!
If it's going to be a summer hike, we're most often wearing trail runners! They're light, allow you to move quickly, and are super comfortable.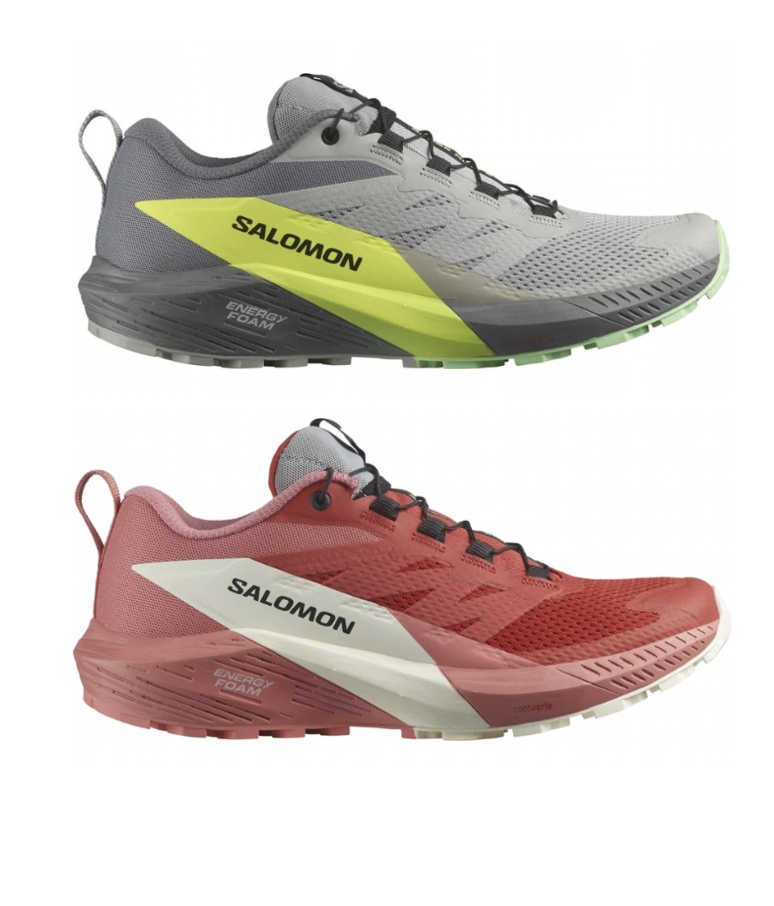 Shop the Salomon Sense Ride 5 Trail Runners at:
If it's winter, cooler, or we may be expecting some storms, we'll be wearing hiking boots like these: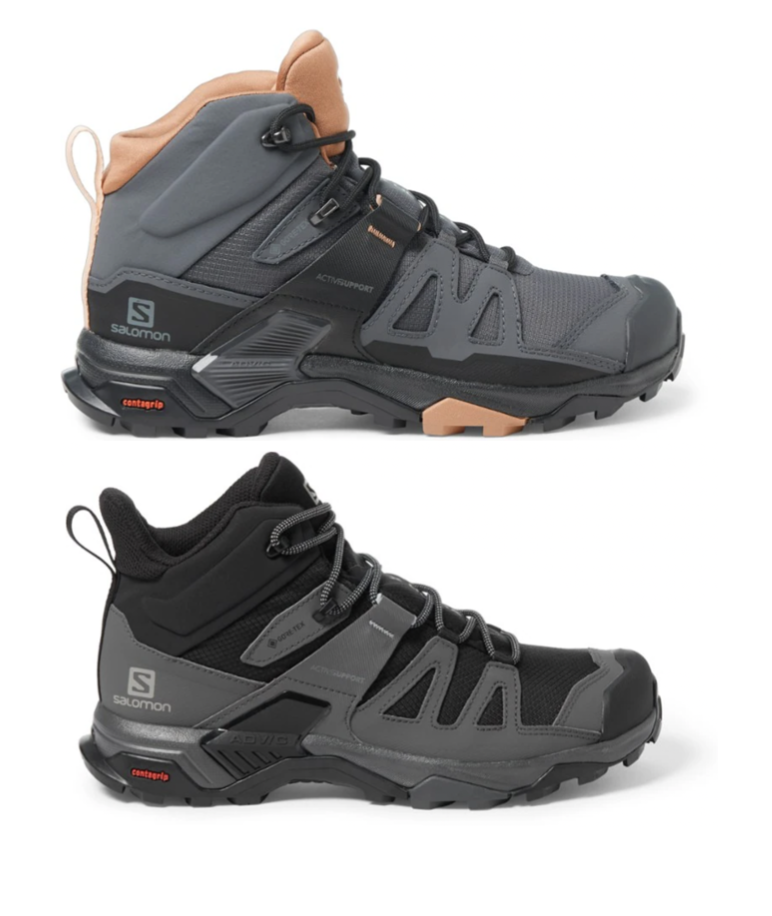 Shop the Salomon X Ultra 4 Gore-Tex at:
Hat/Sun Protection
We both always wear a ball-cap or flat brim hat on every backpacking trip to keep the sun off our face and scalp (and to hide the dirty hair!).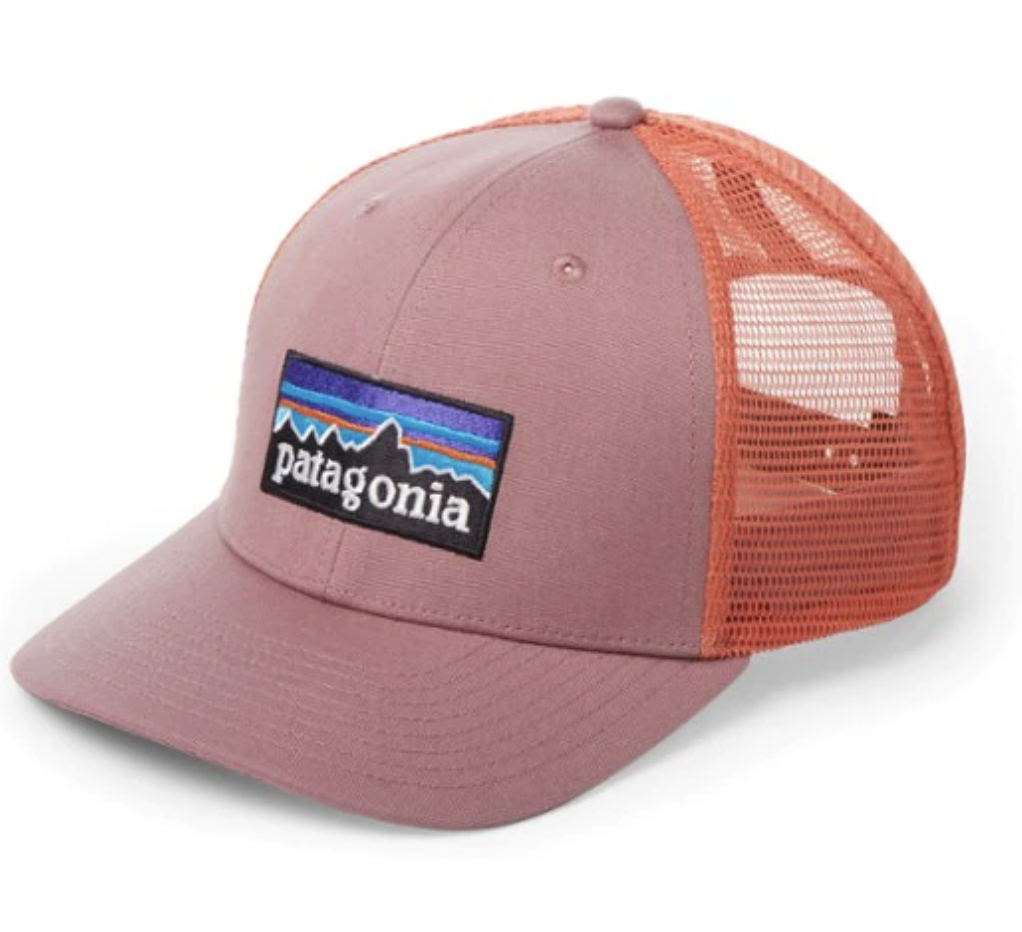 Sunglasses
One I seem to have to always buy on the way because I forget them… Make sure to bring some croakies to help to not lose them!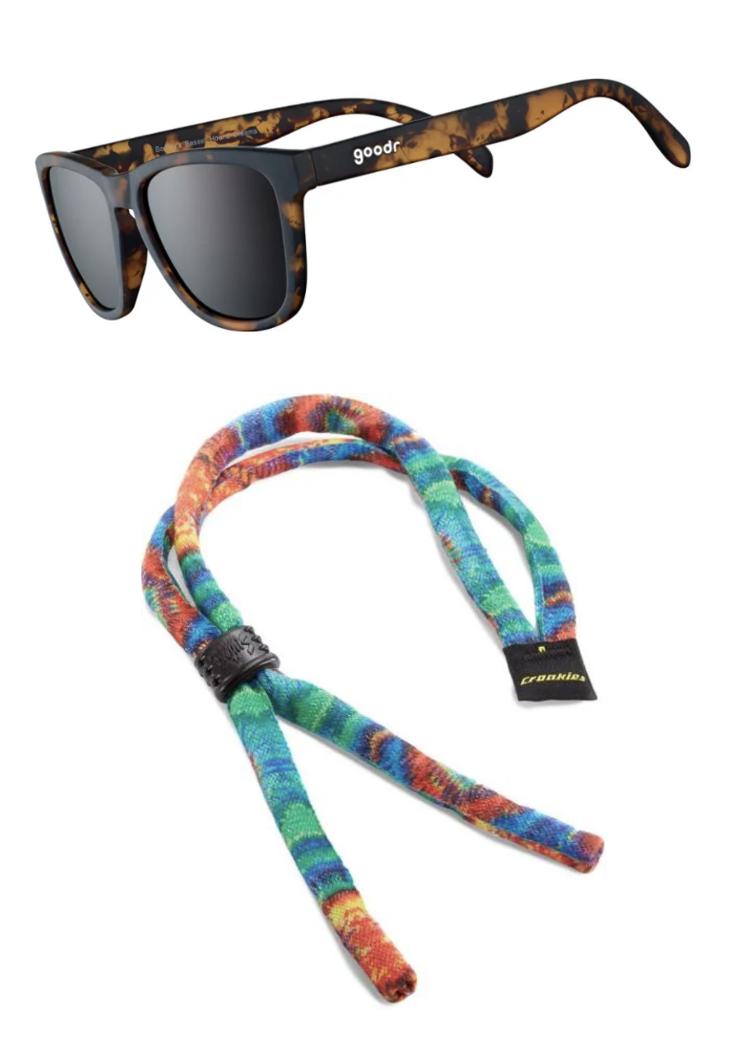 Shop Sunglasses and Accessories at:
Socks
We will typically bring 2-3 pairs of socks depending on the trip length. At least always bring one extra pair for sleeping or in case yours get wet! I think socks can be greatly underestimated in their importance, but quality socks really help to keep your feet happy and free from blisters. We love these wool socks by Darn Tough.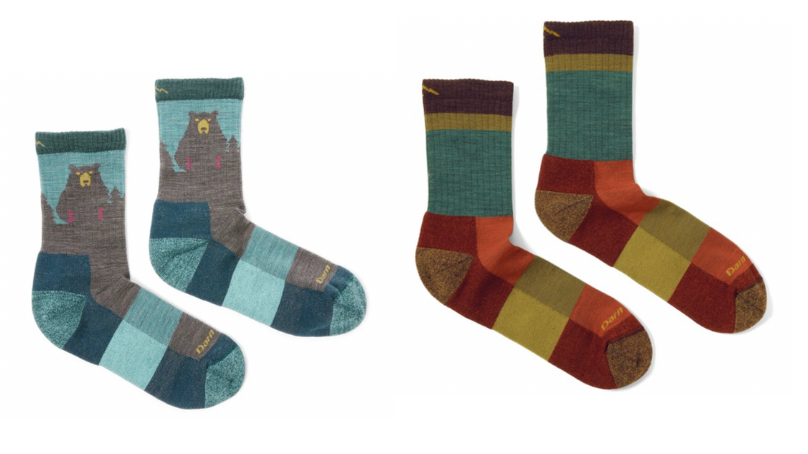 Shop Darn Tough Socks at:
Underwear
Whatever you choose to bring, make sure it's not cotton!
Rain Jacket
You should always always always be prepared for rain in the backcountry, and having a quality rain jacket that breathes decently will make your life a lot more enjoyable! We have used cheaper rain jackets in the past, and they never actually keep us dry. Here are two we love: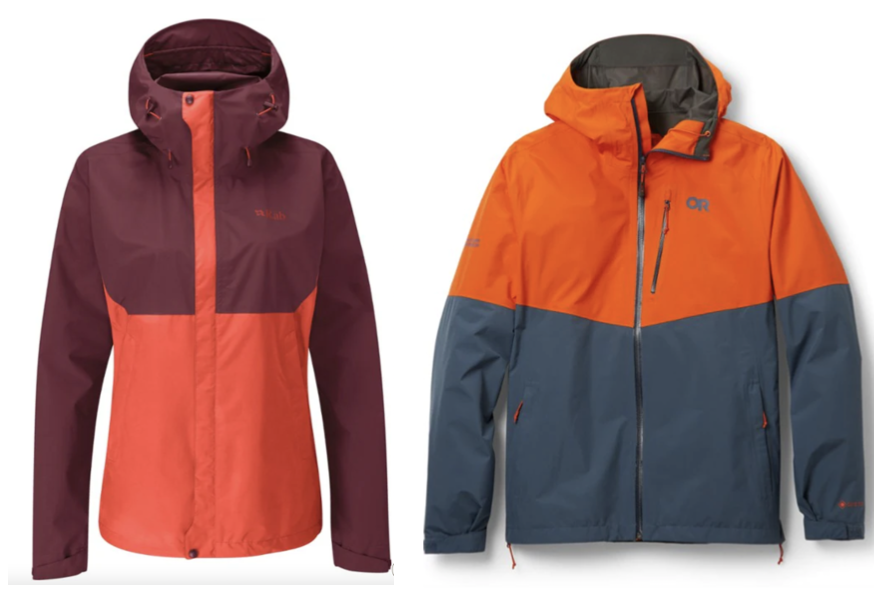 Fleece Jacket
A fleece is a great layer to have for a ton of different circumstances, and is often what I end up sleeping in! Fleece is best because even if it gets wet, it will keep you warm. This is a great fleece option that will keep you cozy.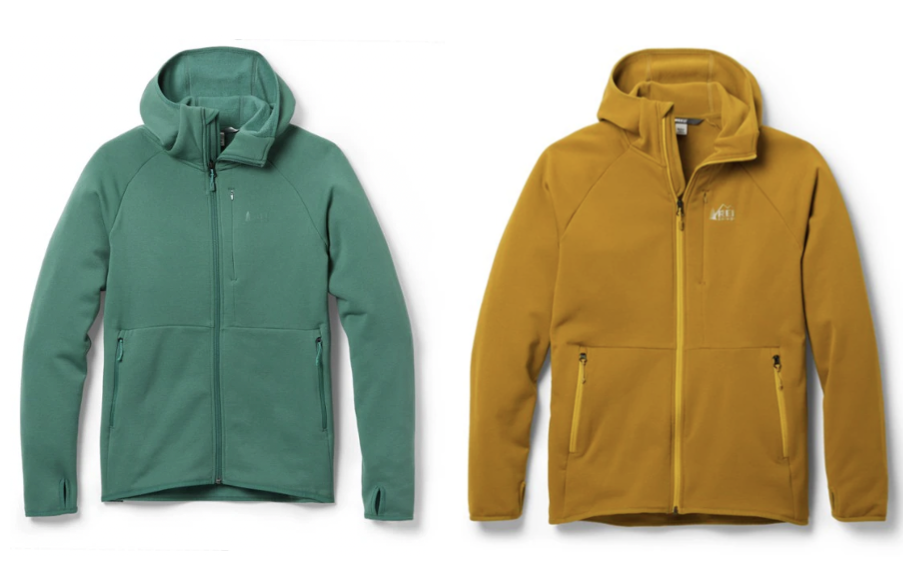 Shop the REI Hyperaxis Fleece Jacket at:
Puffy Jacket
We don't bring these on every single trip, but most of them we do! This will be your main insulating layer as it cools off at night or during a winter trip. For a summer trip without large temperature changes, we love these lighter weight Cotopaxi Jackets, and they pack down small.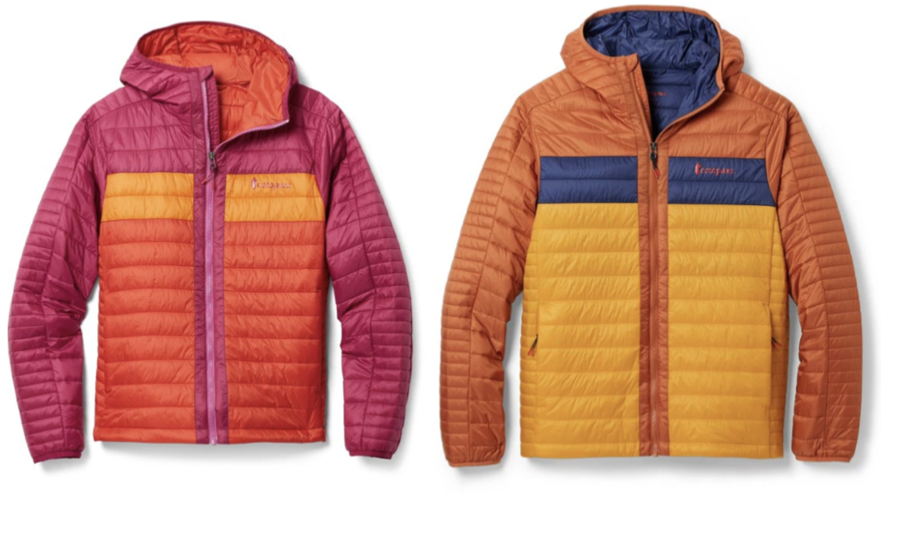 Shop the Cotopaxi Capa Insulated Jacket at:
Long Sleeve Shirts/Sun Hoodies
A sun hoodie has become a staple in our backpacking wardrobe, and is what we will be wearing 95% of the time. They're super lightweight, protect your face, neck, ears, and arms from the sun, and keep you cool even on really hot days.
Shop the REI Sahara Shade Hoodie at:
Short Sleeve/Tank Tops
We also typically will bring one smaller shirt to change into at camp or wear hiking. You're going to want a polyester shirt that will dry quickly. Here are some of our favorites: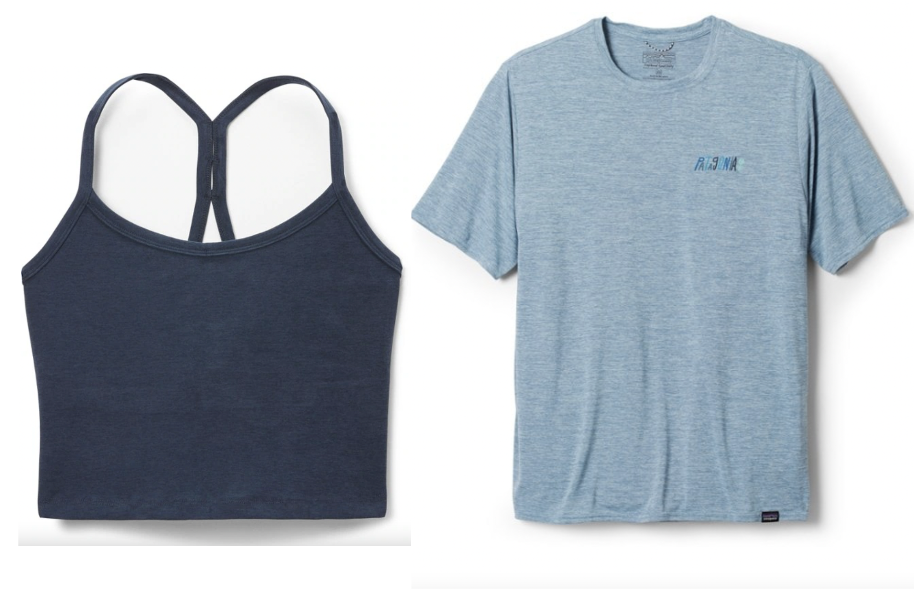 Shop the tank top and short sleeve at:
Pants and Shorts:
We typically will bring one or the other, or a pair of shorts and a base layer to sleep in! Here are some of our favorites: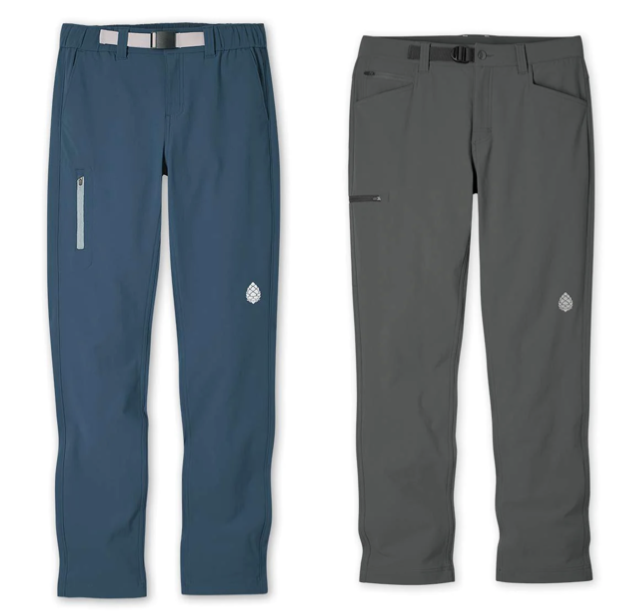 Shop the Stio Pinedale Pant at: (Use code ADVENTUREADDICTS for 20% off)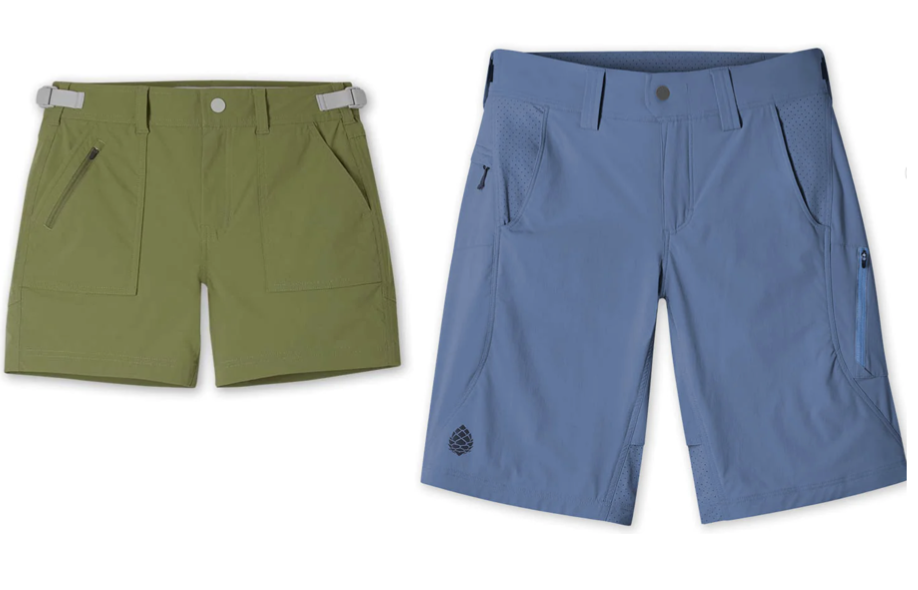 Shop Stio Shorts at: (Use code ADVENTUREADDICTS for 20% off)
Camp Sandals
We always bring a pair of sandals to change into at camp. Nothing feels better than taking off your hiking shoes, putting on your Tevas, and wading into the alpine lake after a long day of hiking. These are our go-tos because they're incredibly lightweight and can be used to cross water if needed.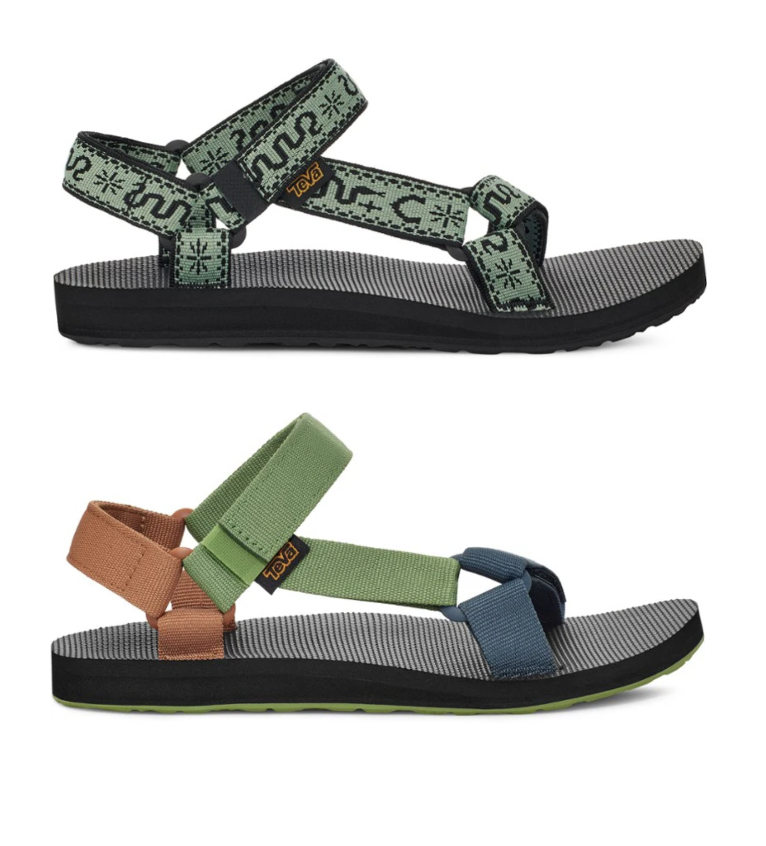 Shop the Tevas Universals at:
Neck Gaitor/Buff
These are similar to a bandana in that they have a million uses. They can be used to pull your hair back from your face, around your neck and nose in a storm to stay warm or dust free, or they can be soaked with water on a hot day to keep your neck cool.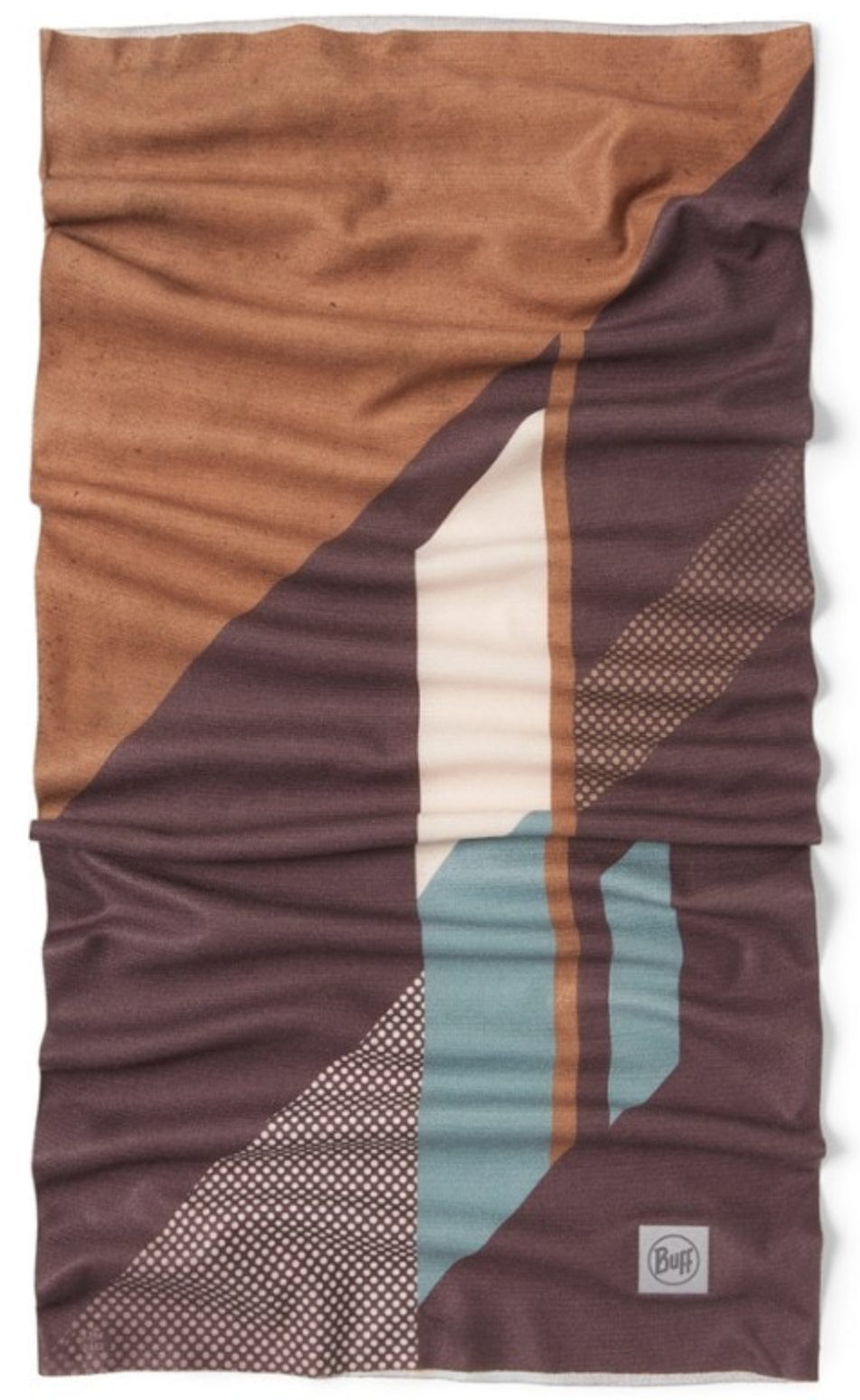 Shop the CoolNet Buff at:
Rain Pants
These come on any trip that have suspected rain. They zip from the top to the bottom so you don't have to take your shoes off, and keep water out impressively well.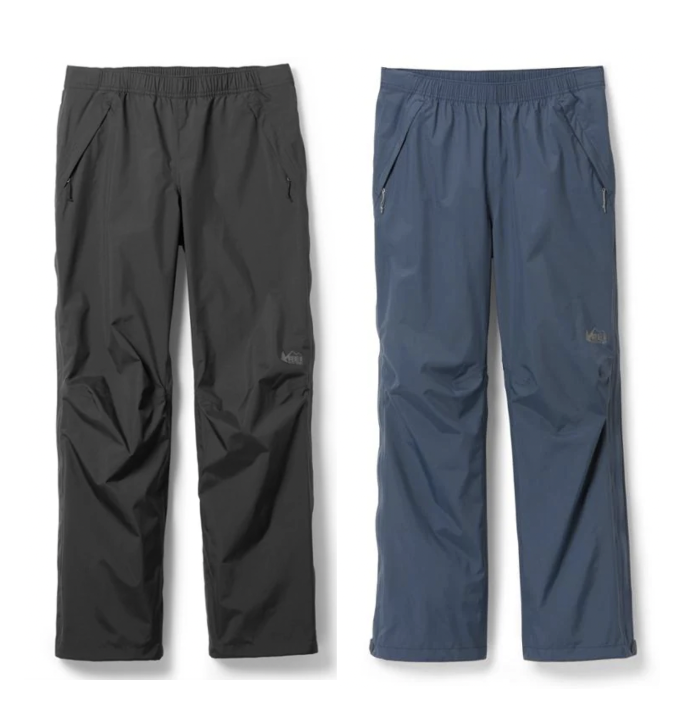 Shop the REI Rainier Rain Pants at:
Gloves
For most cooler backpacking trips, we can get away with a pair of glove liners to keep our hands warm in the mornings and evenings. If you're expecting rain or snow, bring waterproof ones!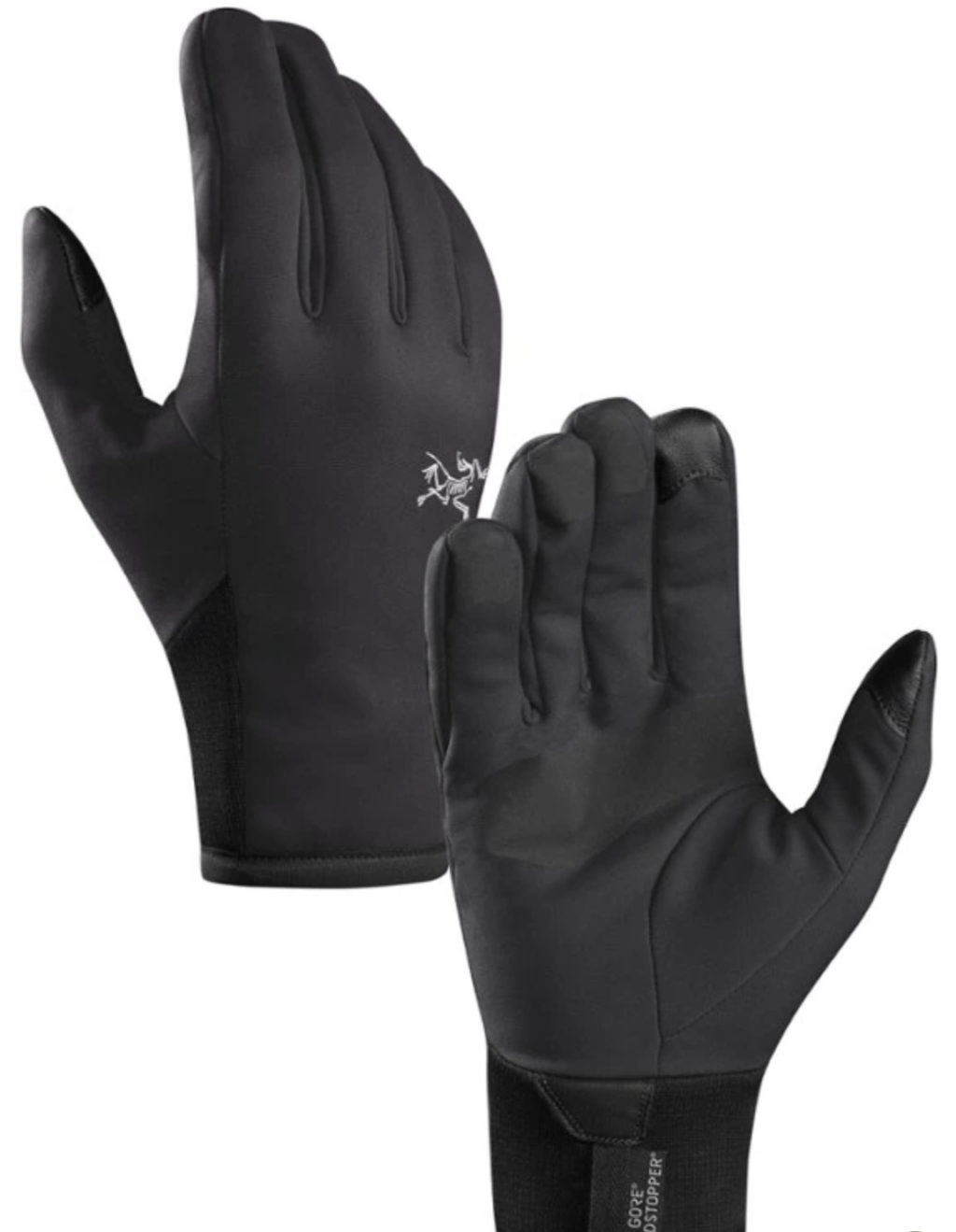 Shop the Acrteryx Venta Gloves at:
Beanie
Also not a necessity for every trip, but cooler mountain trips are much cozier with a beanie!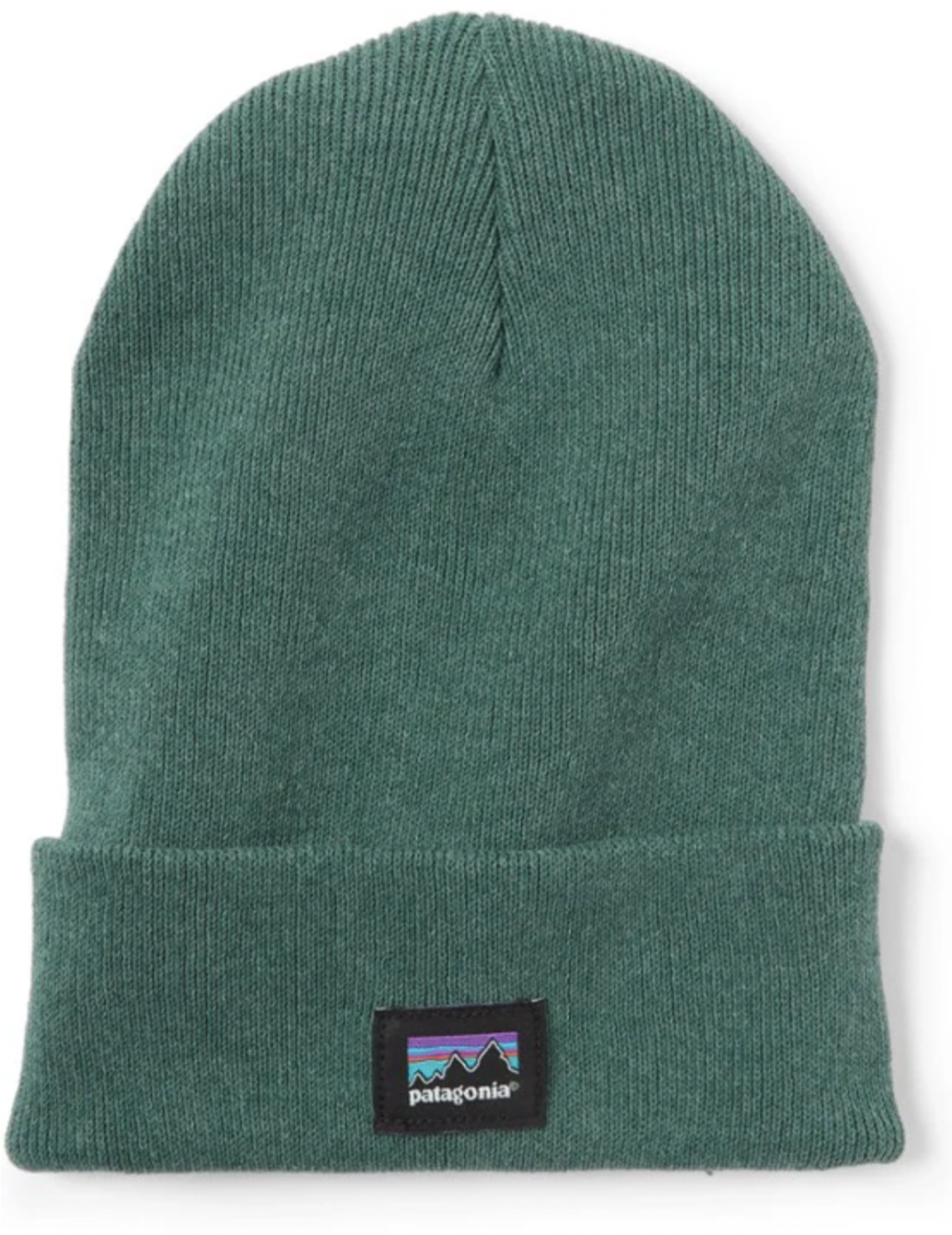 Shop the Patagonia Beanies at:
Gaitors
We bring these for hikes where we know we'll be crossing deeper snow. These help to keep your feet dry and the snow out of your boots!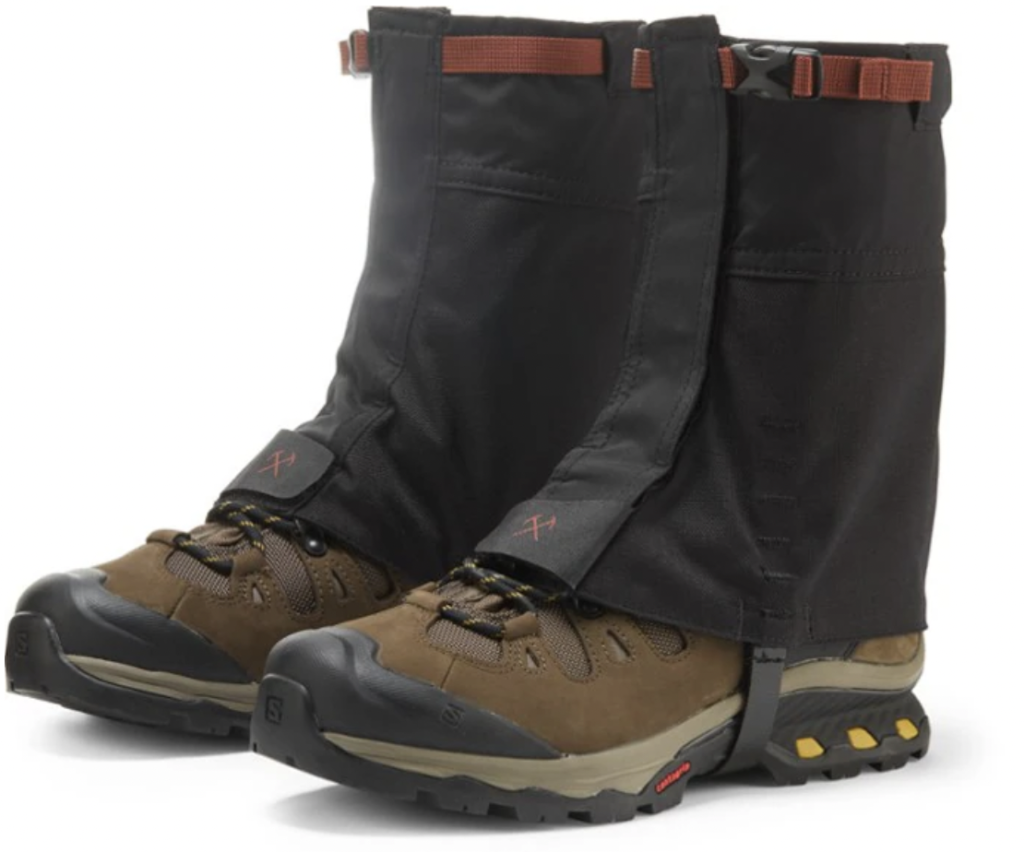 Cooking
Stove
We recently upgraded to the Jetboil Stash and LOVE it! It's super compact, boils water quickly, and can be used with other pots too.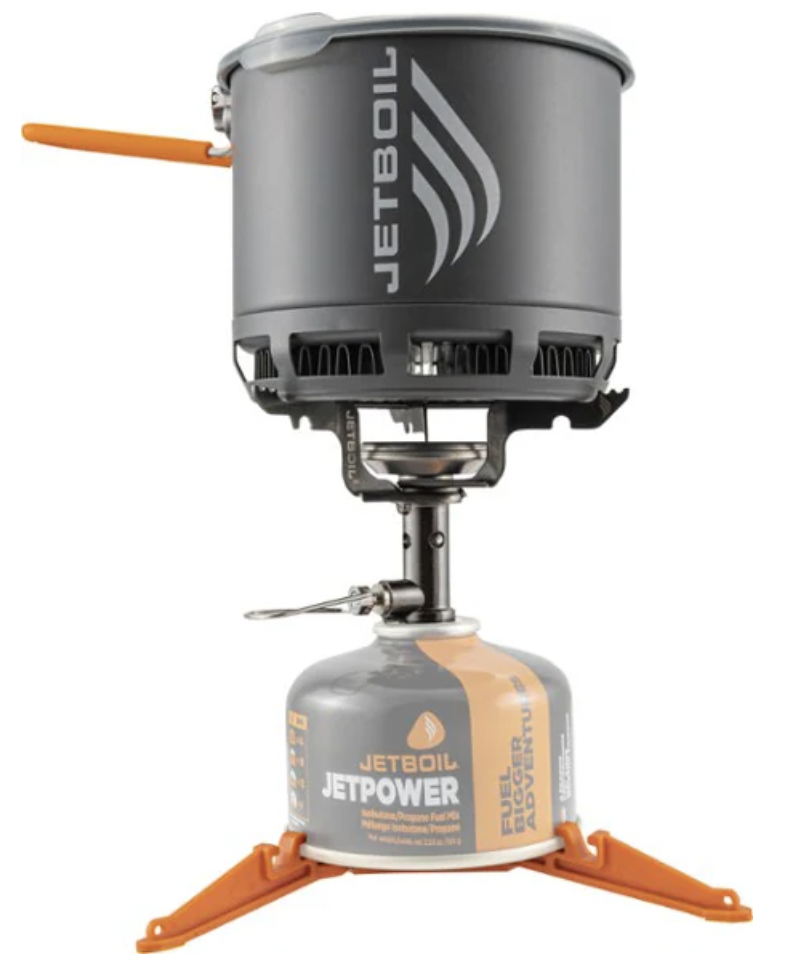 Shop the Jetboil Stash at:
If you're looking for a more budget-friendly option, we used this Jetboil Flash for years before upgrading, and it works really well!
Shop the Jetboil Flash at:
And an even more budget friendly option would be this compact stove (but you'll need a pot too).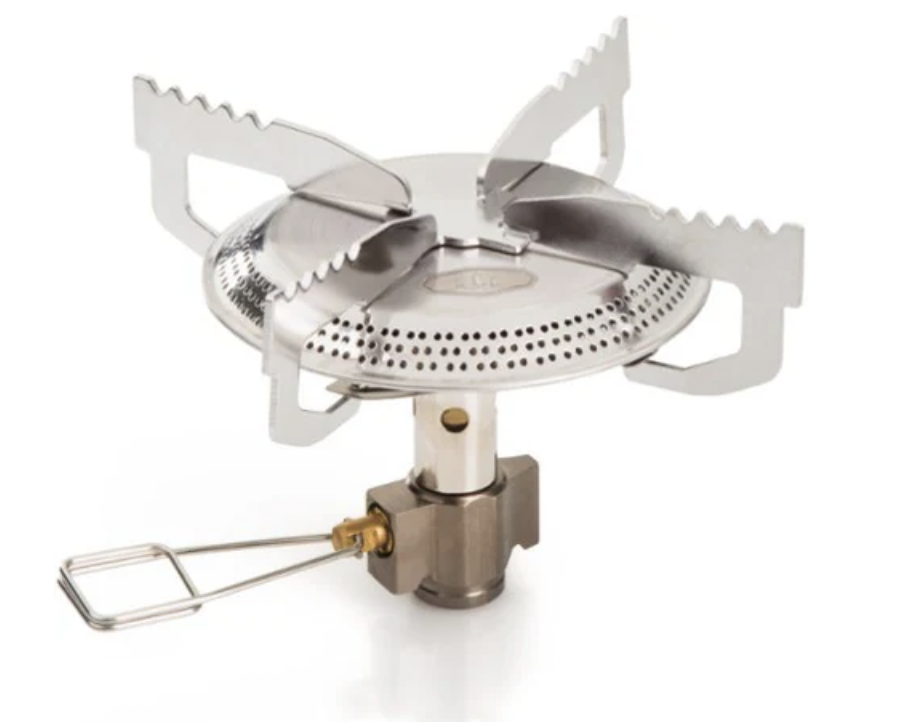 Shop the GSI Outdoors Glacier Camp Stove at:
Fuel
Determining how much of this you'll need definitely takes some practice (so when you're starting, always bring a little extra). These small canisters are super easy to pack inside pots and the Jetboil.
Shop Backpacking Stove Fuel at:
Lighter/Matches
Always have two ways to start a fire!
Pot/Cookset
We have this full Sea to Summit Cookset and cannot recommend it enough! It's super easy to clean and comes with plenty of things you may need for any trip. We typically don't bring the whole set on a backpacking trip, but rather pick and choose depending on what we plan to cook and for how many people. There is a larger pot that is great for bigger meals, two bowls, two mugs, a dish towel, and a small pot for solo trips.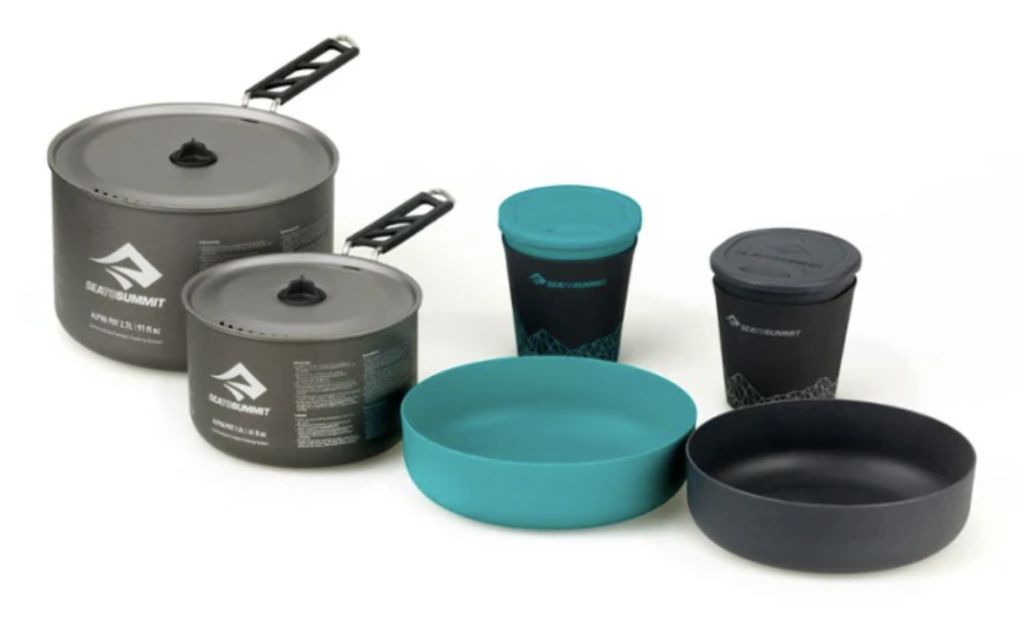 Shop Sea to Summit Alpha 2.2 Cookset at:
Bear Canister/Food Bag
If you're planning to backpack in bear country, having the proper gear to store your food is crucial! We have seen numerous groups have ALL of their food eaten by a bear, and they had to hike out that morning because of it. Make sure you read regulations on the area you'll be in, as more and more locations are requiring bear canisters, as they are the most reliable form of protection. These need to carry anything with a scent, so you'll have to be mindful of what you bring!
These come in four sizes. For most 2-3 day trips, a BV 450 should be perfect.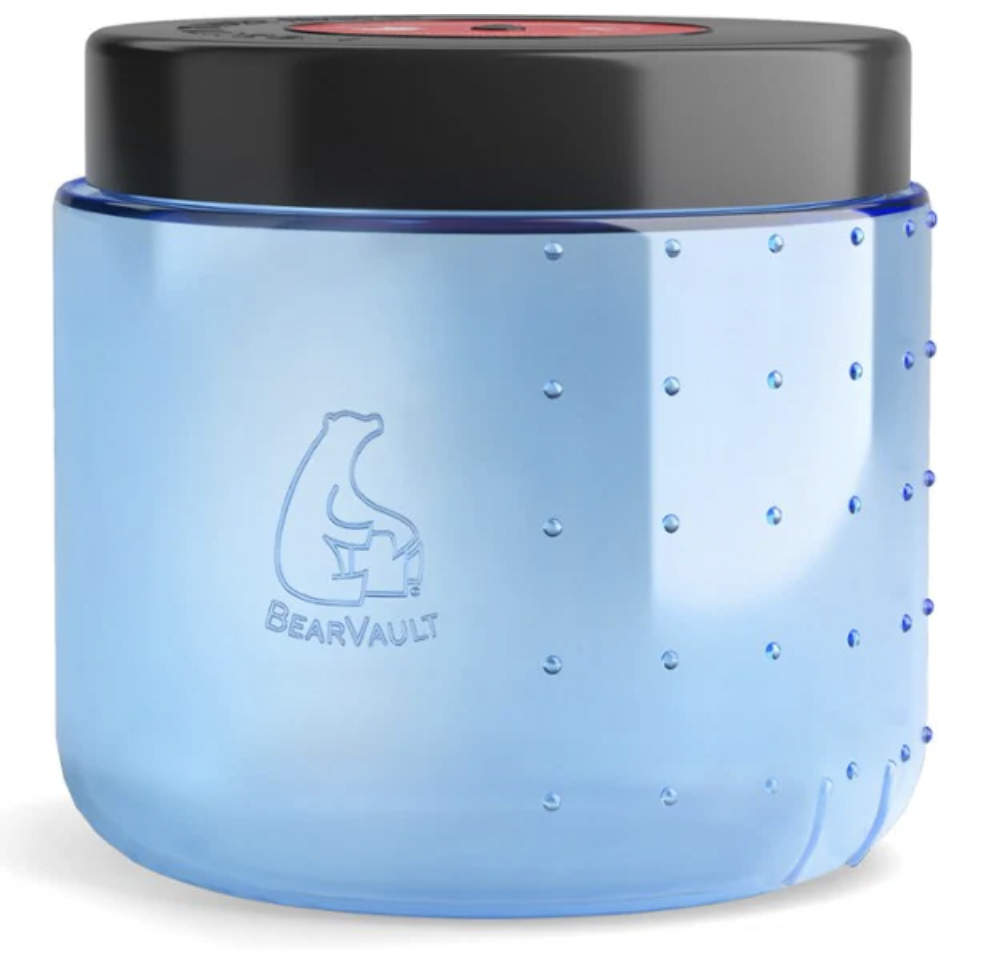 If you're going to be out longer or will be sharing this with someone, a BV 500 is the way to go.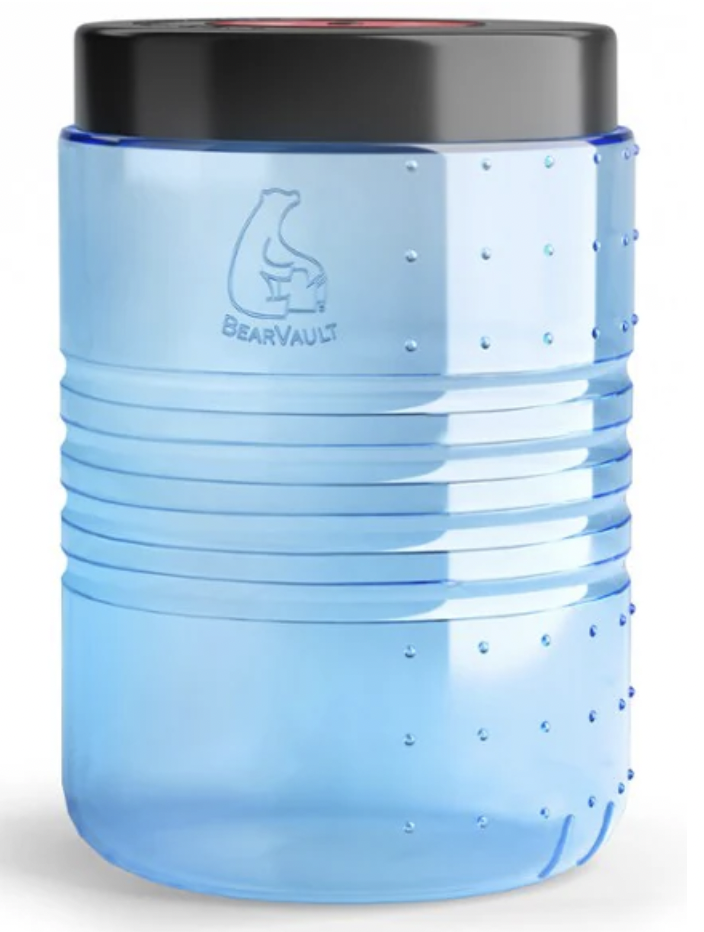 If you're backpacking outside of required bear canister territory, but are still in bear country (we often still bring a bear canister because they're so reliable), a Ursack is another popular option that weighs less and packs easier.
Mug
Mugs are a staple for warm drinks at camp, electrolytes after a long day, or even eating oatmeal out of. We use these ones from GSI Outdoors.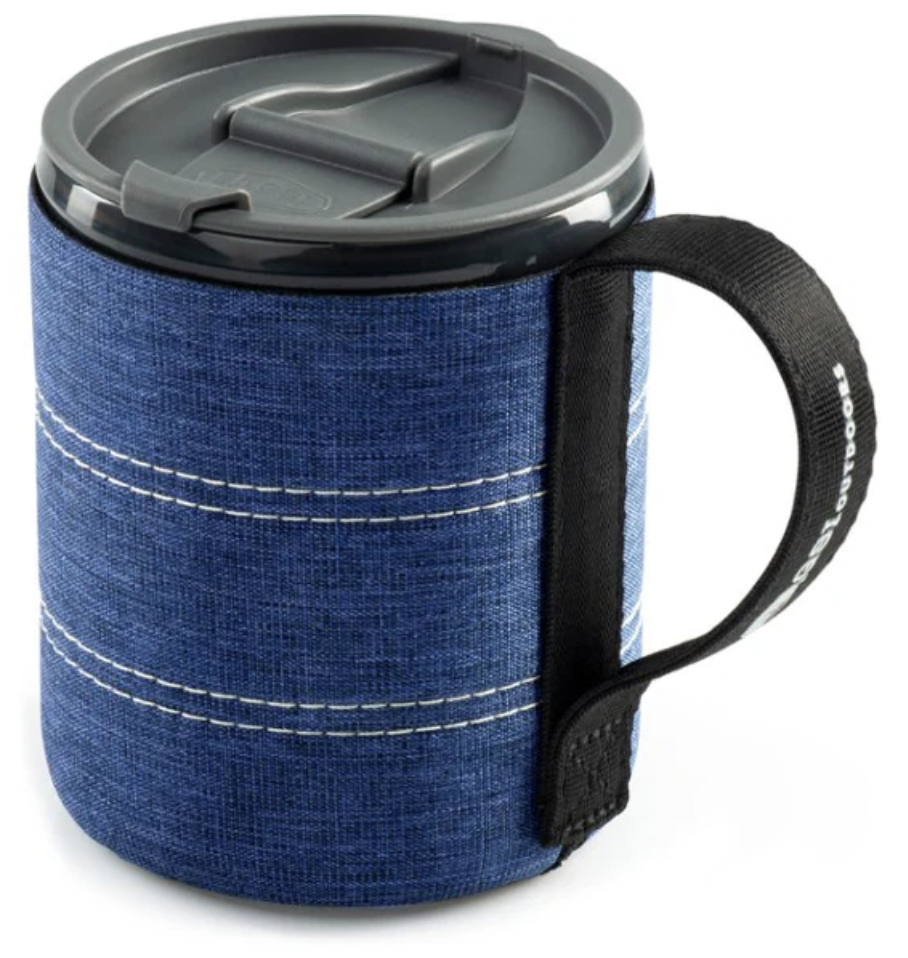 Shop the GSI Outdoors Infinity Mug at:
Spoon/Fork
OR let's combine the two and bring a long spork! These Sea to Summit Alpha Light Sporks are our favorite. They're super light and they are long enough to reach all the way into a dehydrated meal without getting your hands covered in dinner.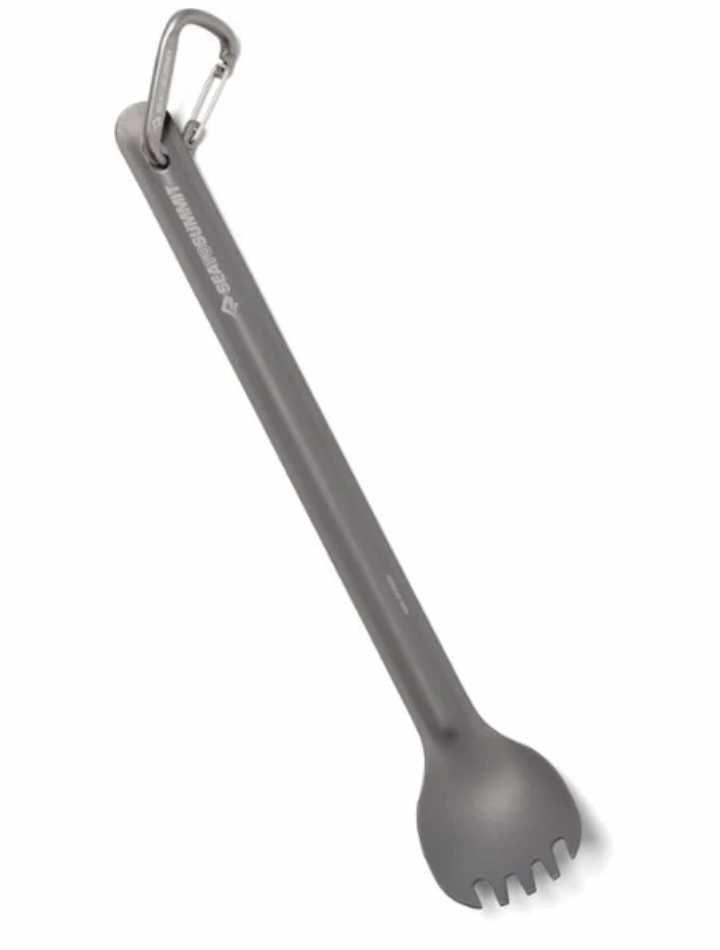 Shop the Sea to Summit Alpha Light Long Spork at:
Food Cozy
If you're making your own food or are bringing any food in an un-insulated bag, bringing a food cozy can be great for keeping it warm while it's rehydrating. We made ours at home!
Biodegradable Soap and Sponge
We all hate doing dishes in the backcountry, but it has to be done! Make sure you're following LNT practices when you do dishes, and don't do them near water. This Sea to Summit Soap and brush come as one and make dishes in the backcountry a LOT easier.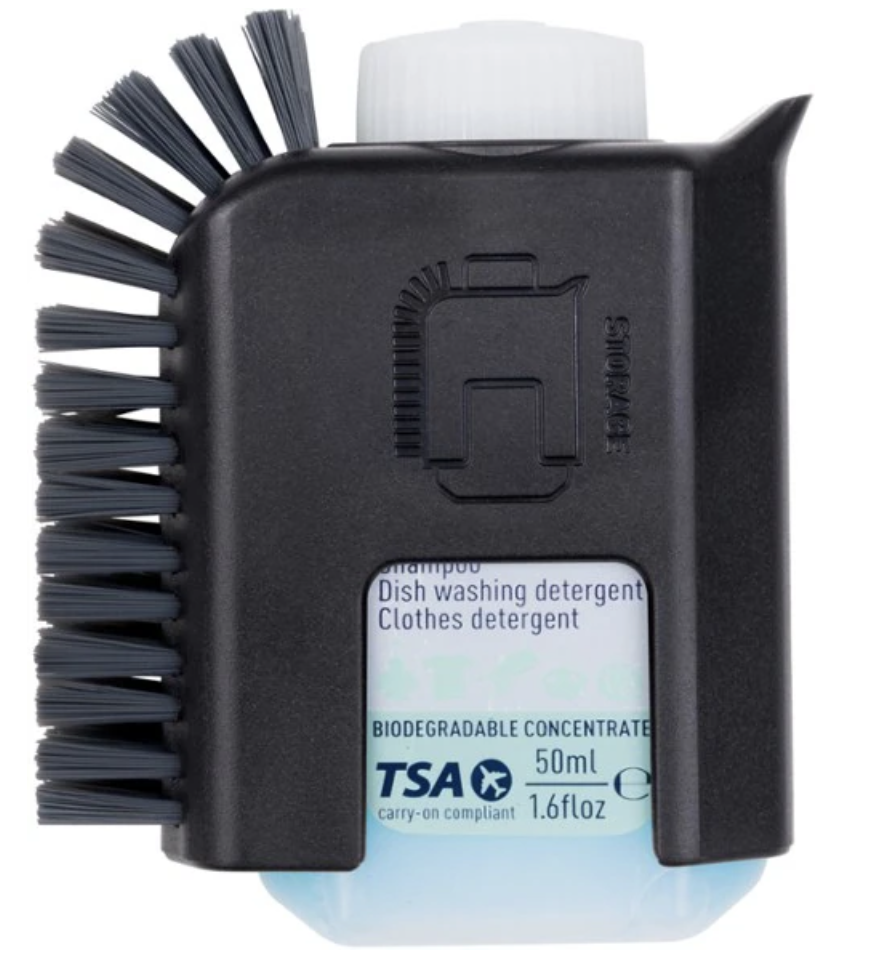 Shop the Sea to Summit Scrubber and Soap at:
Toiletries
Toothbrush
I always like finding one of these with a cover, and bonus points if it packs down small!
Toothpaste
You can bring regular travel size toothpaste OR toothpaste tabs are way smaller to pack!
Hand Sanitizer
Does this one really need an explanation?
Chapstick
Bonus points if it has sunscreen in it too! We always bring at least a few of these so they're easily accessible and we aren't fighting over them.
Sunscreen
Make sure it's reef friendly if you plan to swim at all!
Bug Repellant
Some of my worst bug bites have been on backpacking trips. Before you leave home, we recommend treating your gear with Permethrin. It can be sprayed onto your clothes, tent, backpack, and anything else, and it prevents bugs on the places you can't apply bug spray.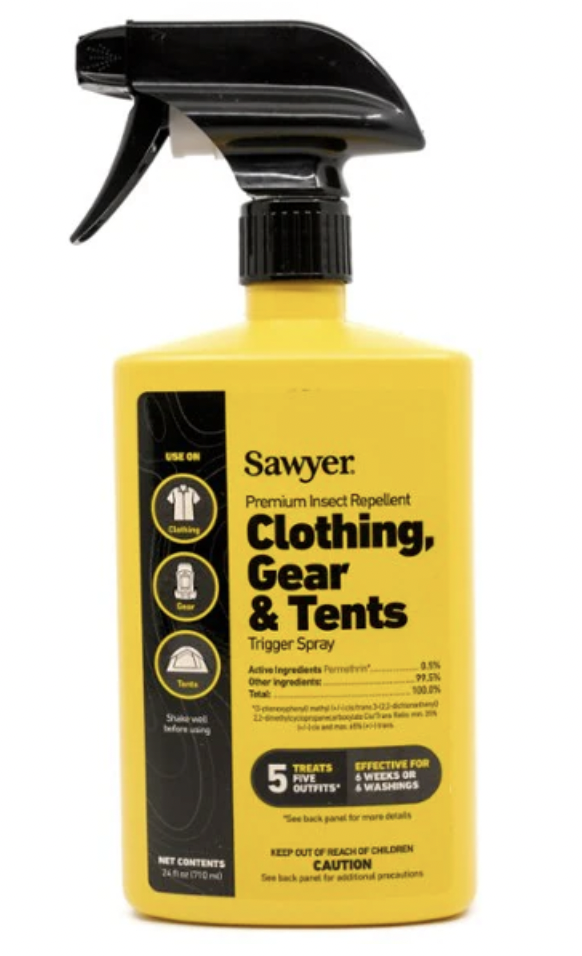 Shop the Sawyer Products Permethrin at:
Then, we bring Picaridin to camp to apply over and over and over.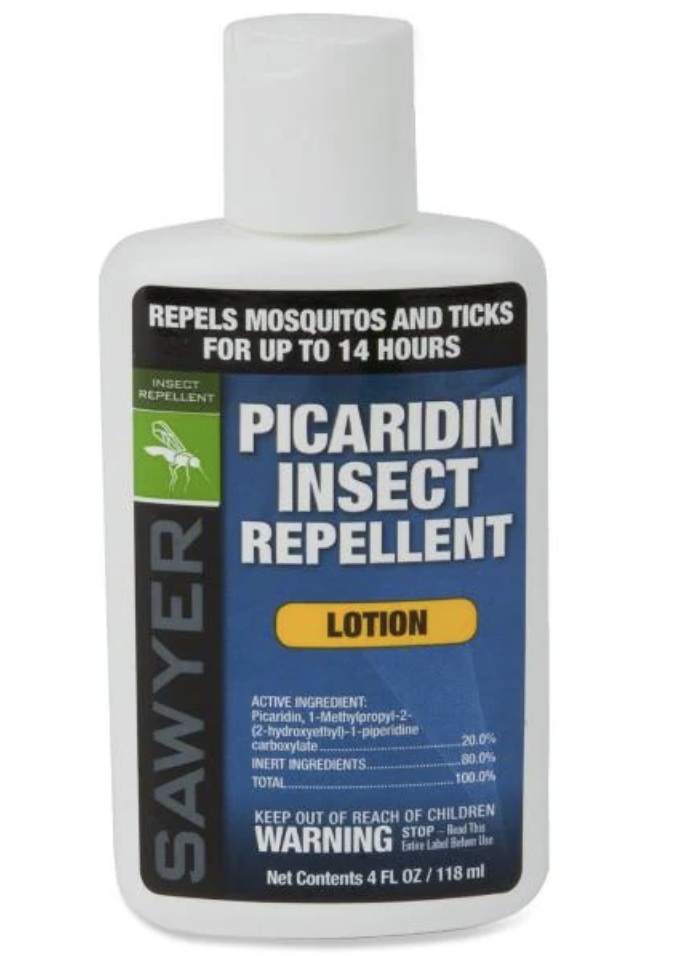 Shop the Sawyer Products Picaridin at:
Bathroom Kit
Trowel
A lightweight trowel allows you to dig deep enough to bury your poop (at least 6-8 inches), and doesn't add on much weight at all to your pack.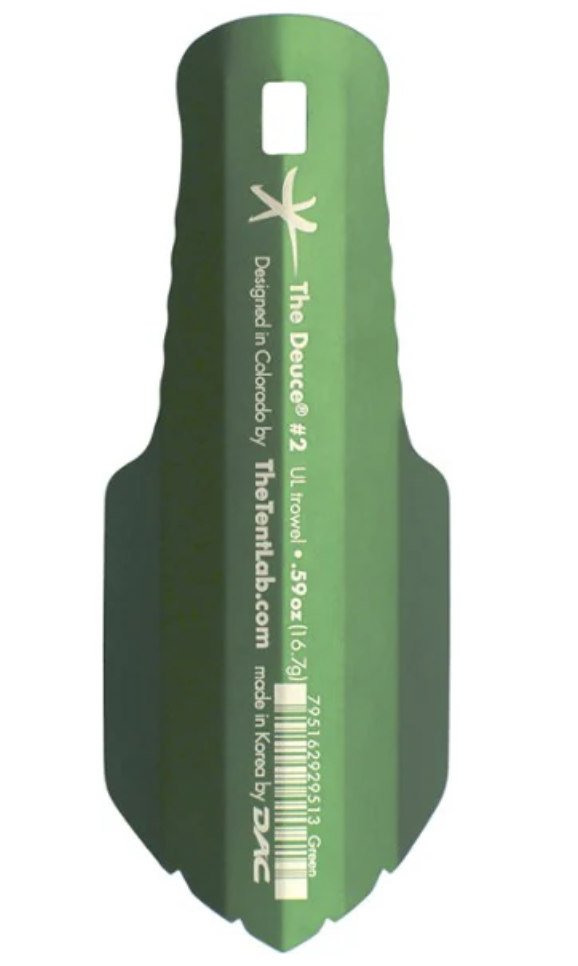 Shop TheTentLab The Deuce #2 Backcountry Trowel at:
Toilet Paper/Wipes
Whichever you prefer! Make sure to pack it back out with you as well. We bring dog poop bags to put the toilet paper into, so you don't have to see it.
Wag Bags
These are becoming required in more and more locations, and they also are necessary anytime you cannot dig a hole (rocky ground in the desert or high mountains). Please pack your poop out when it is necessary. Future hikers really don't want to see it on the side of the trail, and when people don't pack them out, it risks all of us not being able to use a trail anymore, as national forests may close areas. We bring these on every single trip.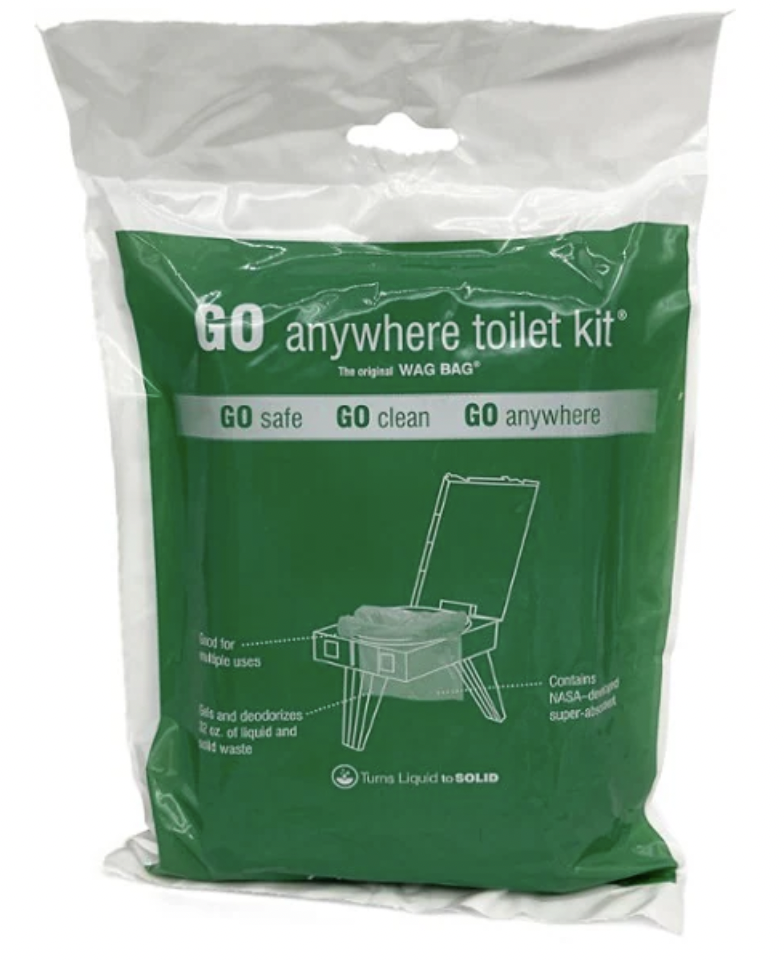 Shop the Go Anywhere Toilet Kit at:
Extra Zip Lock Bags
For TP or trash!
Dry Bags
We bring really lightweight dry bags to put our wag bags into for the carry out. This allows us to hang the bag from the back of our backpack, rather than put it inside the pack with the rest of our stuff. It also helps to cut down on smell.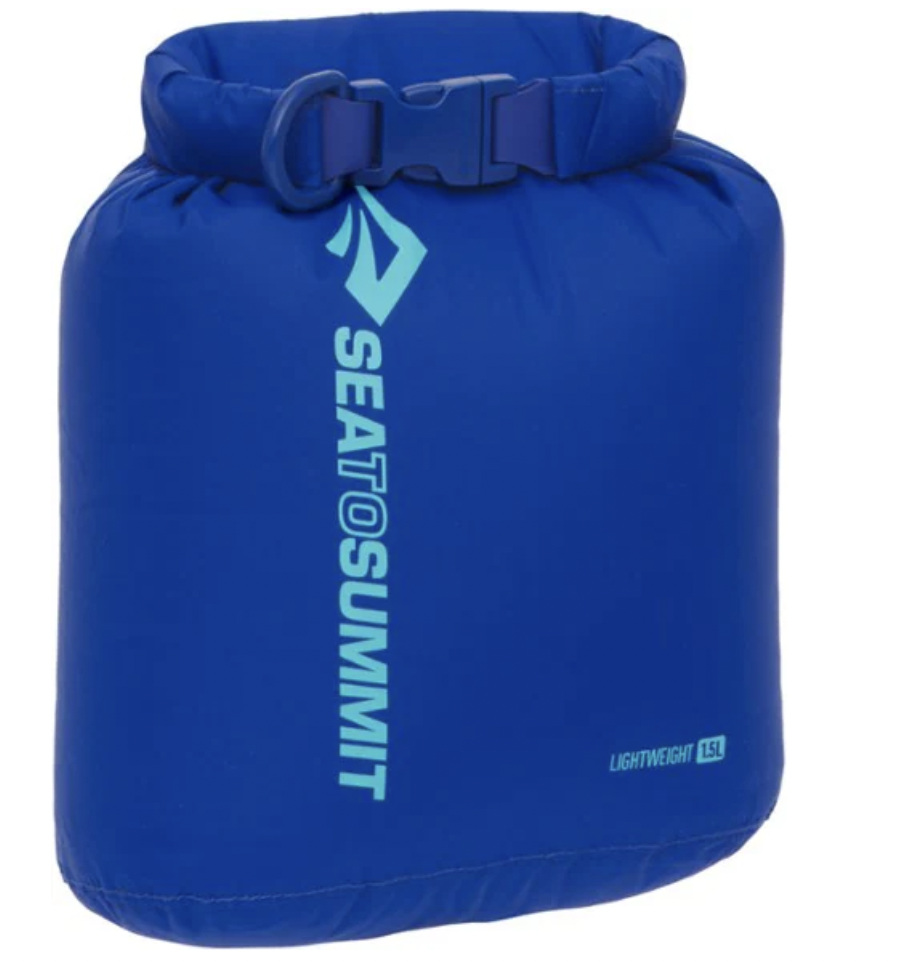 Shop the Sea to Summit 1.5 L Dry bag at:
Extras
But still necessary!
Gear Repair Kits
Many pieces of gear come with this (and we are always so happy when they do), but we always like to bring patches for our gear in case we get a hole or a rip, especially on a sleeping bag, down jacket, rain fly, or sleeping pad! We usually just stick these in our first aid kit.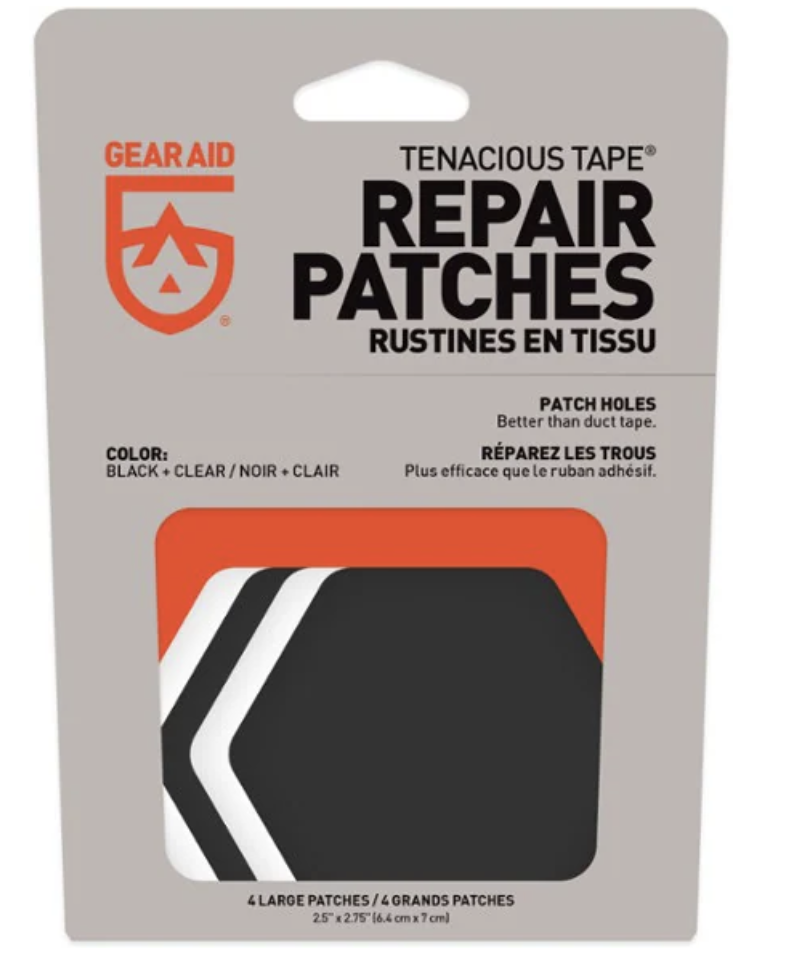 Shop the Tenacious Tape Repair Patches at:
Ziplock/Trash Bags
We usually bring a couple gallon Ziplock bags for our trash, so we can seal it up. We also will bring a trash bag or two in case we end up picking up some extra garbage from other campers.
Permit
Depending on the trail, you may need a permit printed out with you! Always put it in a plastic bag so it can't get wet and ruined.
ID, Cards, and Cash
This may sound a little harsh, but I always tell my friends to bring their ID in case they die, as that will make it much easier to identify the body… But really, in case the trip changes or you make an exit differently than planned, having the ability to pay for an uber, some food, or someone who picks you up if you're hitchhiking can be really helpful in a pinch.
Phone
I use my phone for photos and videos, as well as an AllTrails download and connection to our Garmin InReach mini 2.
Towel
If we are headed to a lake or river, we will often bring a small packable towel to be able to lounge on and dry off with (and you can wrap wet bathing suits in it afterwards).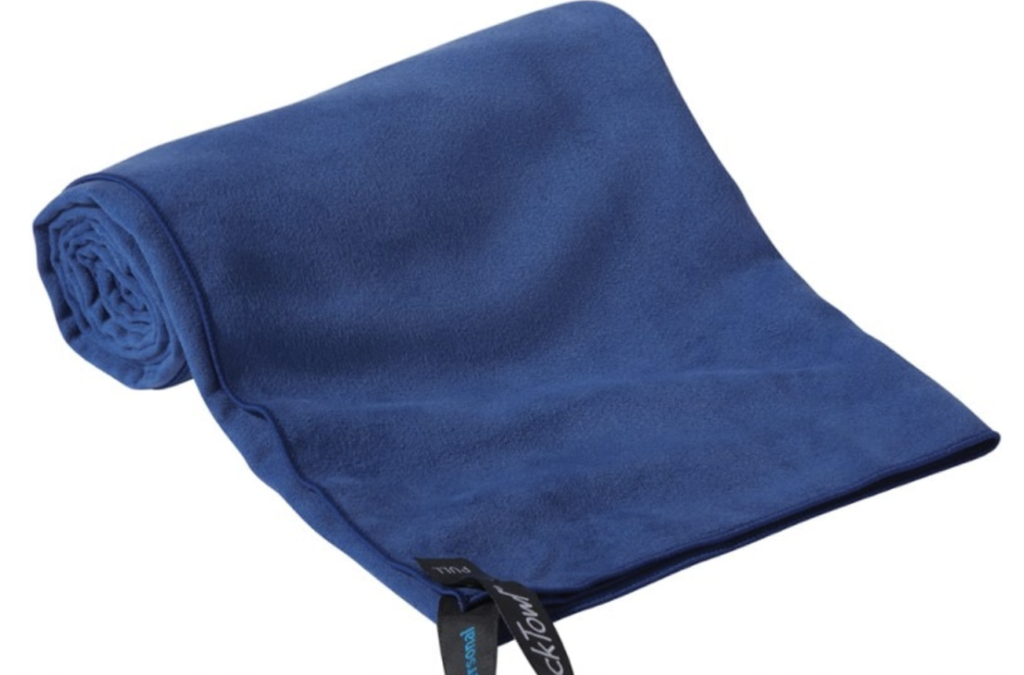 Bear Spray
We only bring this if we are backpacking in grizzly territory!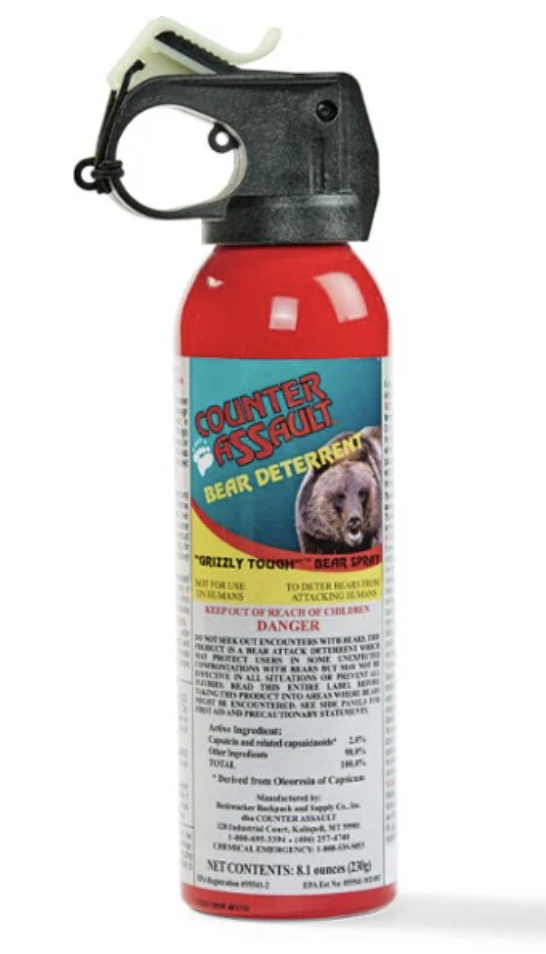 Shop Counter Assault Bear Spray at:
Medication
Make sure you find a safe and secure way to keep this in your pack, and make sure your backpacking partners know about it and where it lives!
Camera, Books, Deck of Cards, Notebook and Pen
There are quite a few ways to bring entertainment if you would like! We typically just bring a deck of cards, because it's light and easy.
Let us know if you have any questions on your backpacking gear for this year, and we hope to see you on the trails!