There truly is nothing better than gathering around the campfire after (or before) a long day of adventure, grabbing a beverage, and making an amazing meal with friends. We absolutely LOVE camp cooking, and are always searching for new camping meals to make on our trips.
We have a couple of rules for camp cooking. A good meal needs to: use as few dishes as possible, be easy to make, and taste really good.
All of the below recipes are guaranteed to impress your friends and family while also keeping your workload low so you can really enjoy the evening!
Disclaimer: This post contains affiliate links! This means if you purchase an item from the links, we may make a small commission on the sale at no extra cost to you. If you do use the links, we really appreciate the support!
Breakfast Tacos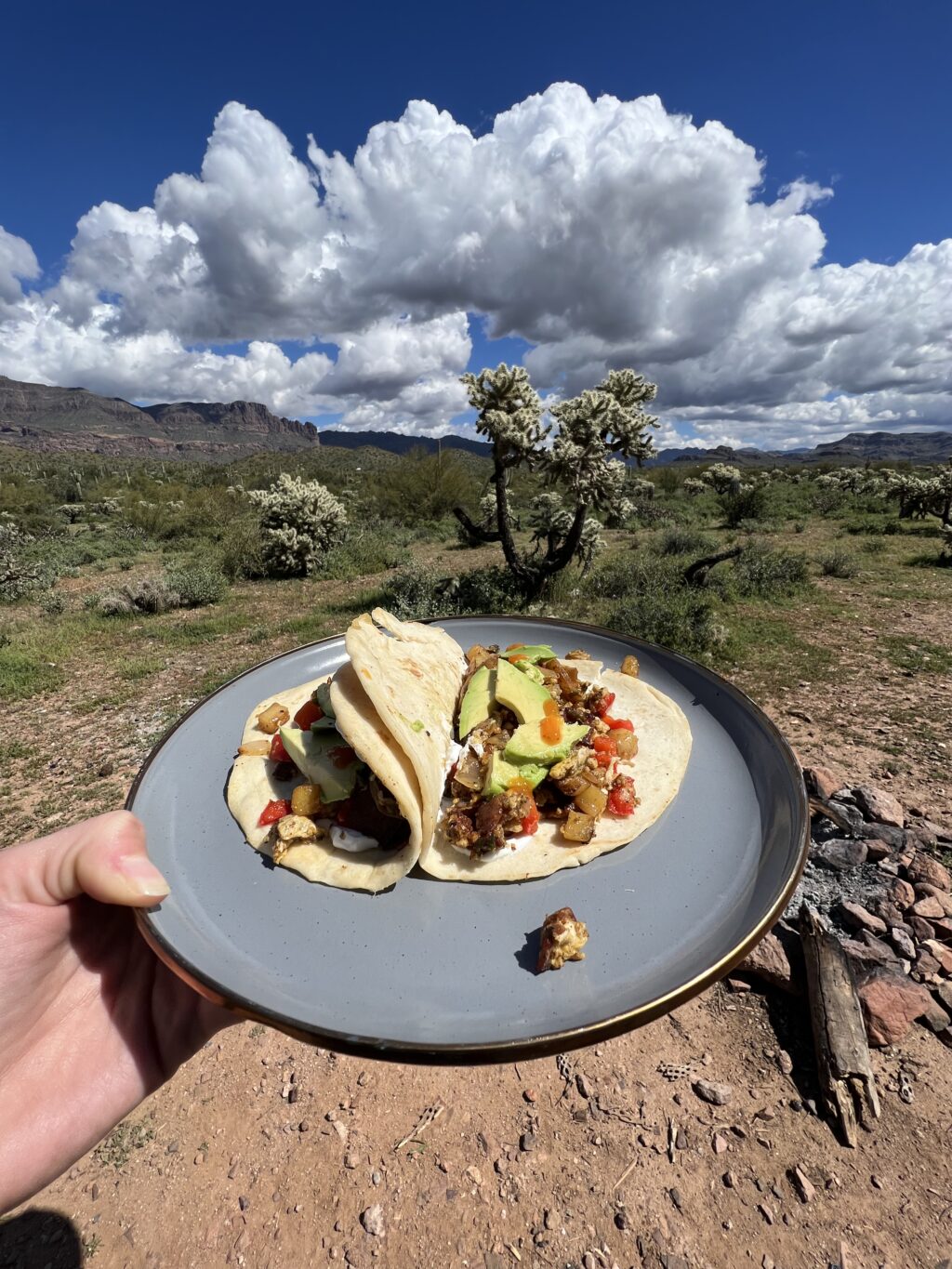 This is our go-to breakfast for every single camping trip (and at home!). This is a great super easy breakfast you can make for one or for a large group. We love that they're really versatile, and you can add whatever you have at camp into it! Once you have the base, you can add tons of additional ingredients to customize to your liking.
Ingredients:
Eggs
Tortillas
Veggies (whatever you like! We use bell peppers and onions most often)
Potatoes (optional)
Rice (optional)
Protein (We love using bacon or breakfast sausage, but also may use taco meat from the night before!)
Sour Cream
Avocado
Cheese
Hot Sauce
Start by chopping and sautéing your favorite veggies and potatoes in a pan with some butter. Once they're soft, add in your eggs, rice, and any leftovers and scramble. Make sure to warm your tortillas, and then build the tacos. We always start with sour cream on the bottom, then the egg scramble, topped with avocado and hot sauce!
We have an example of how we make them here!
Smash Burgers
Smash burgers are a classic for us! They're so hearty, easy to make, and always hit the spot. A good camping burger is something I crave after a long summer day outdoors.
Ingredients:
Patties (Pre-made will be easiest, can also do turkey or veggie!)
Buns (Brioche are our favorite)
Cheese (Pepperjack or Cheddar)
Toppings: Lettuce, Tomato, onions, ketchup, thousand island, mustard, mayo, avocado, etc.
These can be made on a cast iron pan on a one or two burner stove! Grill up the patties, melt some cheese on top, and toast the buns. Then, everyone can doctor it up how they like!
Pad Thai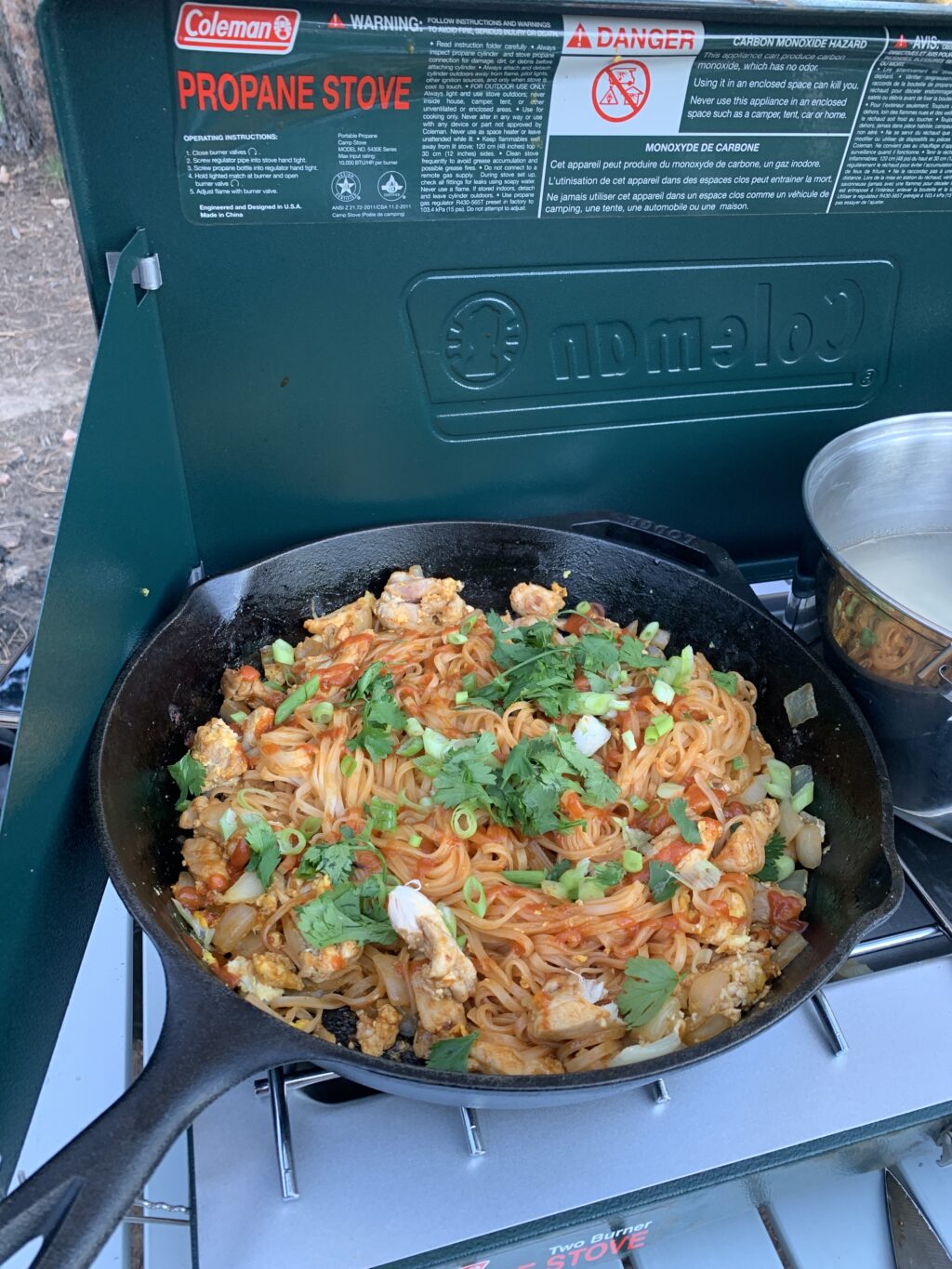 Pad Thai seems super complicated to make at camp, but it's actually become one of our go-tos because it's so easy! You'll want a two burner stove to be able to make the rice noodles and the Pad Thai at the same time.
Ingredients:
Rice Noodles
Chicken (or Tofu)
Onion
Pad Thai Sauce
Bell Pepper
Eggs
Cilantro
Lime
Green Onion
Sriracha (optional)
Peanuts
You're going to start by boiling a pot of water to cook the rice noodles according to the box instructions. In a cast iron (or separate pan), add diced onions and bell peppers to cook until soft. Add in diced chicken and cook through. Move the chicken and bell peppers to the sides of the pan, scramble a few eggs in the middle, and then mix it all together! Once the rice noodles are cooked, add them to the chicken mixture. Add in the sauce, and stir until combined. For each personal serving, top with sliced green onion, cilantro, some lime juice, and peanuts!
Here's a full video showing how to make it:
Taco Bowls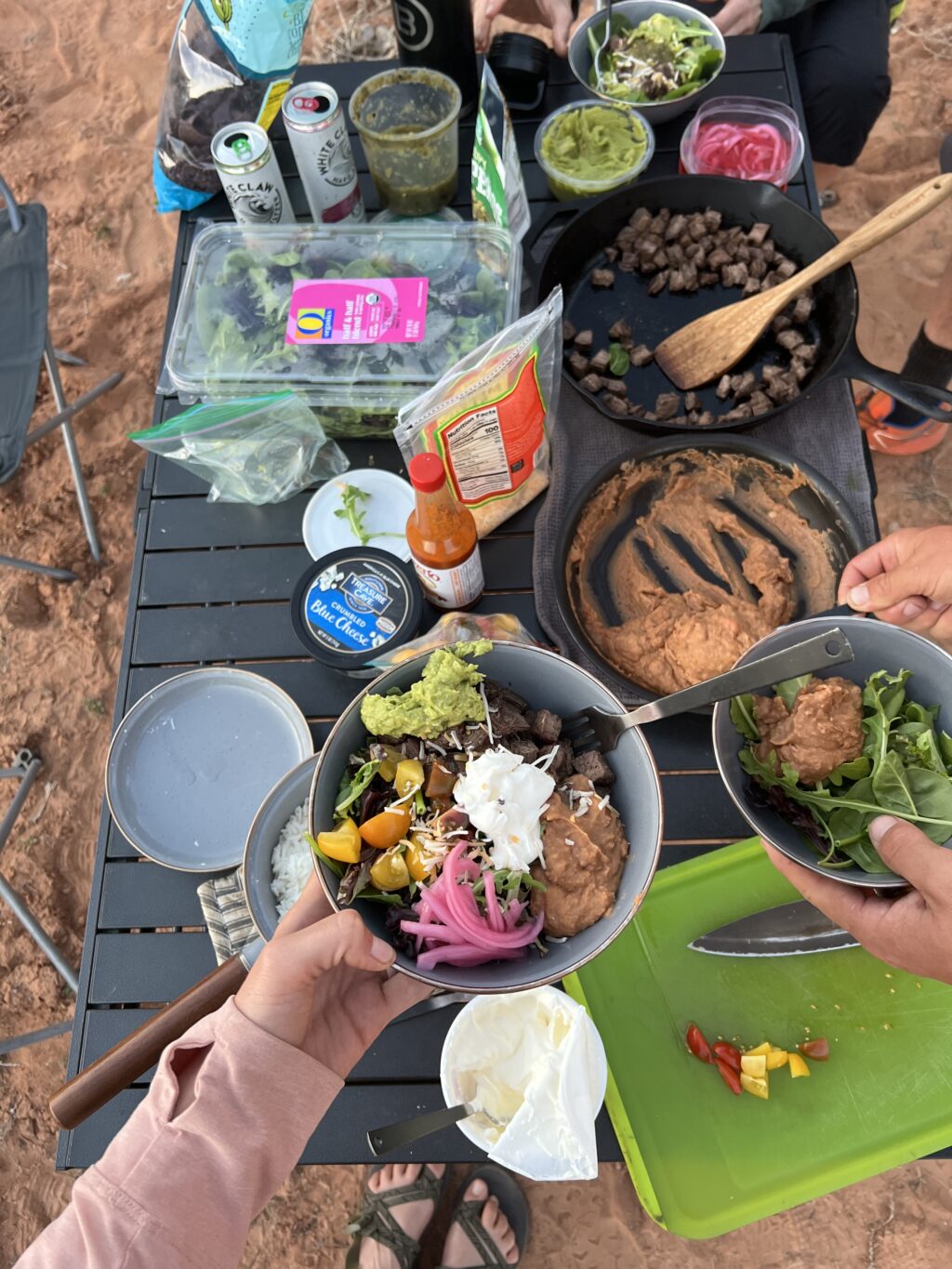 Taco bowls are a great option because everyone can tailor it to their preferences! Heat up a few base items (beans, protein, rice), and set out a topping bar to make each bowl unique.
Ingredients
Beans – We love black refried beans!
Protein – If you are hoping for something easy, you can bring pre-made chicken! We will swap between ground beef, leftover steak, and chicken.
Rice – Pre-made rice will make this super simple
Lettuce
Tomatoes
Bell Pepper
Cheese
Sour Cream
Avocado/Guacamole
Hot Sauce
Heat up all of the warm ingredients, and chop the veggies and set them out on the table to make this a super simple meal! It can be really hardy and satisfying at camp, and it's become one of our go-tos.
Sausage and Peppers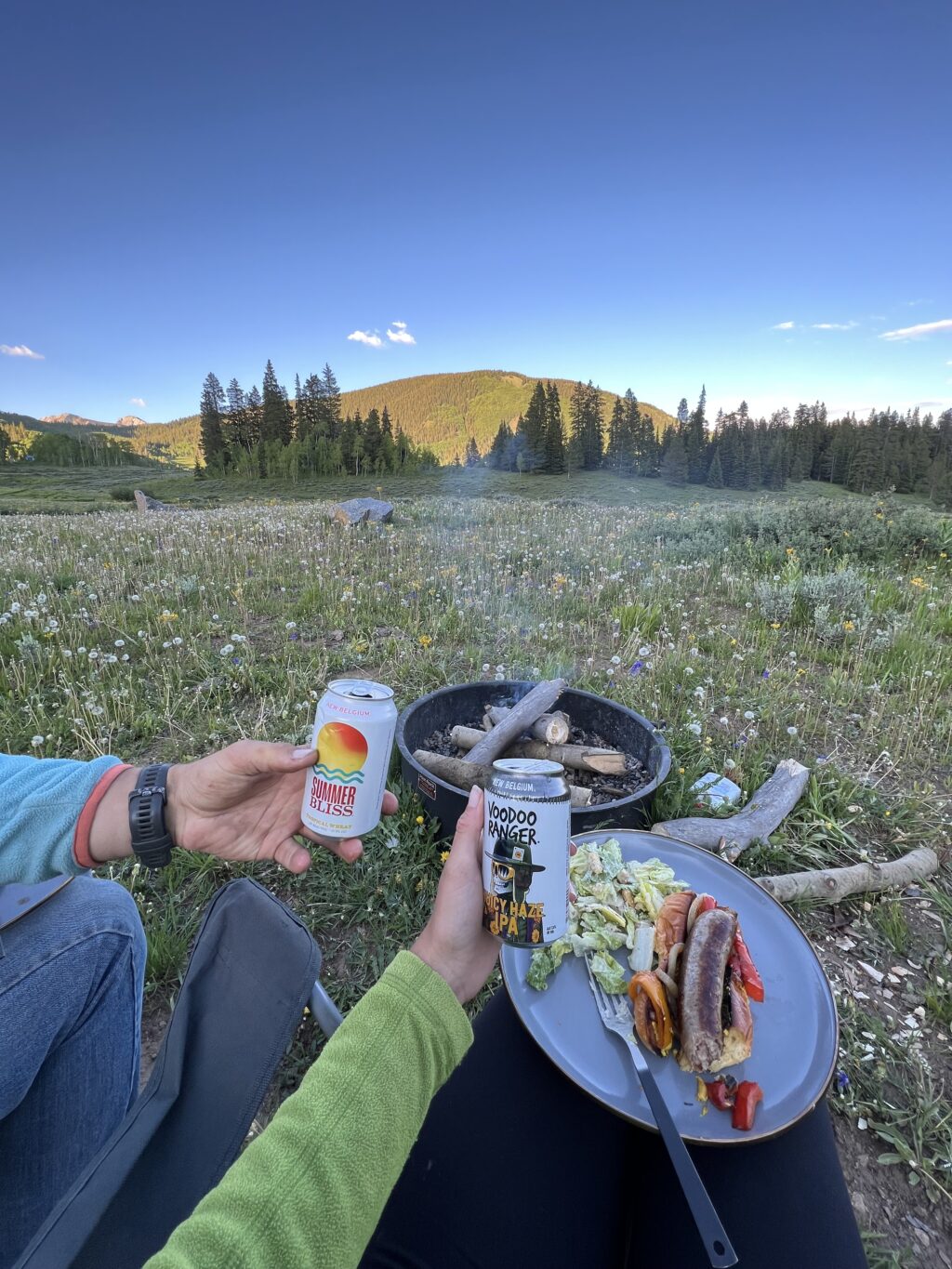 We like to think of these as "fancy" hot dogs. While hot dogs are a camping classic, they could definitely use some extra "umph!" Sausage and peppers can be made all in one pan, and paired with a bagged salad to make a really satisfying summer camp meal (and its made with 5 ingredients)!
Ingredients:
Sausages – Brats work best for this, but any sausage you love will do!
Bell Pepper (julienned)
Onion (julienned)
Bun – We prefer brioche
Mustard
We typically will cook this whole meal in a cast iron pan. Start with the sausages over a medium high heat, and cook them through, turning pretty consistently. Pull the sausages off (or push them to the side), slice your onion and bell pepper into small slices, place them on the cast iron, and sauté until they are soft. Pull those off the cast iron, and quickly toast the buns. Assemble the sausages by placing mustard in the bun, then peppers and onions, then sausage, and more mustard.
Here's how to make it:
Avocado Toast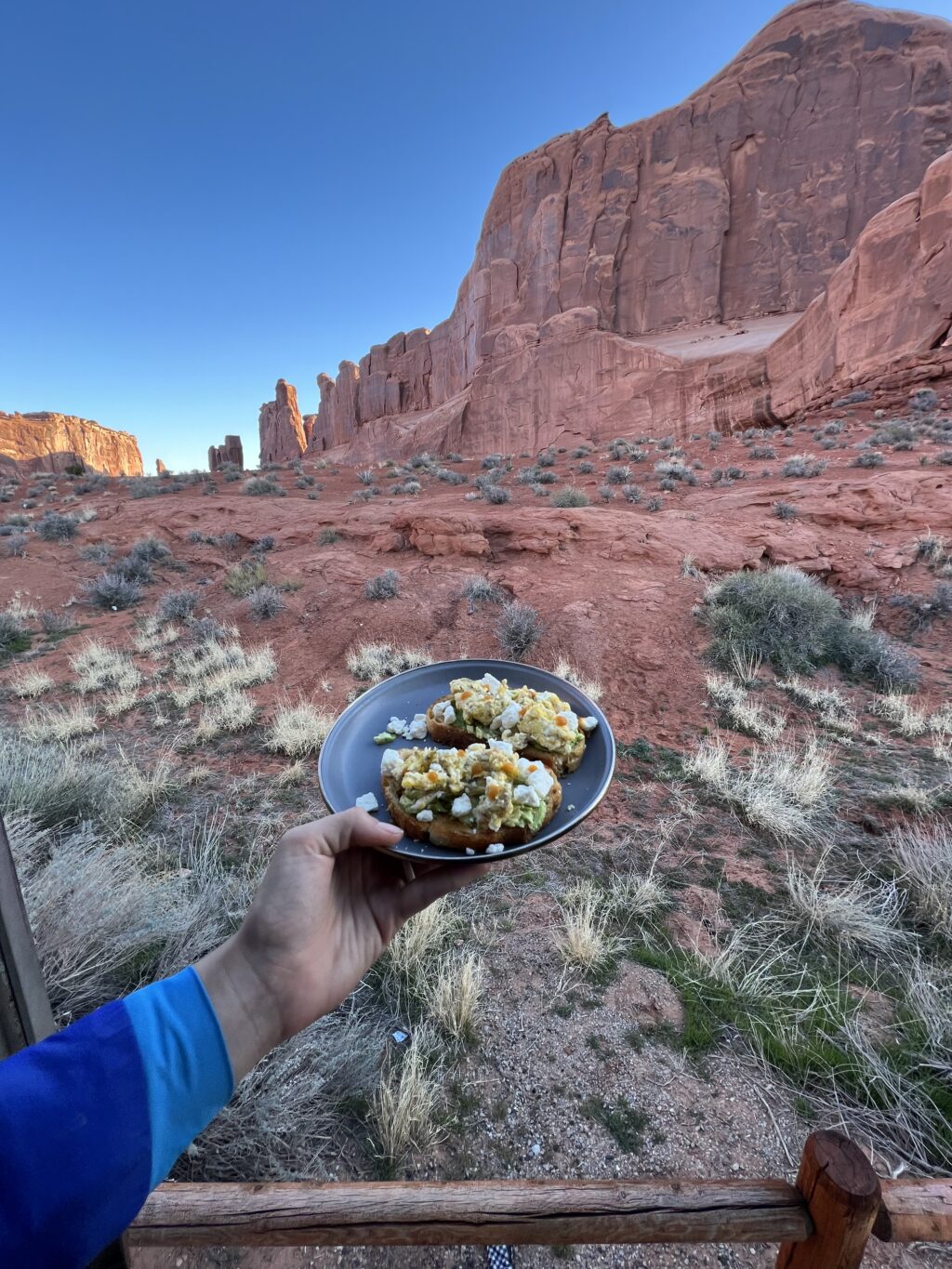 This is a classic for us at home, and it's equally as good out at camp! Add some extras to make it filling for a whole day of adventure.
Ingredients:
Bread – we love finding bakery bread wherever we're traveling, but any bread will do!
Avocado
Eggs
Feta
Hot Sauce
Toast the bread over the camp stove: we will put butter in a cast iron pan and toast both sides of the bread. Then, cook your eggs to your liking as you begin assembling the toast. Top the bread with avocado, eggs, feta, hot sauce, and anything else you may have!
Salads (with lot's of extras)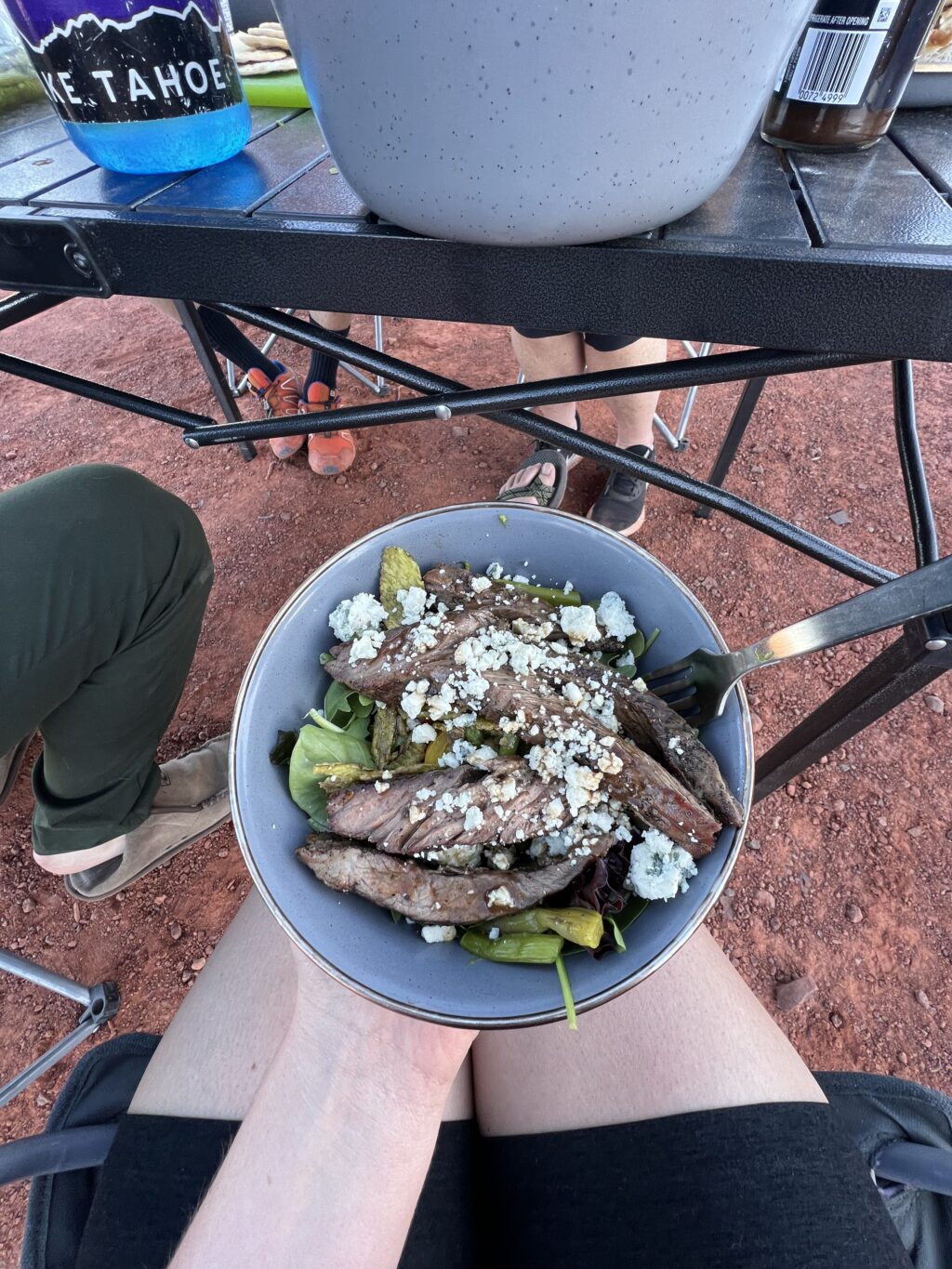 Salads can be such a satisfying camp meal on a hot summer day, and ours are far from boring! You can start with a basic salad and add anything you like to get plenty of protein and carbs after a long day outside.
Ingredients:
Bagged Salad – Not necessary, but we always purchase one or two of these for a camping trip because they're so easy, you don't have to use extra dishes, and you have pre-portioned dressing. A caesar or southwest are great options for additions.
Protein: Chicken, steak, turkey, leftovers from the night before?
Avocado
Tomato
Cheese: Blue or feta
Bell Peppers
Onions
Start with a bagged pre-made salad, and slice up any additional ingredients you have! Sometimes we will use dinner from the night before (taco or burger ingredients?) and add them all to a salad to give them a second life.
Camp Charcuterie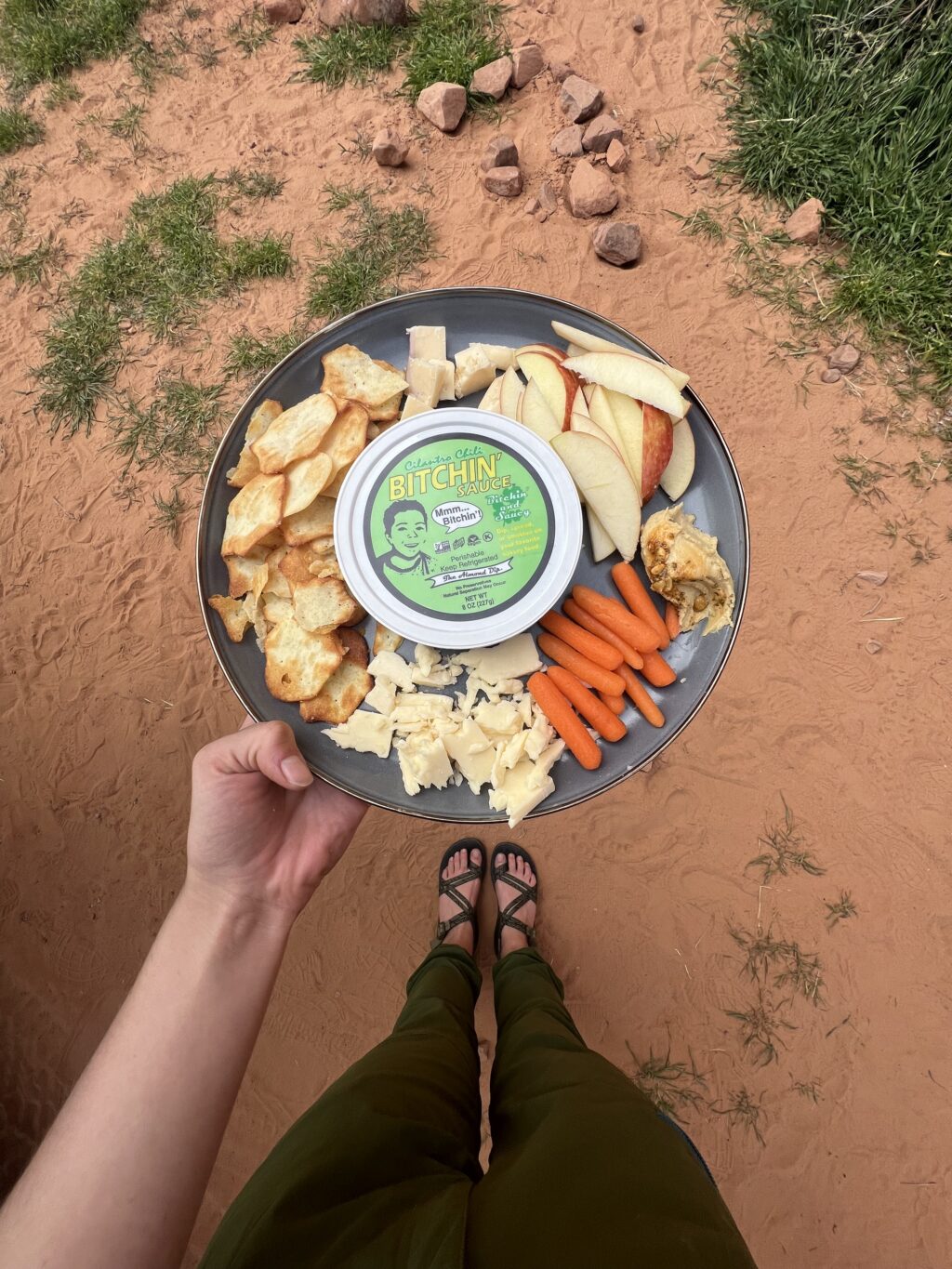 When you don't feel like cooking, or you need a good lunch, camp charcuterie is our go-to!
Ingredients:
Variety of Cheeses: Brie, Merlot, Gouda, White Cheddar, etc.
Carrots
Hummus
Crackers
Apples
Jam (fig jam is our favorite)
Bitchin Sauce
Olives
Pickles
Salami
Pepperoni
Pretty self-explanatory: slice everything up and put it on a plate or board for grazing! You could even heat up some brie and jam on the camp stove to add to this. Pair it with some wine, and you've got a great meal to share!
Breakfast Scramble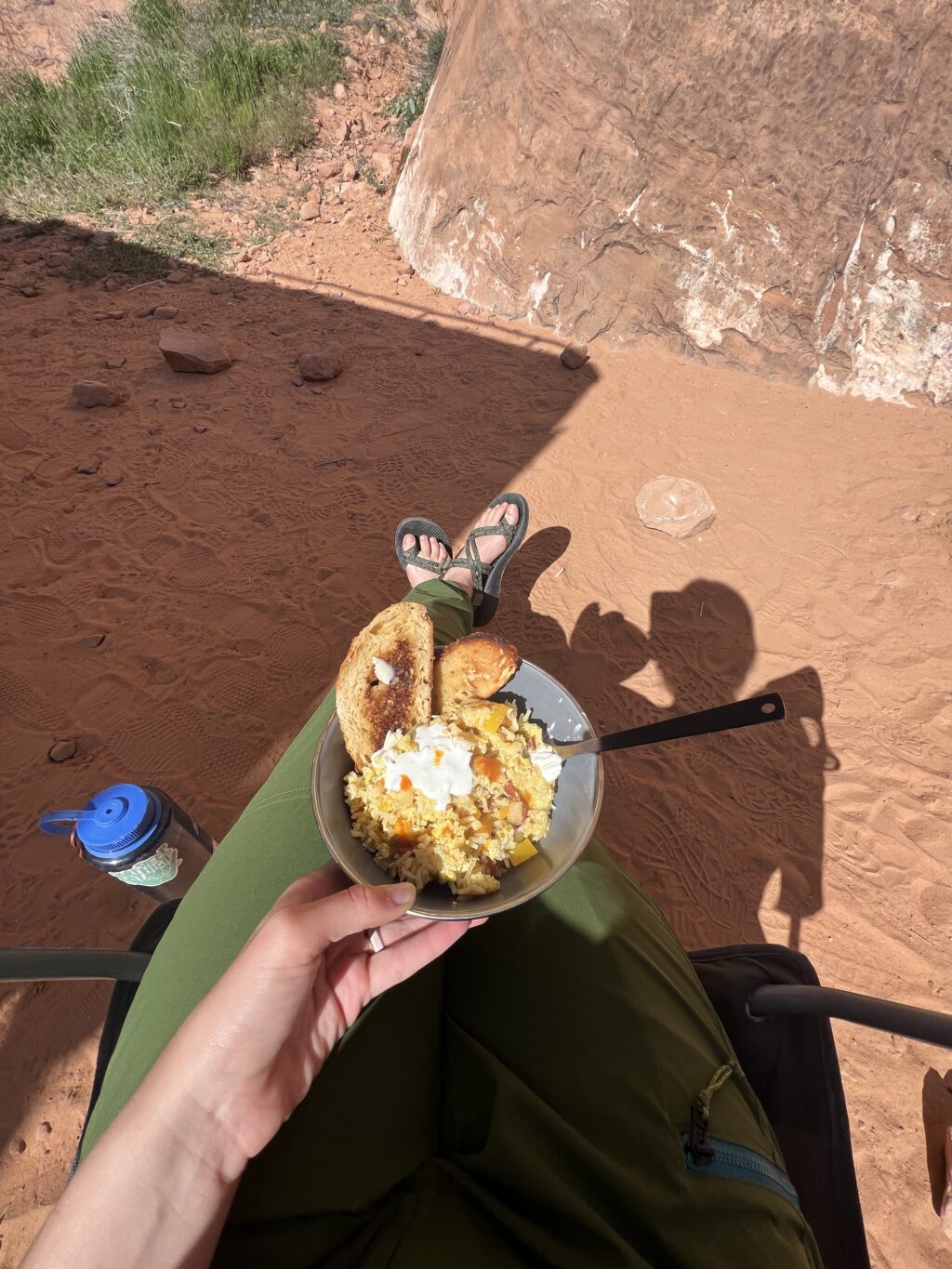 Last but certainly not least, a classic! Bring along some proteins and eggs, or plan to use leftovers from dinner in a scramble the following morning (seriously, so many dinners would be great in this).
Ingredients:
Eggs
Protein: Bacon or sausage
Bell Peppers
Onions
Rice
Hot Sauce
Potatoes
Sour Cream
Avocado
Cook all of your veggies first, then add in your eggs and scramble it all together. Top with avocado, hot sauce, sour cream, and cheese!
Camp Cooking Gear We Love
Being able to make great meals at camp requires some gear to get you going! Here are our favorite camp cooking products: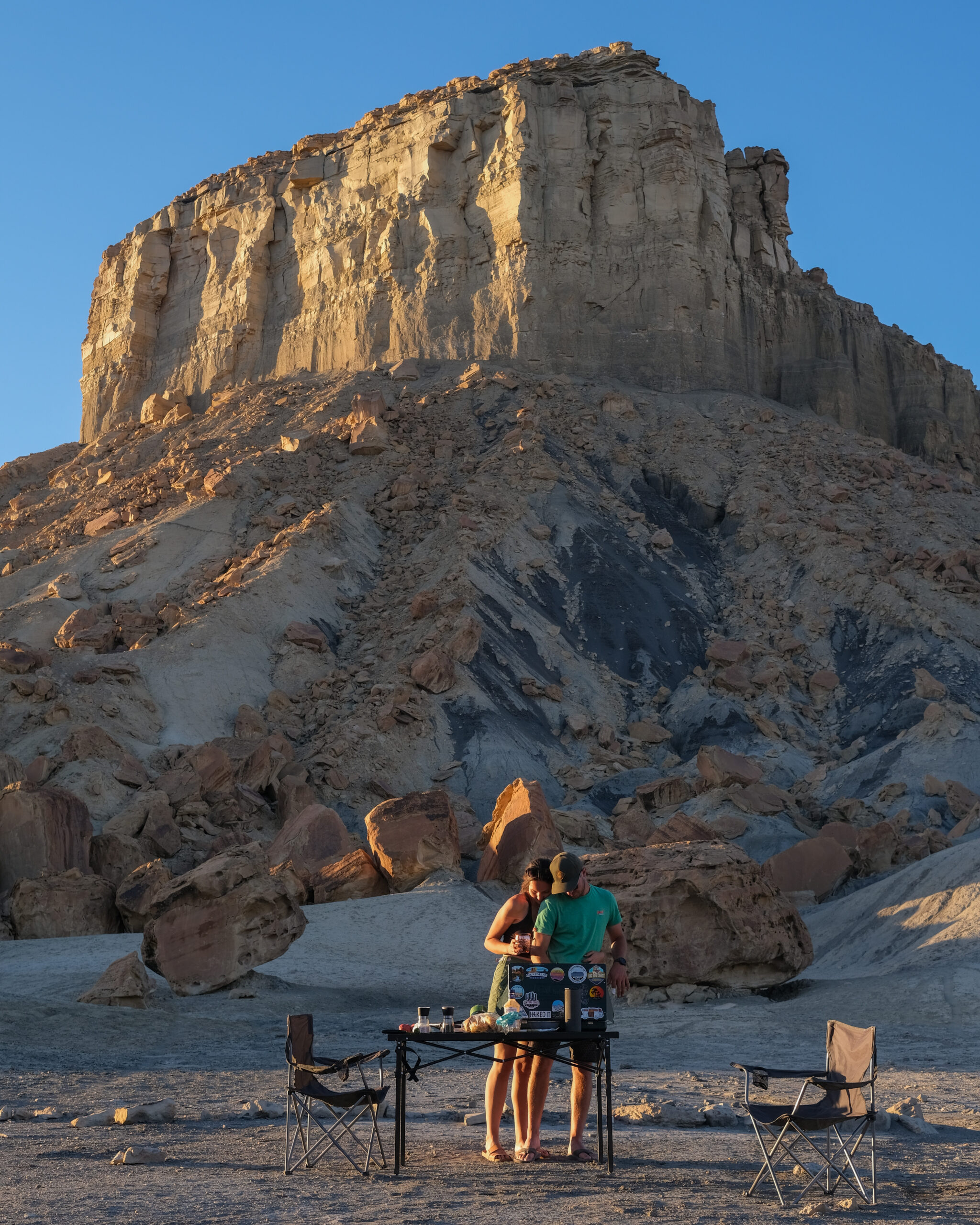 Mountain Summit Gear Roll Top Table:
This camp table has been part of our camping setup for over a year now, and it's probably one of the best pieces of gear we own! It rolls up into a bag for travel, it's heavy duty, and it's very sturdy. It can fit 4-6 people around it, and we really love that we can cook and eat on it (the two of us) without moving things around.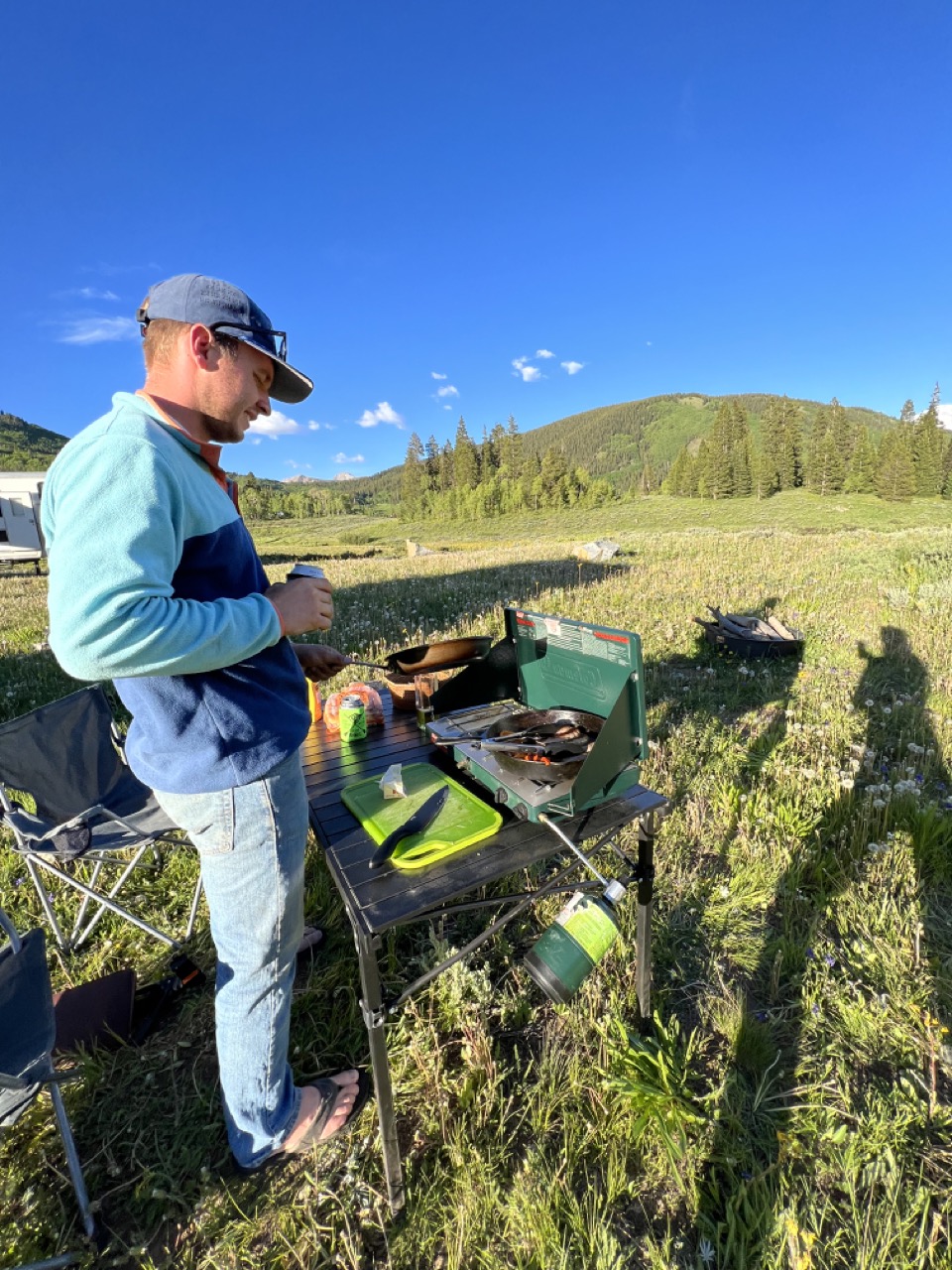 Coleman Camp Stove:
We cook 90% of our meals on the Coleman 2-burner stove, and have been super happy with it. It's durable, it's lasted through a lot, and it's affordable. We highly recommend choosing a 2-burner over a one-burner, as it greatly opens up the meals you can make! Make sure to purchase propane too.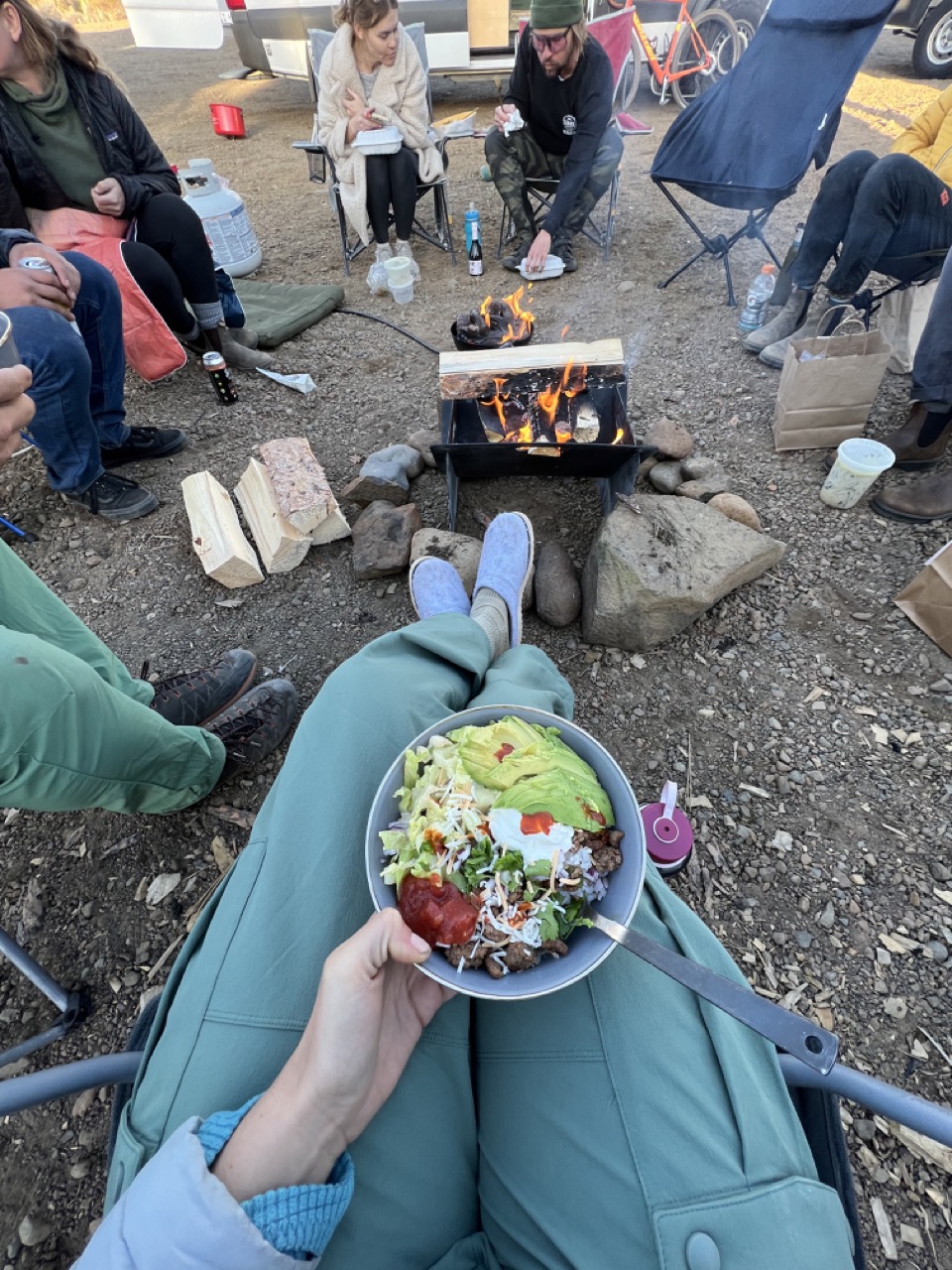 Barebones Enamelware:
All of our camping plates, bowls, mugs, and silverware are from Barebones. They come in a variety of colors, they're durable, and they're really easy to clean (which is what really matters)!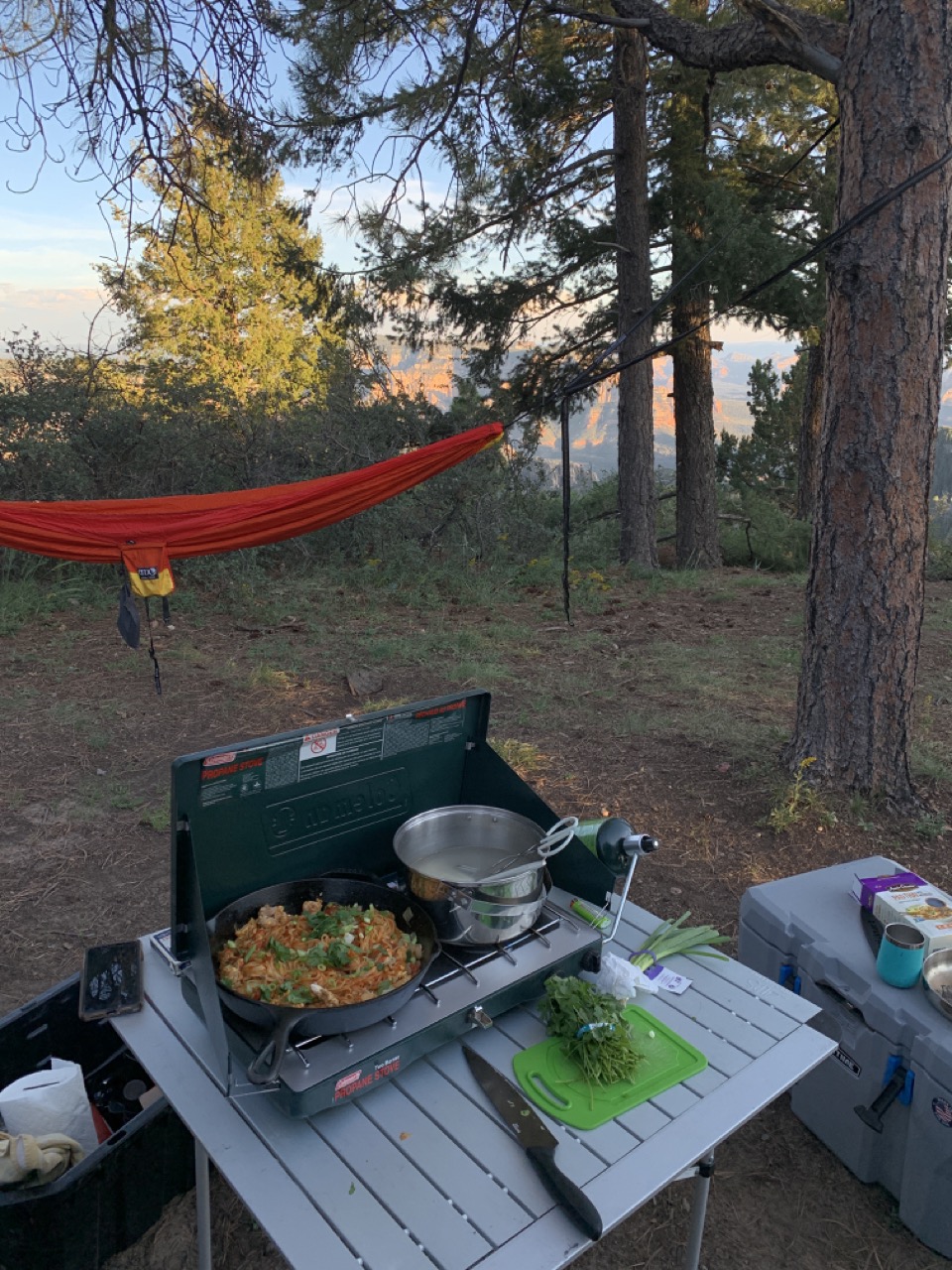 Stanley Adventure Basecamp Cookset:
This set by Stanley comes with two pots, cutting board, utensils, and more, and is a great all-in-one set to keep in your camping kitchen box.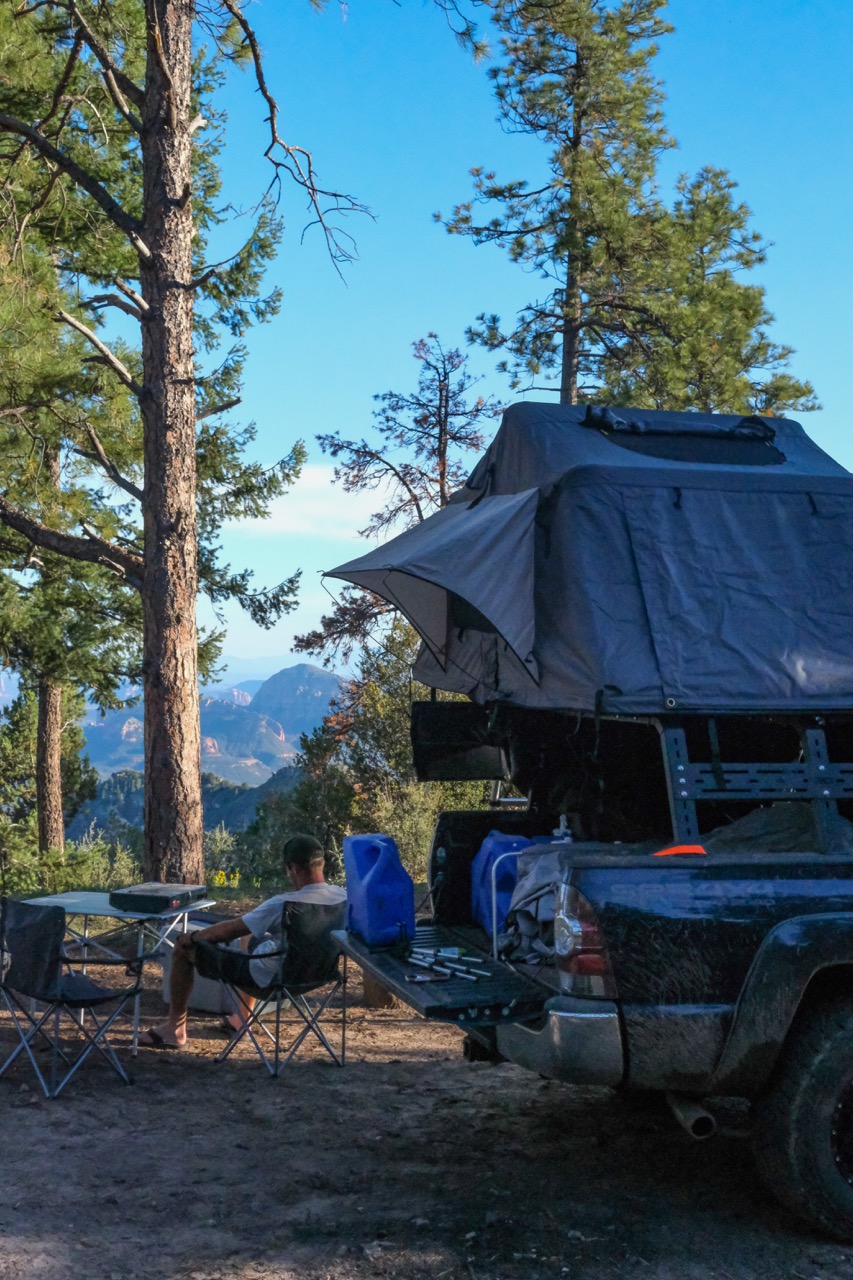 Water Jug:
We always bring at least one of these 7 gallons water jugs to bring to dispersed and developed campgrounds for drinking water! They're very portable and durable, and won't leak even after being bounced around on dirt roads.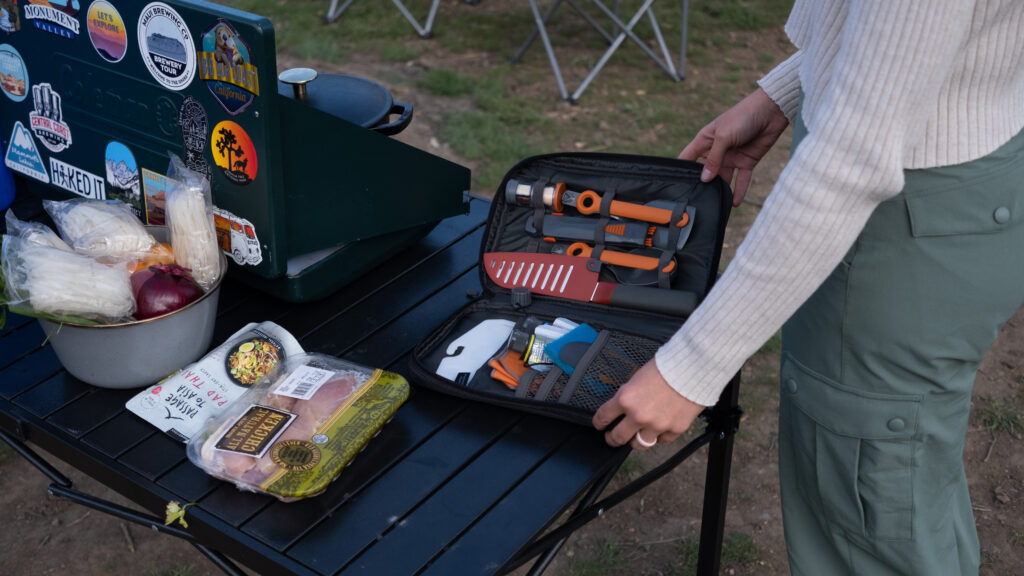 GSI Outdoors Gourmet Kitchen Set:
This set comes with a spatula, ladle, whisk, spice holder, sauce/soap holders, cutting board, pot scraper, sponge, and dish towel, and it all comes in a holder to keep everything organized. It's a great set to have everything together!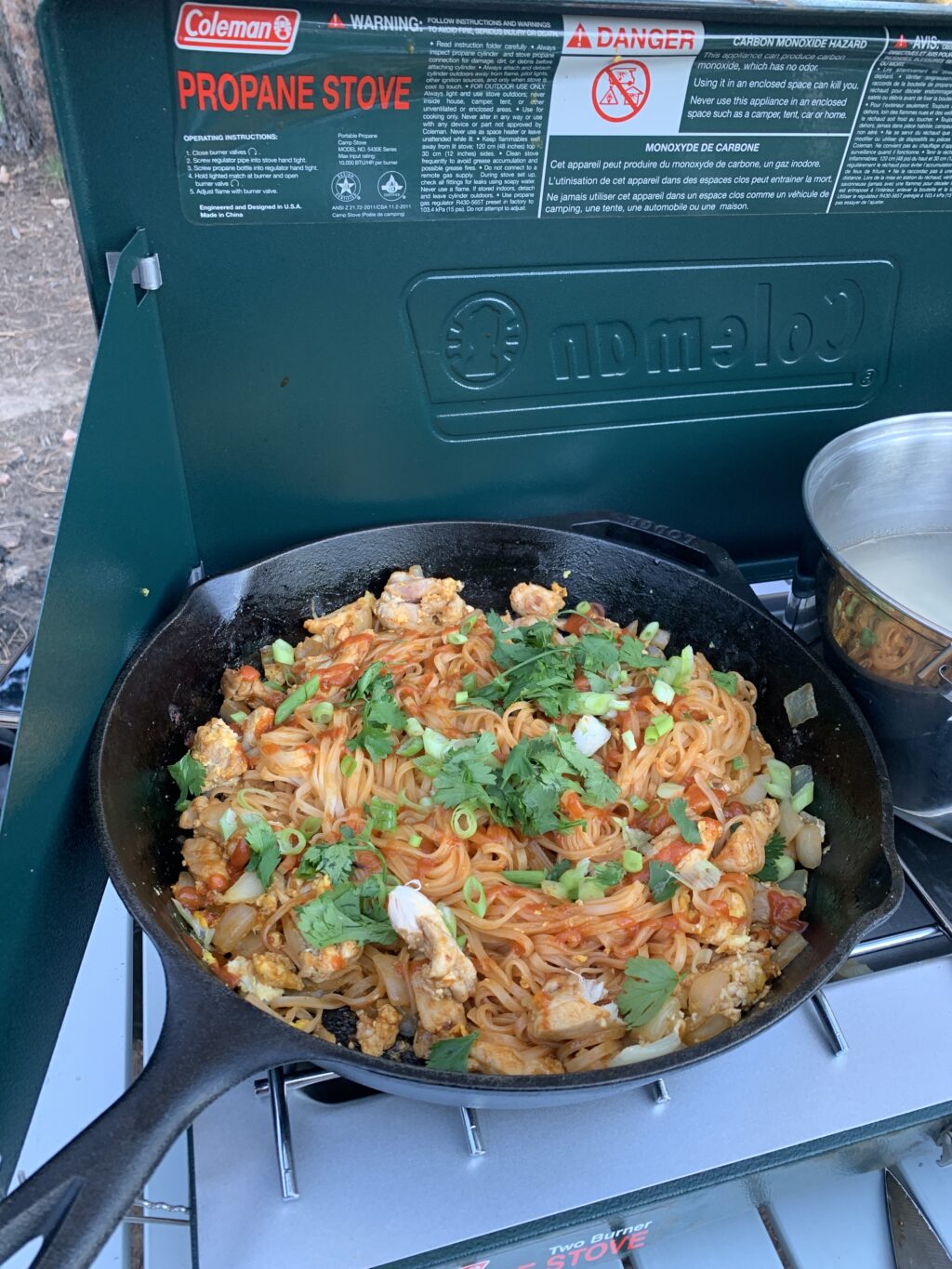 Cast Iron Pan:
This is something we never travel without anymore! It makes camp cooking really easy, is perfect for one pan meals, and we usually will eat out of it too. They're easy to clean and are a must for camp cooking for us.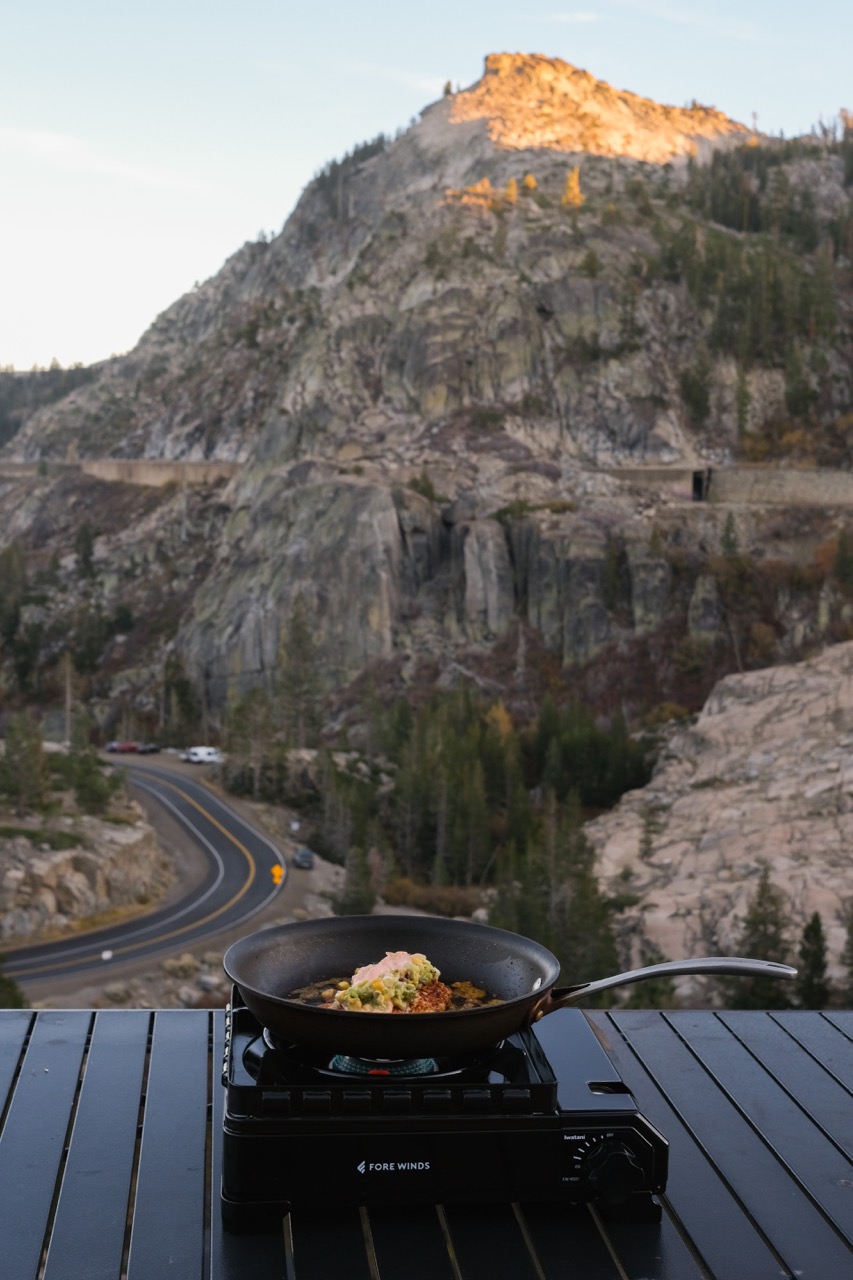 Forewinds Stove:
If you've been looking for a one-burner stove for something more compact, we have this stove from Forewinds and love it! It's super powerful, easy to cook on, and easy to clean.
If you try out any of our recipes, let us know how they are!