The Southwest is one of our favorite places on the planet. It's home to endless adventures, jaw dropping scenery, and plenty of open land to explore. We are always dreaming about another Southwest Roadtrip, so let us help you plan yours!
We'll cover 7 of our favorite places to visit, explore, and adventure in, things to know ahead of time, and the best time of year to take on your Southwest adventure.
Disclaimer: This post contains affiliate links! This means if you purchase an item from the links, we may make a small commission on the sale at no extra cost to you. If you do use the links, we really appreciate the support!
When to Visit the Southwest
The beauty of the Southwestern United States is that you can almost visit any time of year. However, we'd recommend Spring (March-June) and Fall (September-November). The Summer can get quite warm, and you may not want to spend as much time outdoors, and desert Winters can be bone-chilling. Spring and Fall offer cool morning and evening temperatures, with warmer temps during the day, which we think is perfect for a camping trip!
1. Moab, Utah
At the top of our list is going to be one of our favorite adventure towns on the planet! Moab has something for every adventurer: hiking, mountain biking, rafting, climbing, canyoneering, off-roading, and more. I will say, the first time we visited Moab, we weren't totally in love with it. We happened to visit during Jeep Week, and the town was crazy packed with visitors. But, we gave it another shot, and absolutely fell in love. We talk about visiting Moab probably once a week, because we feel like we never have enough time!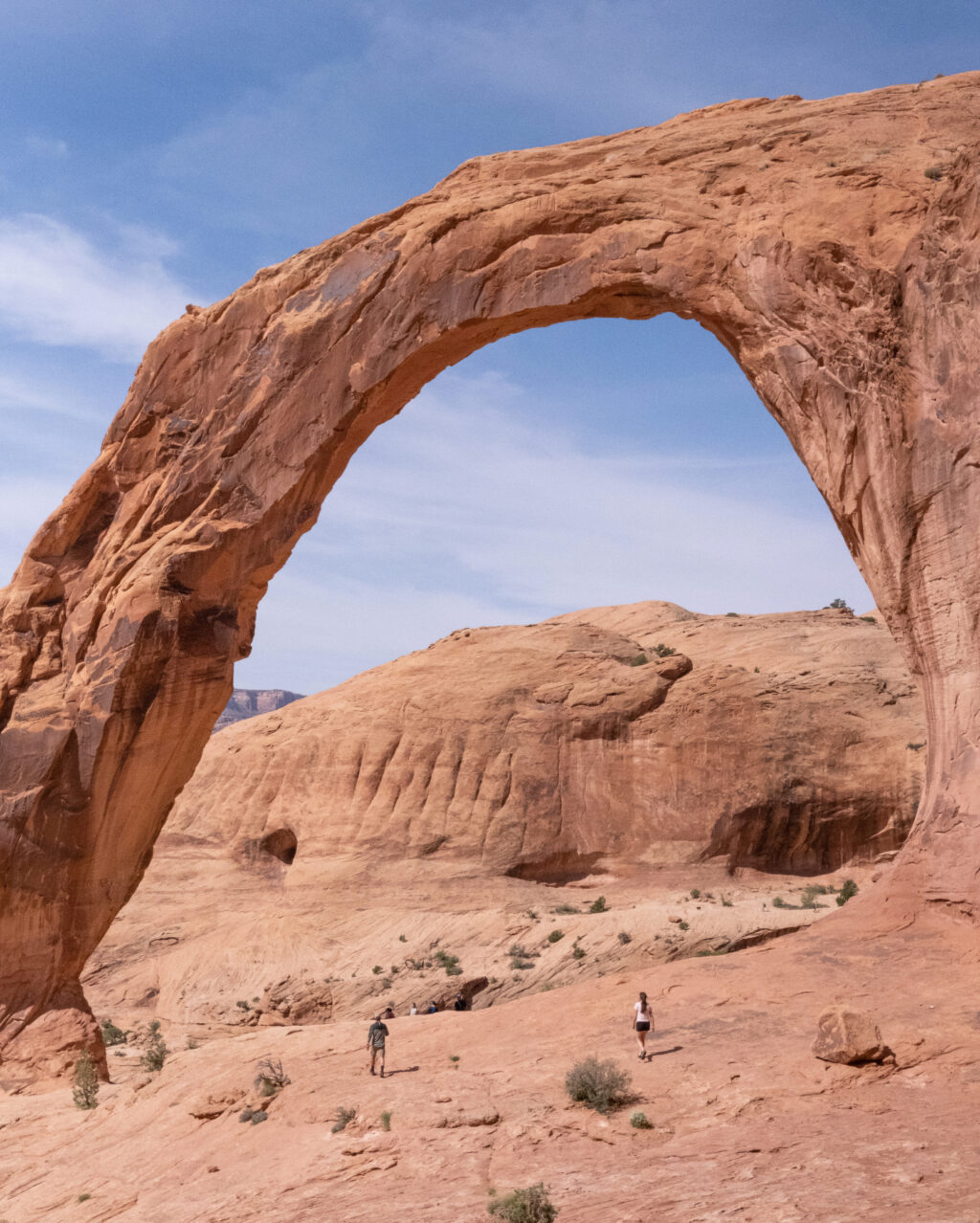 Things to Do in Moab:
1. Hiking:
There is SO much beautiful hiking in Moab, and there are plenty of shorter trails for families.
2. Canyonlands National Park:
There are 3 Districts to Canyonlands National Park, and the closest to Moab is Island in the Sky.
We highly recommend stopping by Dead Horse State Park after your visit for sunset too!
3. Arches National Park:
Arches is a great park to see with families. There are numerous pretty short hikes and viewpoints you can even see from the car. This park can get BUSY and you need a reservation April 1 – October 31, 2023. We recommend:
Double Arch
The Windows
Park Avenue
4. Climbing and Canyoneering:
There is a ton of world-class climbing and canyoneering all around Moab! We highly recommend doing research on google and purchasing a guide book to find the best spots for your ability level. For climbing, we love Wall Street and Ice Cream Parlor.
5. Mountain Biking:
Mountain biking in Moab is absolutely epic, and is a must-do for any bikers! Some of our favorite trails have been: Captain Ahab, Slickrock Trail, and The Whole Enchilada (check out the local shuttle companies for this one!).
6. Water Activities:
Summer brings great opportunities (and sometimes a need) to cool off! There are plenty of rafting options with guides or on your own throughout the canyons in Moab.
Where to Camp in Moab:
We always camp when we go to Moab, and there is some of the most beautiful camping we've ever had!
Paid BLM Sites:
There are quite a few sites in Moab that cost $20 a night, are first-come, first-serve, and have incredible access to hikes, the river, and amazing views. These often fill up pretty quickly in the early season, so we always recommend showing up early to get a spot! Some of our favorite sites are at Drinks Canyon Campground, Grandstaff Campground, Ledge D Campground, and Moonflower Campgrounds. We always feel these are totally worth the $20 a night, and the access they give you to town and trails is incredible.
Dispersed Camping:
We also often camp at dispersed sites in the area (there are a ton!). If you do this, please take care of the areas and leave the sites better than you find them. To learn more about dispersed camping, check out our recent blog post.
2. Las Vegas, Nevada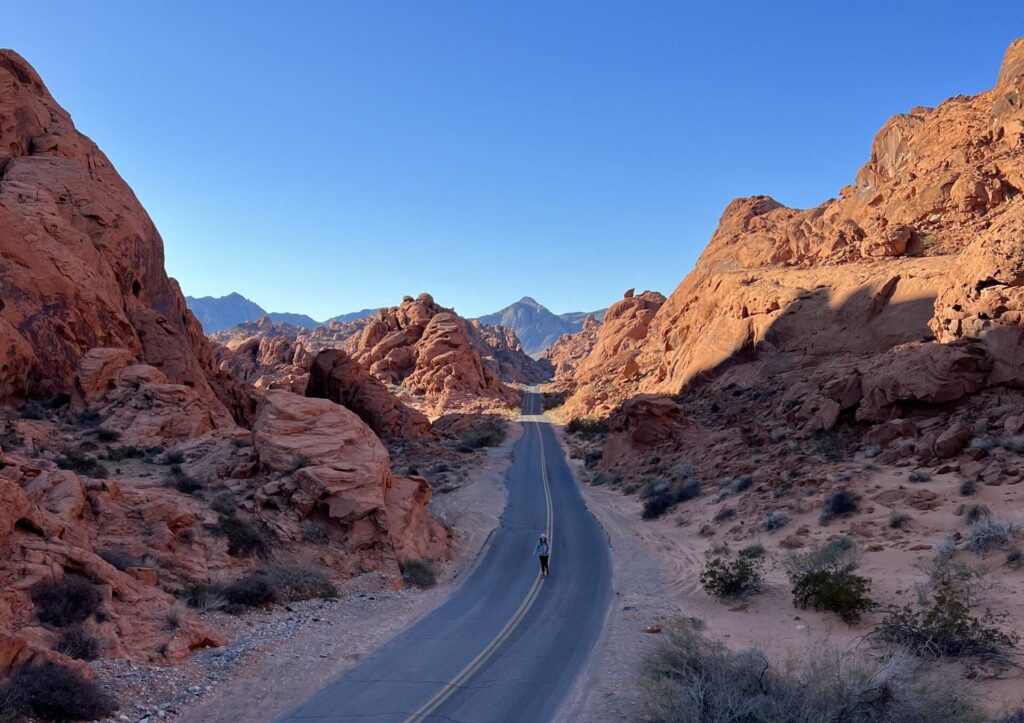 Las Vegas is SO much more than a busy city, night clubs, loud horns, and bright lights. Just outside of Las Vegas is an adventurer's heaven with gorgeous red rocks, other-worldly landscapes, and trails that really impress. The best time to visit is during Fall, Winter, and Spring, as summer can get very, very hot.
Things to do in Las Vegas:
Red Rock Canyon: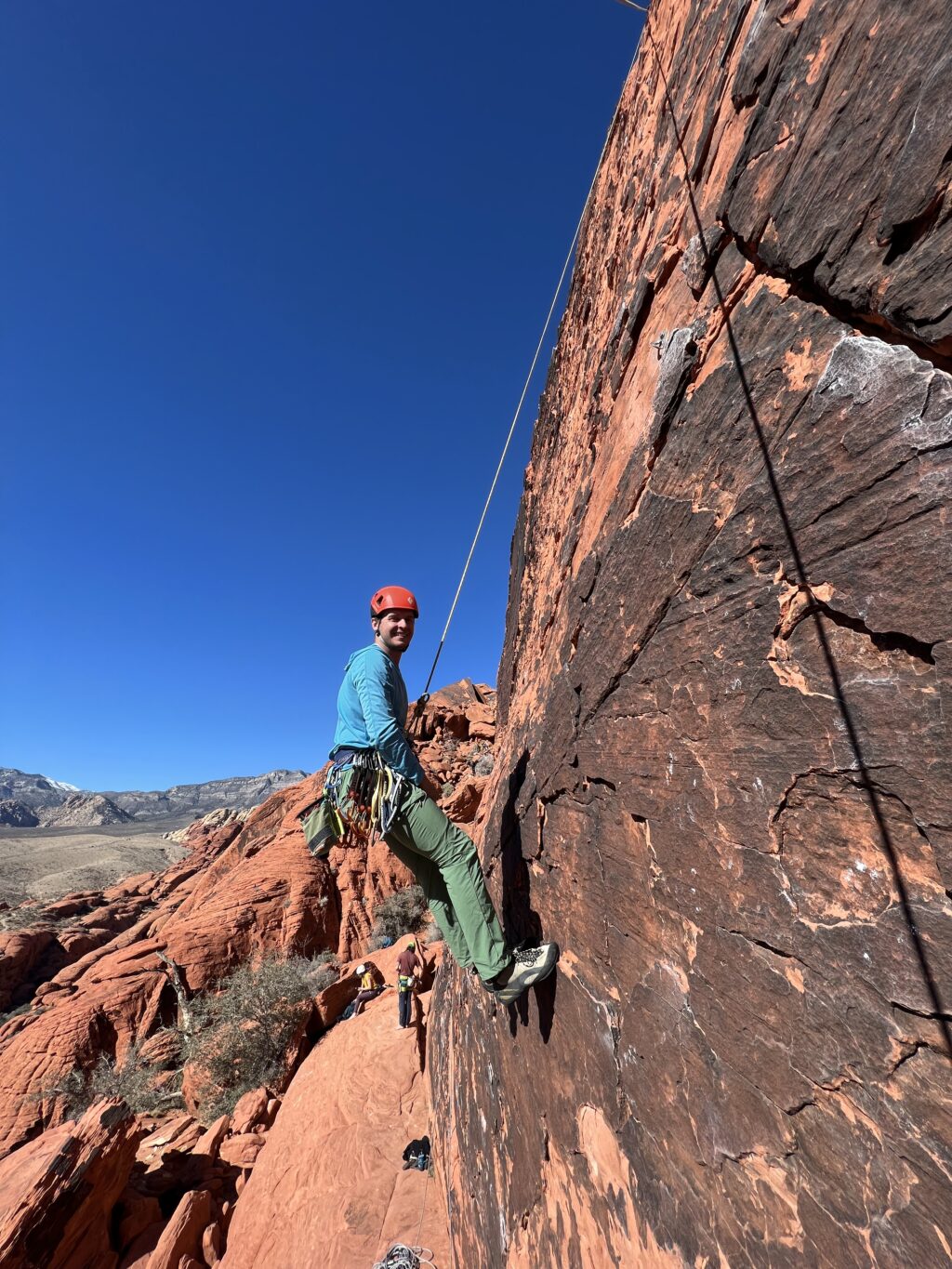 Red Rock Canyon blew us away, and is a must-see if you're in Vegas! This National Conservation Area is just 30 minutes from the strip, but will give you a vastly different Vegas experience. There is a ton of hiking and climbing throughout the park, and plenty to do for a couple days of visiting!
Things to know: This park charges $20 for an entrance fee, but also accepts US Parks Passes! This park also requires reservations from October 1 to May 31 of 2023.
Hiking: Ice Box Canyon, Turtlehead Peak, Guardian Angel Pass
Climbing: We purchased a guide book from REI, and loved climbing at Hamlet and Panty Walls!
Valley of Fire: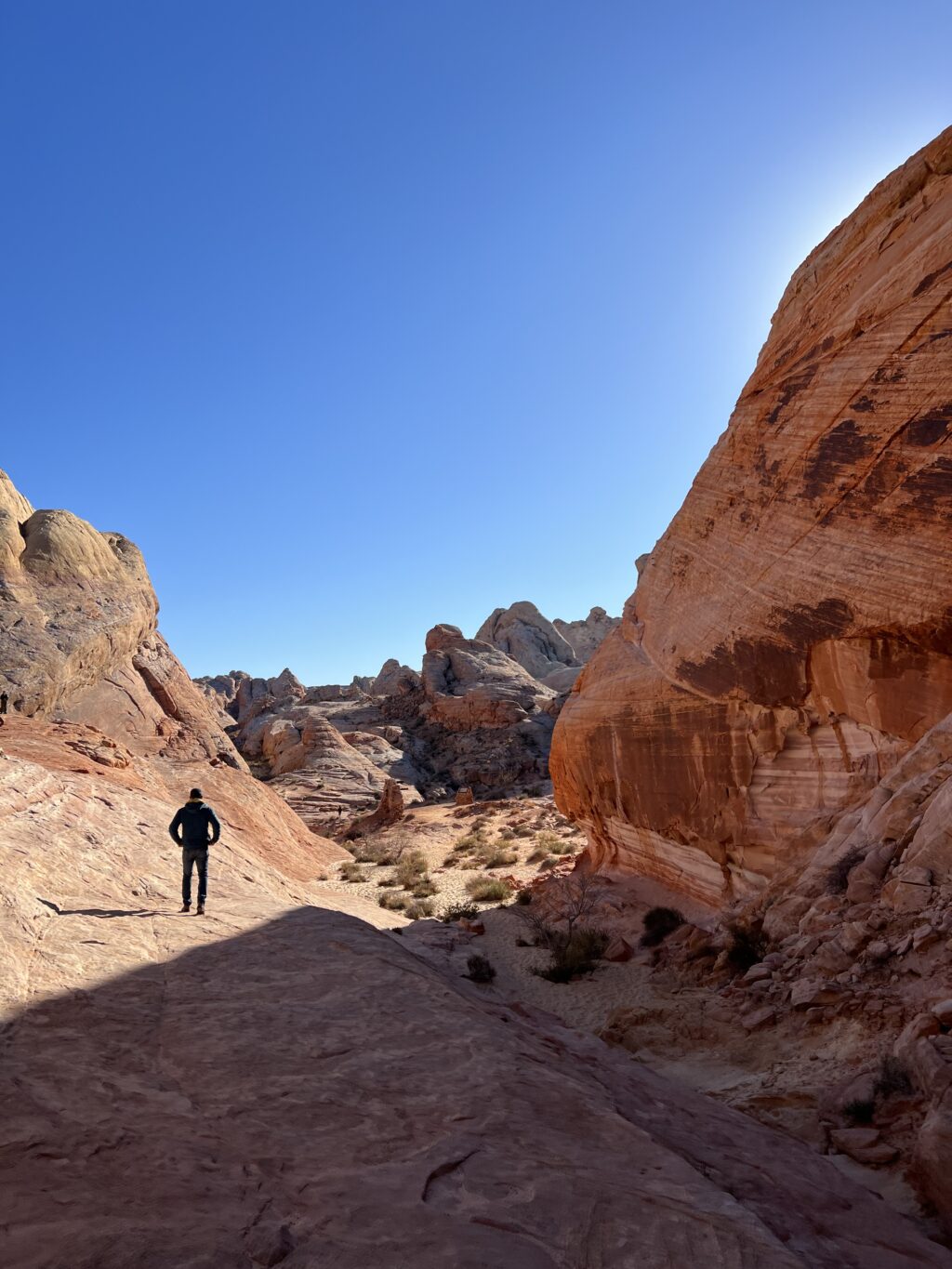 Valley of Fire is about an hour outside of Vegas and is truly unlike anywhere else we've been! The colors, layers, and textures of the desert rock here are truly spectacular, and the short hikes are great for seeing a lot of the park in a day, or bringing kiddos along!
Things to know: This park charges $10 for an entrance fee for Nevada residents, and $15 per vehicle for non-Nevada residents. This park is notorious for getting very hot in the summer, so make sure you are done hiking by 9 am! There is very little cell service inside the park.
Hiking: There are a lot of great short trails in this park, which make it possible to do numerous hikes in one day: Fire Wave (and add on the Seven Wonders Loop!), White Domes Trail, Elephant Rock Loop Trail
Where to Stay near Las Vegas:
The Strip/In Town:
The beauty of these spots is that they aren't all that far from the city center. If you are hoping for a more relaxing stay, or some luxury mixed in with the hiking, there are plenty of great places to stay along the strip and in Vegas.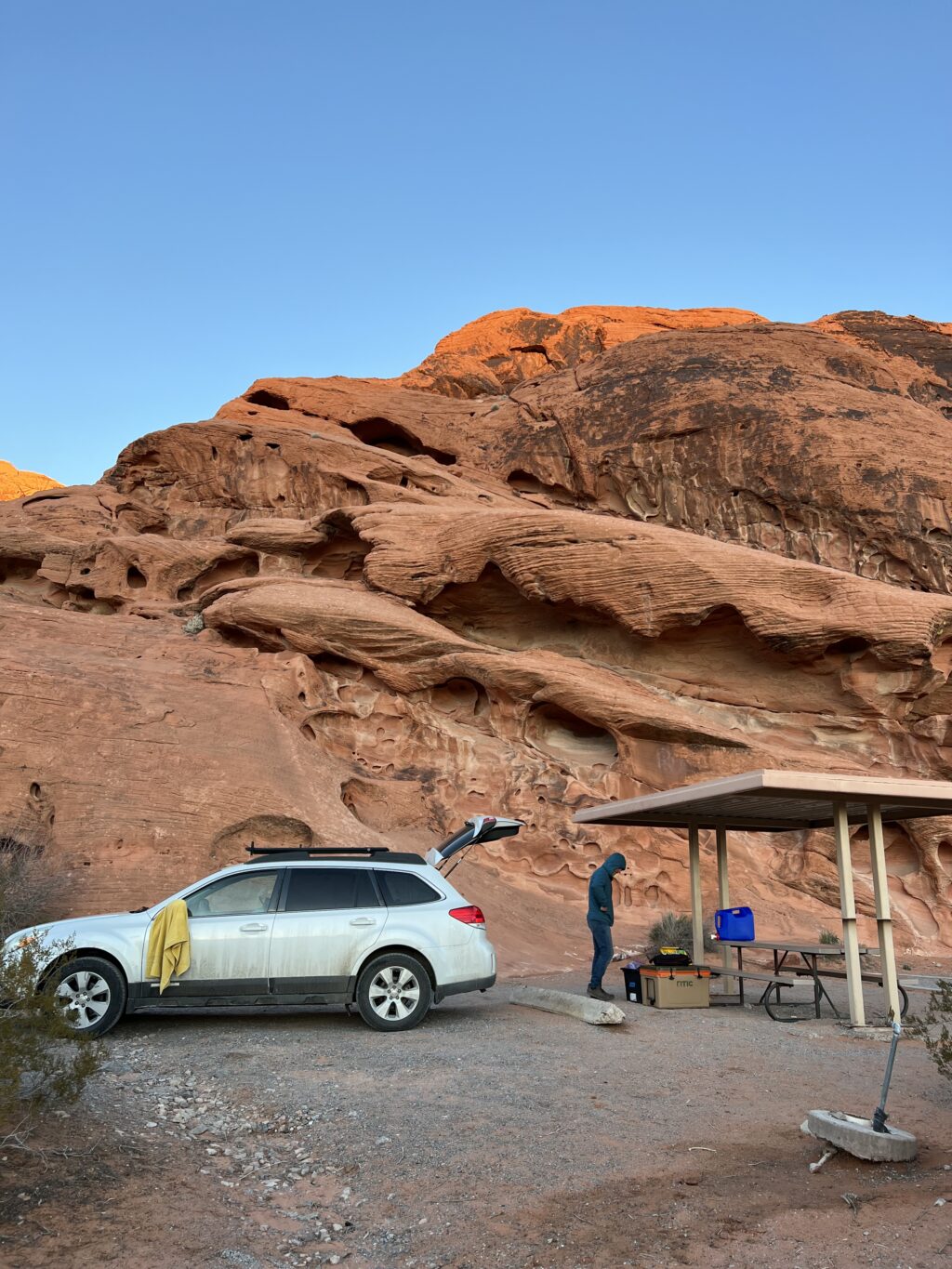 Red Rock Canyon:
There is reserved camping at Red Rock Canyon Campground. This site does appear to fill up quickly, so booking ahead of time is a must!
Valley of Fire:
We highly recommend trying to find a spot at Atlatl Campground inside the park! All of the sites are first-come, first-serve, and cost an additional $10 on top of the Day Use Fee. We found a spot in the afternoon one day easily, although I am sure it gets more difficult on busy holiday weekends. It's a great spot with bathrooms, dumpsters, and decently spaced out sites.
BLM/Dispersed Sites:
There is a ton of BLM camping near both Red Rock Canyon and Valley of Fire! Please take care of these places and pack everything back out.
3. Grand Staircase Escalante National Monument, Utah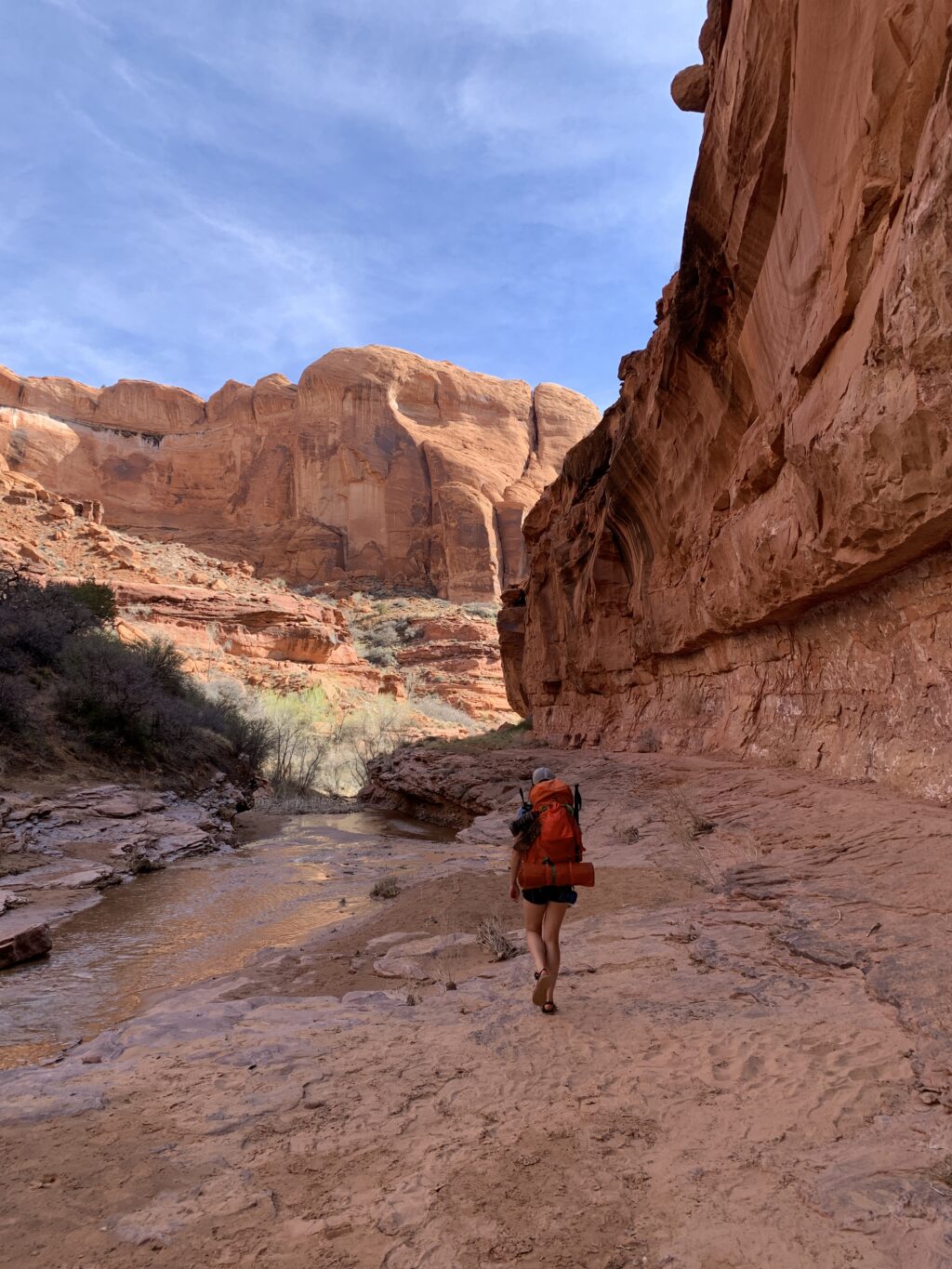 Grand Staircase Escalante will forever hold a very special place in our hearts! This vast area has such a variety of rocks, colors, and adventures for more visits than you can count. Aside from the lengthy drive out to this spot, you really can't go wrong with a trip here!
Be aware of a couple things before planning a trip to Grand Staircase Escalante:
Cell service is very minimal
It will get very hot in the summer
Most hikes reside along Hole in the Rock Road. This road is notorious for potholes, braking bumps, and screwing up cars. Make sure your vehicle has clearance and be careful! The road is very long to get to some of the best hikes, so it's tempting to go fast, but the potholes can really sneak up on you.
Things to do in Grand Staircase Escalante:
Hiking:
There are so many incredible trails in this area, and some of our favorite hikes of all time:
Backpacking:
If you're up for even more of an adventure, take on one of these epic backpacking trips! (Permits required) Both of these hikes can be done partially as day-hikes instead as well.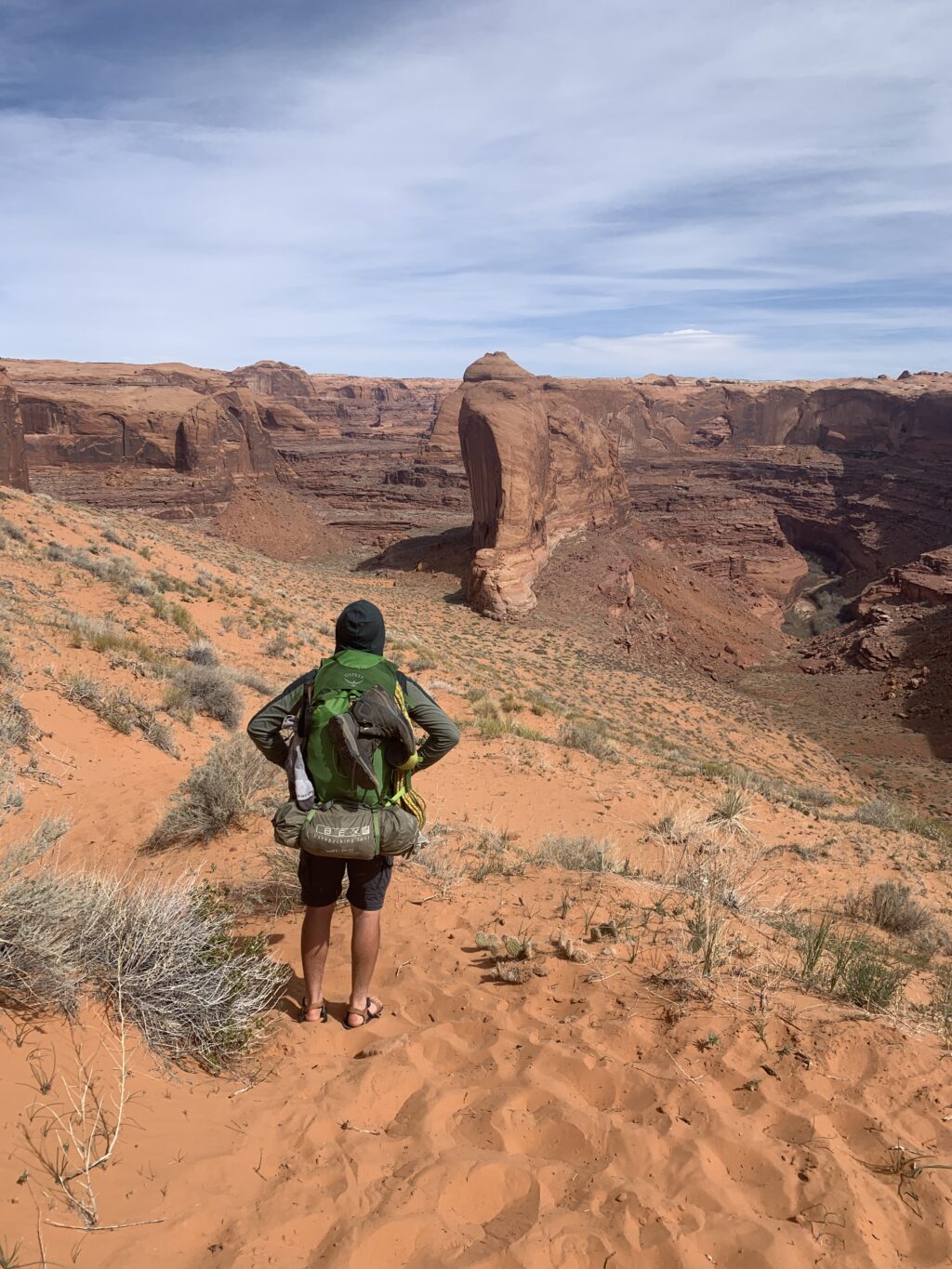 Where to Stay in Grand Escalante:
There is quite a bit of BLM camping near Escalante, which is where we always stay! You could also stay at a hotel or airbnb in the town of Escalante.
4. Hanksville, Utah
We think Hanksville is one of the most underrated Utah destinations! There is so much adventure, otherworldly landscapes, and open land for miles and miles. We are always dreaming of another trip back to Hanksville, and hope you fall in love with it as much as we have!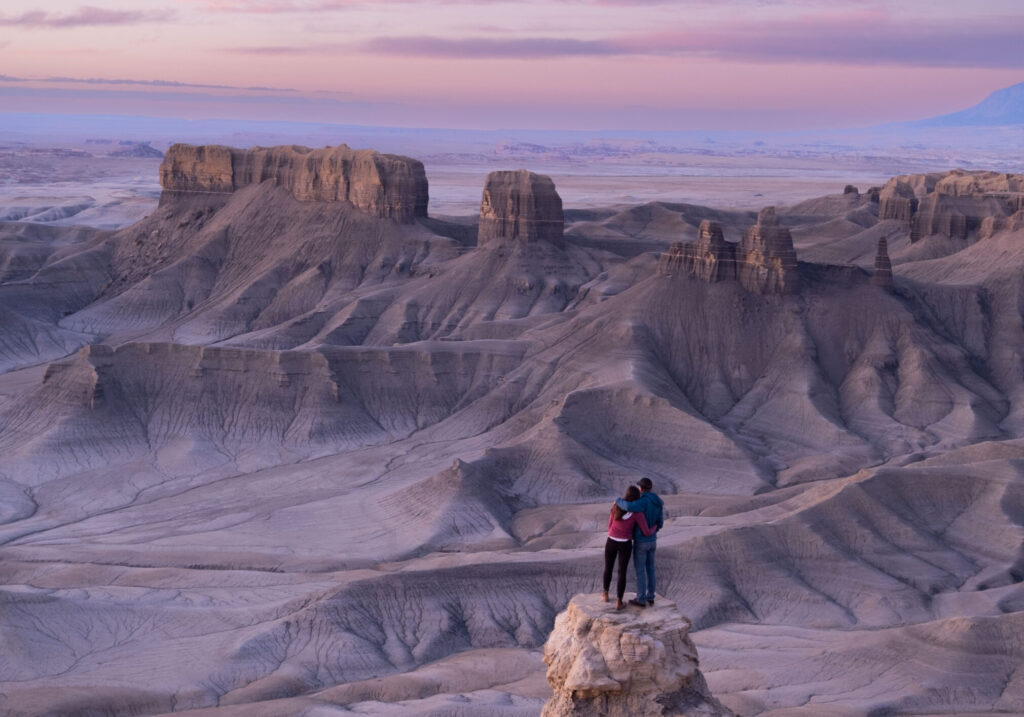 Things to do in (and around) Hanksville:
Sightseeing:
There is quite a bit to see around Hanksville, even just from the car! If you're hoping for a drive-through experience for Hanksville, we recommend checking out these spots:
Goblin Valley: Drive through the park and get out at the Goblin Overlook picnic area to stretch your legs!
Temple Mountain Wash: Drive through, see the pictographs, and keep driving to the extremely scenic area just on the other side of the canyon! Pssst… there is great camping back here too!
Factory Butte: A moon-like landscape with the most incredible sunrises!
Capitol Reef Scenic Drive: The highway drives straight through Capitol Reef, and you can see so much just from the highway! I highly recommend taking the turnoff onto the official scenic drive as well.
Goblin Valley State Park: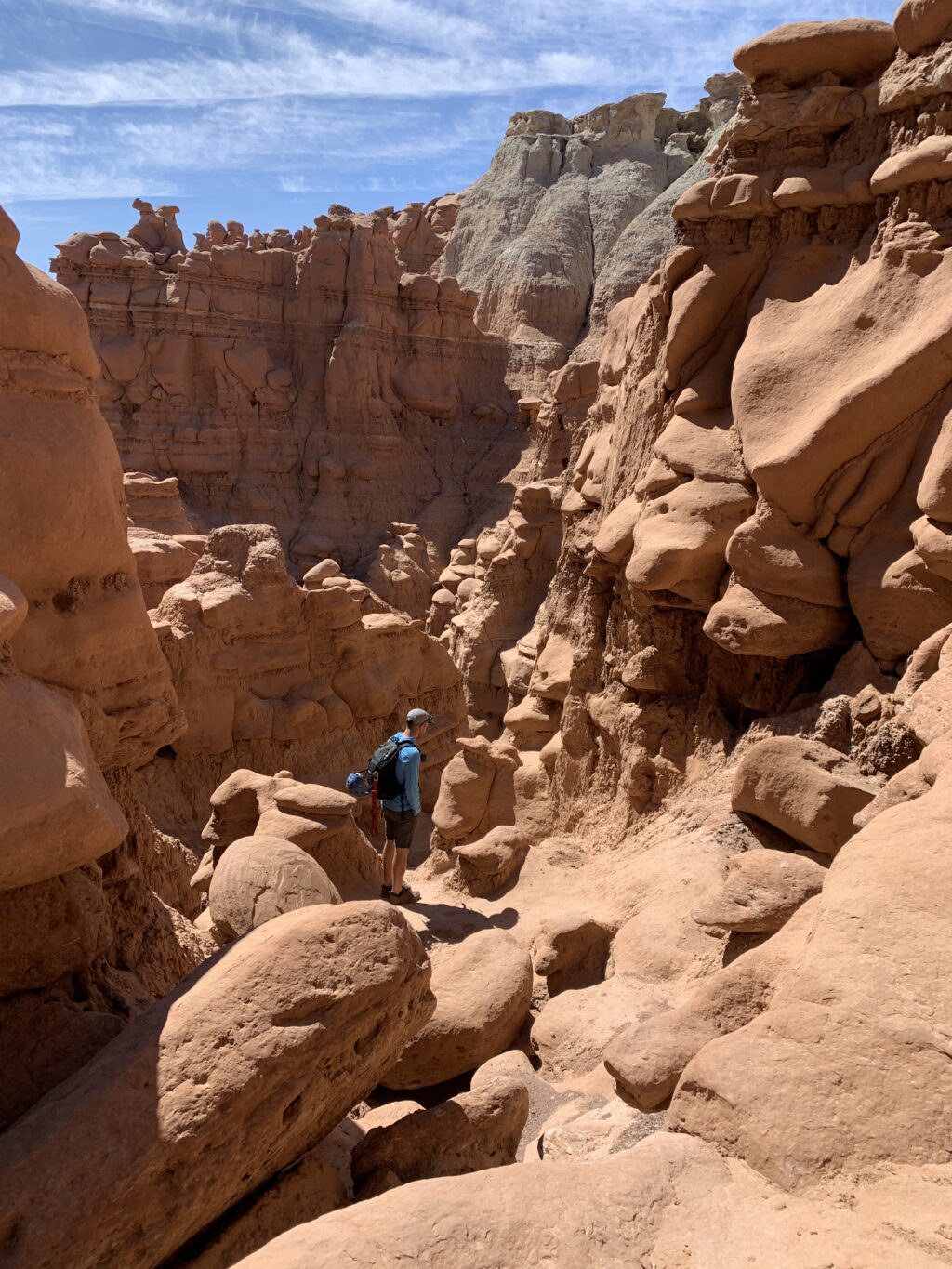 Goblin Valley is quite a unique experience in itself. Orange colored hoodoos appear as if goblins of all shapes and sizes have taken over this land. What really blew us away was that there aren't designated trails, and from the Goblin Overlook, you can just walk amongst the hoodoos as you please!
Goblin Overlook Hiking: Wander amongst the hoodoos and find some hidden caves!
Goblin's Lair: Check out this really impressive cave on a hike through the hoodoos! If you're feeling extra brave, and have all of the gear, you can even rappel into it (permits required)!
Little Wild Horse Bell Canyon Trail: Just outside of Goblin Valley is this really impressive slot canyon hike! We really enjoyed this hike, and you can do it as a full loop, or just go one direction until you want to turn around. The further in you get, the less crowds.
Capitol Reef National Park: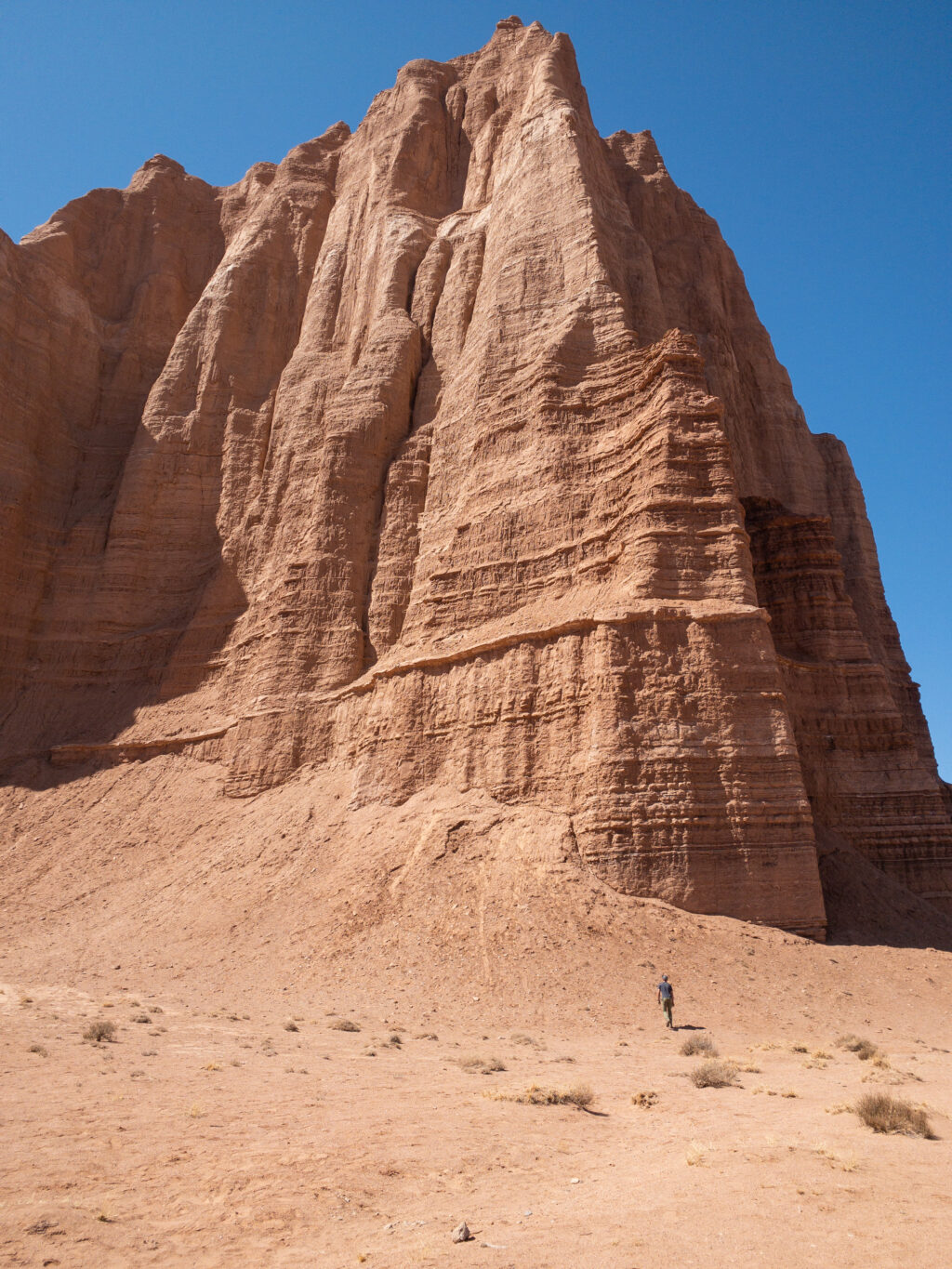 Capitol Reef is heavily underrated for national parks in Utah, and one of our favorites! There are plenty of easy trails, and ways to get away from the crowds.
Cassidy Arch Hike: A steep hike to a gorgeous viewpoint! If you have the gear and permits, you can also rappel down off the arch, and then down 6 more to get back to the trailhead.
Chimney Rock Loop Hike
Cathedral Valley Off-Roading Trail: If you have 4X4, we highly recommend spending a day on this long drive through the park's backcountry. There are much less crowds, incredible views, and quite a range of scenery. Make sure to check the river levels at the western end to ensure you will be able to pass!
Canyoneering:
There is a ton of great canyoneering near Hanksville for those with the gear and knowledge. Road Trip Ryan has some great guides on these!
Where to Stay near Hanksville:
Hotels & Airbnbs: The best towns to find accommodations in would be Hanksville or Torrey!
Developed Camping: Goblin Valley Campground or Fruita Campground
Free Camping: There is a ton of great dispersed camping near Goblin Valley, Hanksville, Factory Butte, and Cathedral Valley!
5. Zion National Park, Utah
Zion is one of those parks that will never get old. Something about the incredible canyon walls always brings us back! There are quite a few really popular must-see spots, and some that are more off the beaten path.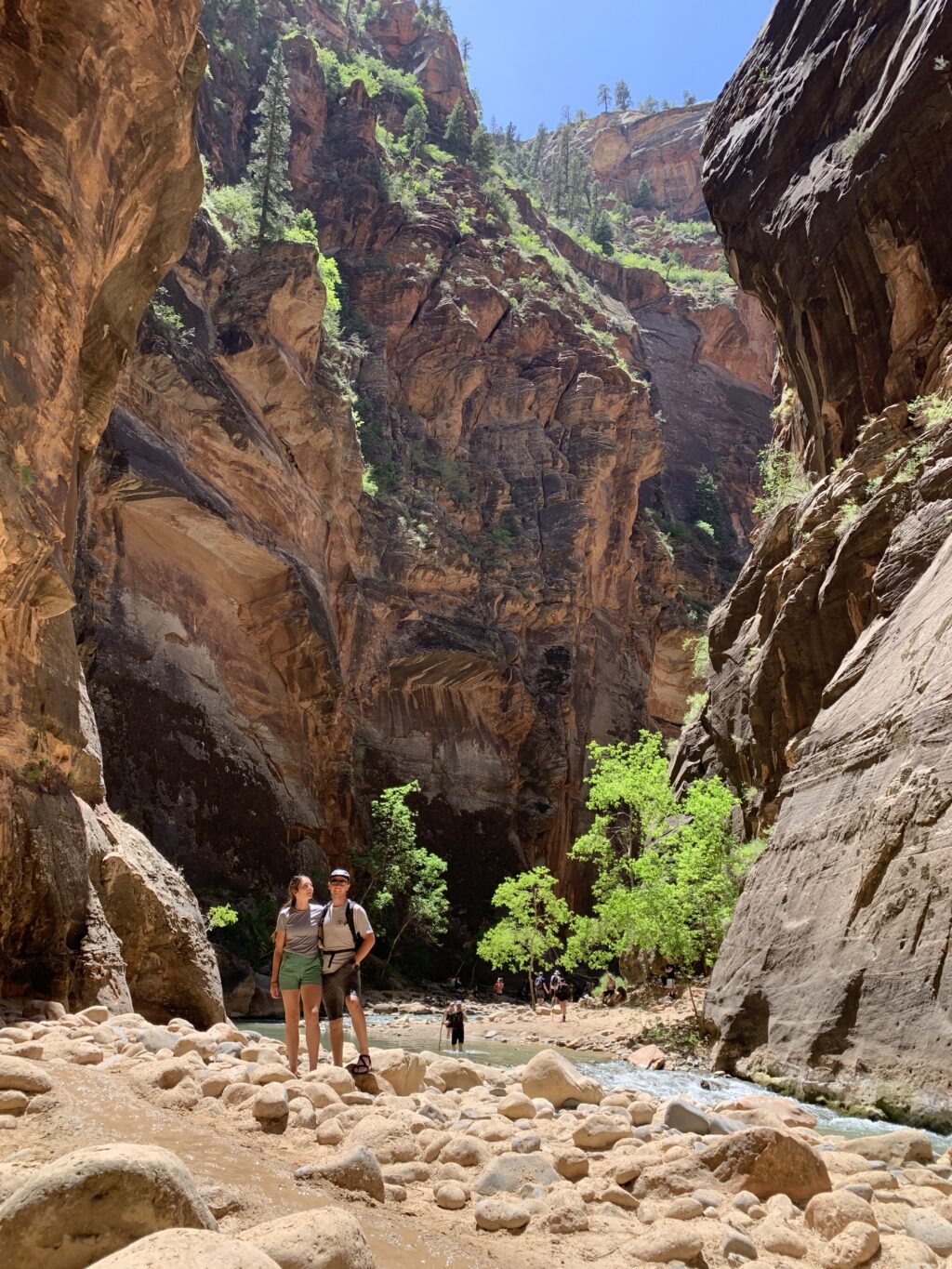 Things to do in Zion National Park:
Hiking:
The classic Zion hikes are well-worth their popularity! We highly recommend planning a few hikes that are popular, and a few that are less busy.
The Narrows: A classic southwest hike! Wade through the water as it winds through a very tall canyon. We recommend going early to beat the crowds! In the warmer months, you may be able to get away without renting gear, but if you are concerned about hurting your feet, toes, or ankles, or being cold, most visitors rent shoes, waterproof pants, and a walking stick to make this hike more enjoyable. The water is COLD!
Angels Landing: This hike is worth every amount of hype it gets! It's thrilling, beautiful, steep, and feels like an adventure. You do need permits for this hike, and it's not for anyone with a fear of heights.
The Subway: This hike also requires a permit and will take you to an incredibly unique canyon unlike anywhere you've been before!
Canyoneering:
There are a ton of canyoneering routes in Zion, and many local outfitters who will guide you on a full canyon trip!
Sightseeing:
A lot of Zion's beauty can be seen from the car! A few must-see spots:
Zion Scenic Drive: From December to February, you can do this drive on your own, and November to March, you can hop on one of the park's shuttles and get off and on throughout the canyon to see the viewpoints.
Zion-Mount Carmel Tunnel: This is a classic viewpoint of Zion that can't be missed! When you drive through the tunnel, the view coming into the park is absolutely breathtaking.
Kolob Canyon: This is a little bit of a drive from the main part of the park, but is well worth the trip! This lesser-known side of the park boasts incredible viewpoints, great hikes, and far less crowds.
Bryce National Park: Bryce is about an hour and a half from Zion, and would be a great addition to this trip as well!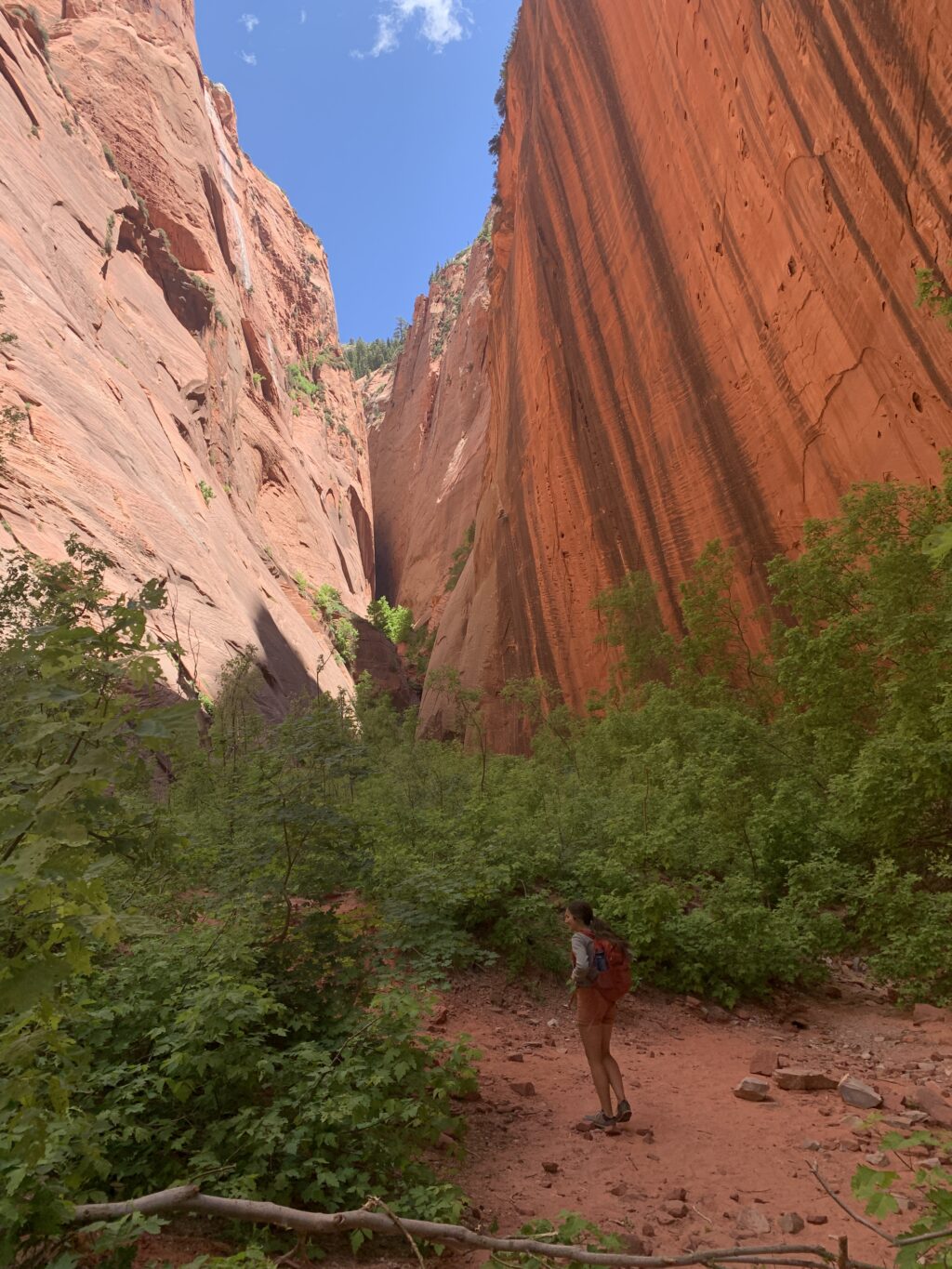 Where to Stay near Zion:
There are numerous campgrounds in Zion National Park, and plenty of airbnbs and hotels nearby. We typically stay on BLM land just outside the park for free!
6. Grand Canyon National Park, Arizona
The Grand Canyon is a must-see if you're anywhere in the area! The North Rim closes each winter (opening May 15, 2023), and the South Rim is open all year. The Grand Canyon can be great for family trips by walking to viewpoints, or can be pretty intense hiking trips for those more experienced. The bottom of the canyon is often vastly different in climate and temperature from the top!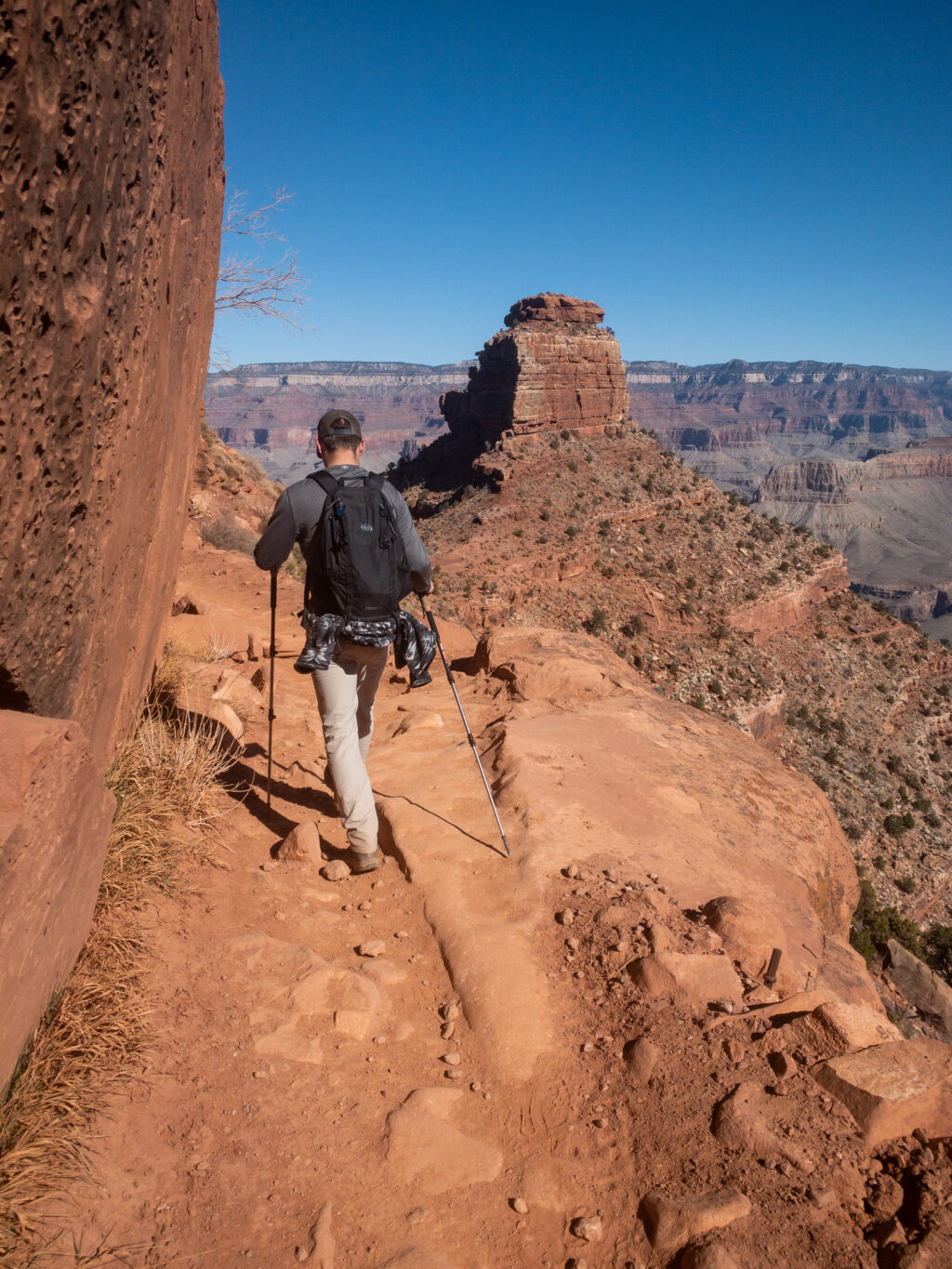 Things to do in Grand Canyon National Park:
Hiking:
Hiking in the Grand Canyon is a must-do, but it is not for the faint of heart! Grand Canyon hikes are "backwards," in that you hike down before you hike up. It's super important to be aware of how far you have to go back up, so you aren't traveling down too far.
South Kaibab, Phantom Ranch, and Bright Angel Trail: (South Rim) This is a long hike to do in one day, with a ton of elevation gain, but you can always bite off pieces of it instead! If you start at South Kaibab, you can go to Ooh Aah Point or Skeleton Point, and turn around.
Rim Trail: (South Rim) A great way to stay on top of the canyon without having to go down and back up.
Coconino Overlook: (North Rim)
Where to Stay in Grand Canyon National Park:
There are quite a few campgrounds in Grand Canyon National Park! We typically stay on National Forest land outside the park, or we stay in Flagstaff, AZ!
7. Sedona, Arizona
We lived in Sedona for a year and a half and absolutely love the whole area. The red rocks are way more impressive in person than photos will ever show, the community is unique, and there are hikes for everyone! I think Sedona is a must-see on your southwest roadtrip, and I promise that there are plenty of ways to beat the crowds.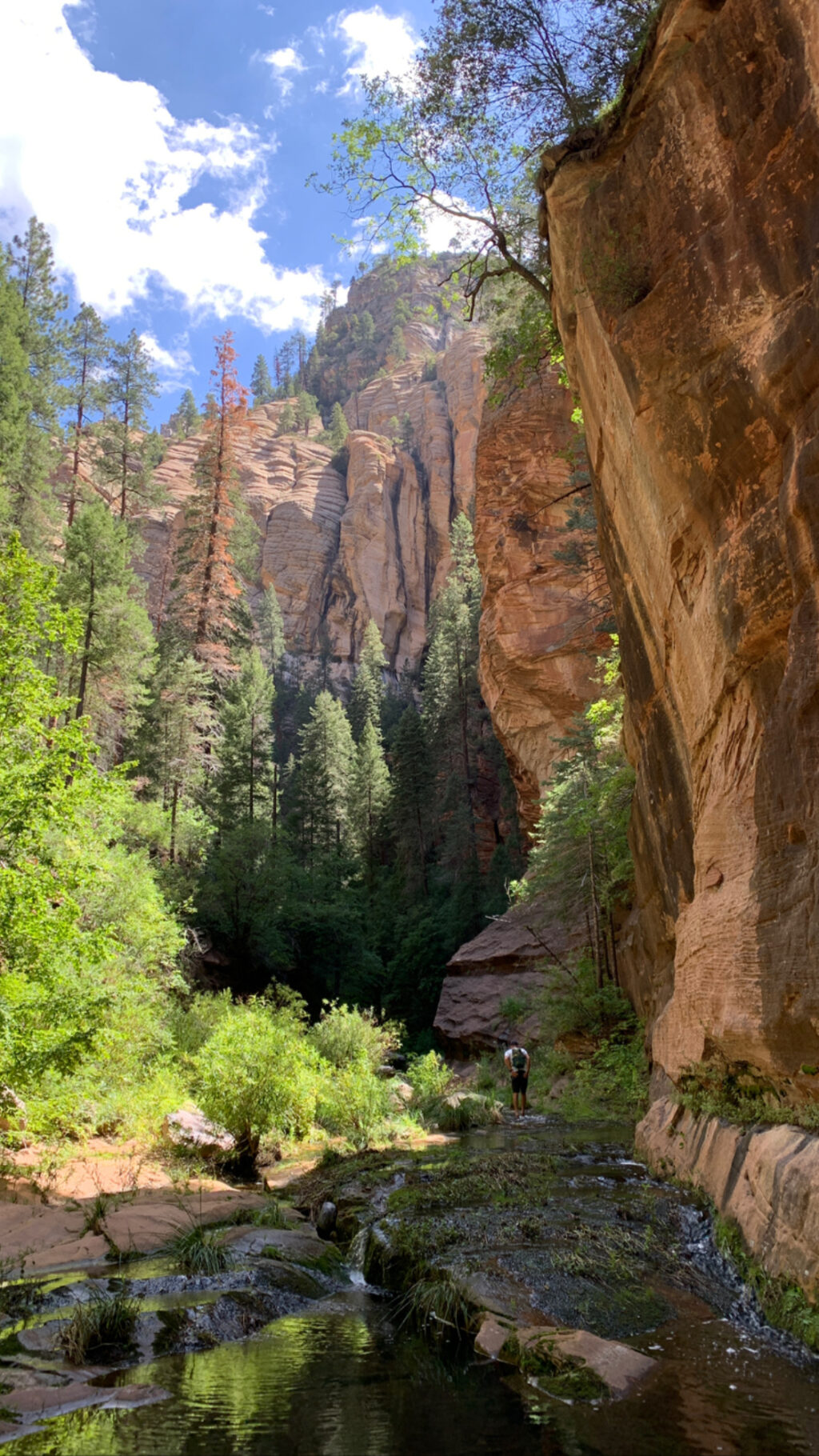 Things to do in Sedona:
Hiking:
The hikes in Sedona range from being crazy popular to having no one else on the trail with you! We personally don't think a trip to Sedona a needs a visit to Devil's Bridge. Here are the trails we love and always go back to:
Sightseeing:
There are so many great viewpoints in Sedona you can see from the car! Make sure you drive along these spots at some point on your trip:
Bell Rock to Sedona Uptown: This gorgeous stretch of highway will make it tough to keep your eyes on the road!
West Sedona to Boynton Canyon: There are lots of great hikes back there too!
Airport Mesa: A beautiful spot for sunset.
Flagstaff to Sedona through Oak Creek Canyon: A beautiful drive every day of the year (and especially in the fall).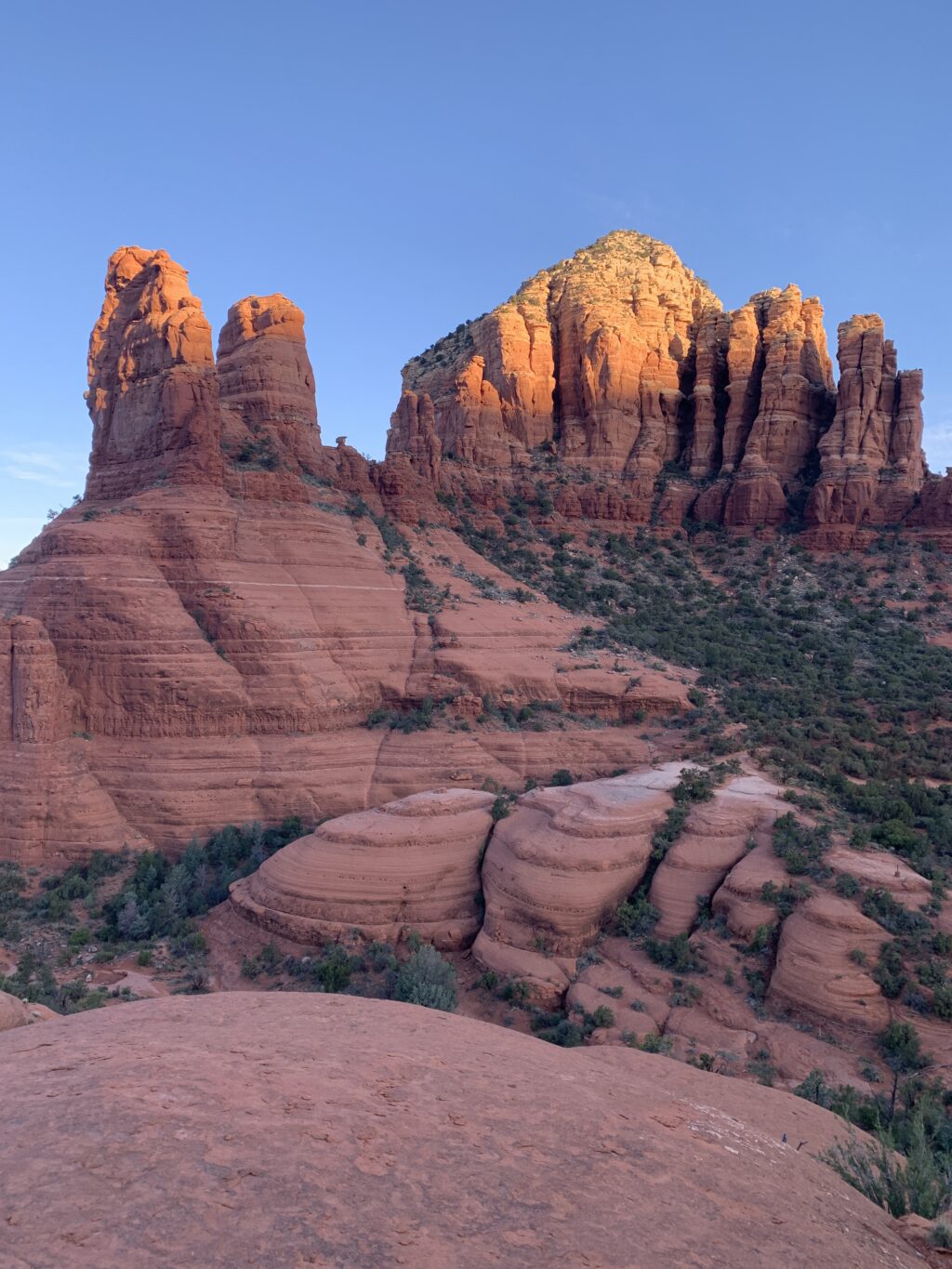 Mountain Biking:
Sedona is a very popular destination for mountain biking! You can bring your own bikes, or rent some from Thunder Mountain Bikes. Our favorite trails (from easy to hardest):
Bell Rock Pathway: An easy trail that has amazing views!
Llama Trail: A fun trail with lots of great features for intermediate riders.
Slim Shady Trail: A super fun trail with a few technical moves.
Hiline Trail: A Sedona Classic difficult trail with big drops, rocky descents, and technical punchy climbs.
Where to Stay in Sedona:
There are some really great hotels and airbnbs in town. If you're wanting to camp, Manzanita Campground and Pine Flat Campgrounds are great campgrounds that will have plenty of shade on a warm weekend. There is also some BLM camping on Forest Road 525 and in Flagstaff.
What to Pack for a Southwest Roadtrip
The Southwest is likely to treat you with a little bit of every type of weather and terrain! Every camping setup is different, but here is what we would recommend for a trip to the southwest:
A tent: If you are going to be sleeping outdoors, getting a high quality tent is really important for protection from wind, rain, bugs, and the ground. This is a great option for 2 people (and they have a 4 person option too!).
Sleeping Bags: Check the weather and make sure you have sleeping bags that will keep you plenty warm! We currently use the REI Magma 15s for all of our cooler weather trip and can't recommend them enough.
Sleeping Pads: These are crucial for ensuring a comfortable night of sleep and for keeping warm! We use the same sleeping pads for backpacking and car camping, and sleep like a baby every time with them.
Pillows: For car camping, we always recommend bringing regular pillows because they're far more comfy! If you're tight on space, we use these pillows for backpacking and love them.
Camp Table: Because your free campsites probably won't have a table, you'll want to bring one. We love this table from Mountain Summit Gear because it's big enough to cook and eat on, and could sit 6 people around it. It's also super sturdy which we've found is hard to find in a folding table.
Camp Chairs: Good camp chairs are an essential! This is a simple and comfortable chair that will be tall enough to sit at the table with.
Water Jug: Bringing your own water is crucial and make sure you have enough or know where you can refill it. We use these 7 gallon jugs this will usually last two of us about 3-4 days if we're careful with dishes.
Cooler: This size will usually last two of us about one week. We prefer to freeze water bottles, as they often stay cold the whole trip!
Extra Propane: There is nothing worse than running out of propane mid-meal. We always have an extra propane bottle for our camp stove!
Plenty of Layers: You're likely to have quite a range of temperatures!
First Aid Kit & Safety Items: Something we always keep in our car!
Camp Kitchen Box: A box we keep stocked with all of our camp cooking gear so it's ready to go! Make sure to include extra batteries, lighters, matches, and multi-tools.
Extra Layers: Always always bring extra clothing to layer up!
Toilet Paper & Shovel: Not something you want to forget! Make sure to pack it out.
Plenty of Trash Bags and Ziploc bags
We are always ready for another trip to the Southwest! There is so much adventure opportunity throughout the whole area, and still so many places we have to discover.
Questions? Reach out to us on Instagram!