We spent the majority of 2022 living out of our 1990 truck camper, and paid a total of $25 for campsites in the 8 months we lived on the road. The US, especially the west, is filled with plenty of free camping (that is totally legal), and these spots have been some of the most beautiful places we've ever had the pleasure to wake up.
I'll be totally honest: established campsites can get expensive! For a weekend, it's often not too bad. However, if you're traveling for weeks at a time or are on a budget like us, those $20-$40 campsites can quickly add up.
Let's go over everything you need to know, so you can camp for free at some amazing locations on your next trip!
Disclaimer: This post contains affiliate links! This means if you purchase an item from the links, we may make a small commission on the sale at no extra cost to you. If you do use the links, we really appreciate the support!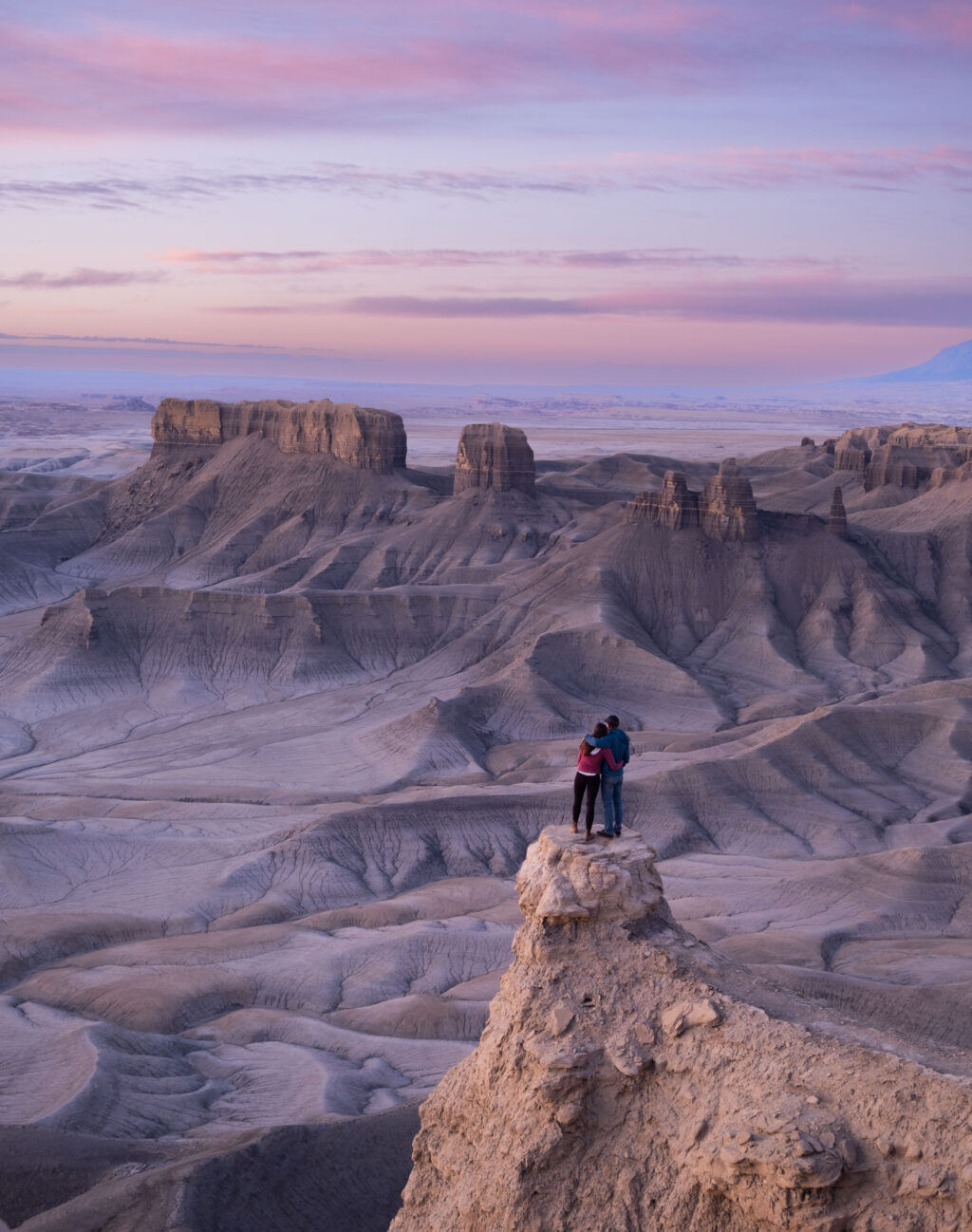 Important Things to Know Before Finding Free and Dispersed Camping
As we share about how to camp for free, it's really important that we also share how to take care of these free campsites, as they can easily be taken away.
We have seen quite a few dispersed campsites closing down, heavily regulating the number of available campsites, and changing rules because as these campsites become more popular, they also are becoming less taken care of. If we don't all do our part to continue keeping these spaces clean, the availability of free camping will dwindle and we will all end up more condensed in small areas.
Camping at dispersed sites means there are no facilities (more on this later), no camp hosts, and no one cleaning up after you leave. It's crucial that you understand Leave No Trace principles, and that you: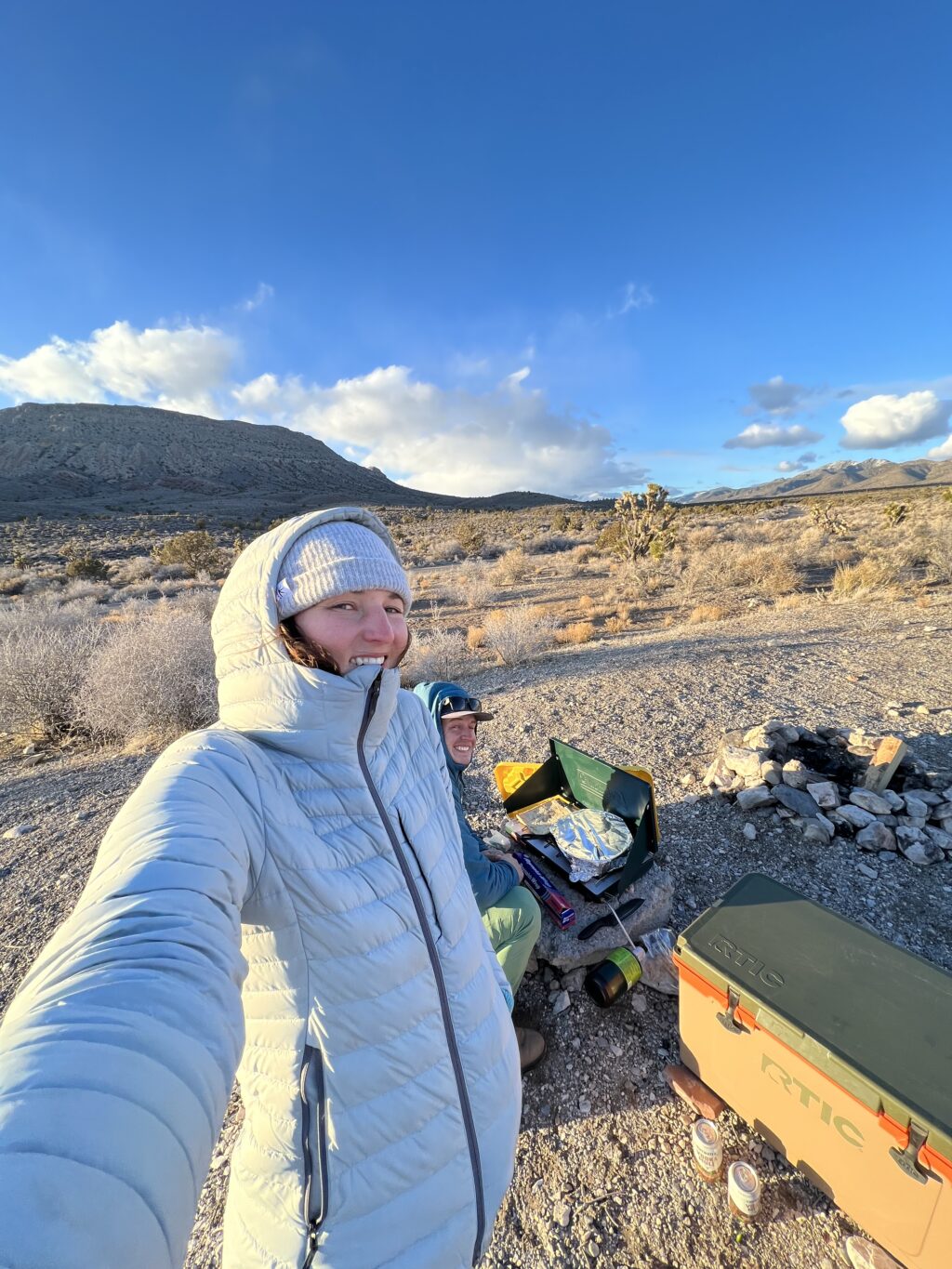 Pack out all trash (and pick any you find up too!)
Know how to properly poop in nature, and understand local regulations on burying or packing it out.
Ensure you pack everything you need and prepare for your time in a remote area
Only camp in pre-existing campsites. These will be dirt or rock patches that are clearly "campsites." Ensure you're not setting camp up on top of vegetation, driving off the main road, or trampling on untouched surfaces.
Only build fires when local regulations allow, and make sure they are completely out before going to sleep or leaving the site (they need to be cold!). Pay attention to winds, and don't risk having a fire if conditions are even slightly less than ideal.
Understand wildlife nearby and do your due diligence to make sure they can't get your food or trash.
Respect other campers around you and keep noise levels low.
What are the benefits of free camping?
Free camping definitely isn't for everyone, and there are quite a few sacrifices you make if you're not paying for a developed campground. However, we think the benefits greatly outweigh the downsides!
To start, it's free (to us)! Saving money while traveling is really important to us, as it allows us to travel longer, further, and more. Having the opportunity to camp for no cost at all makes it really easy to go on trips often and for longer periods of time.
Last minute trips. For those of us who aren't planners, free campsites are a great opportunity for last minute trips, as they don't take reservations, and you can show up any time of the day or night to claim any spot.
Beautiful locations. Free campsites are often the most beautiful campsites we've stayed at. They offer unparalleled and remote views that are really such a treat to drink your morning coffee to (or a view of a WalMart).
Seclusion. This depends a lot on the campsite, but often times we can find campsites we have all to ourselves, or spaced out far from others nearby. Meanwhile, at most developed campgrounds, you're right next to both of your neighbors. If they're awake, you will be too.
What to Expect at a Dispersed Campsite
We are going to use "free" and "dispersed" camping simultaneously, as they are usually interchangeable, and that is most of the camping we do (and likely what you're looking for!). Dispersed campsites are quite different from what you will usually find at a developed campground.
Unless otherwise stated, plan for:
No bathrooms: Research ahead of time to determine local regulations of how to deal with human waste. Sometimes you may be required to bring a portable bathroom/toilet to pack it back out. Always follow Leave No Trace policies. Dig a cathode at least 6-8 inches deep and at least 200 feet of water to bury human waste and pack out your toilet paper.
No trash cans: Bring trash bags and prepare to bring them home with you!
No tables, benches, or shade coverings.
No water, sewer, or electric hook-ups.
Obtaining a fire permit before going and checking regulations in the area. Only use pre-made fire rings and make sure they're cold before leaving it unattended!
Spotty or no cell service: This can vary a lot based on the site, but it's always best to plan as if there won't be service.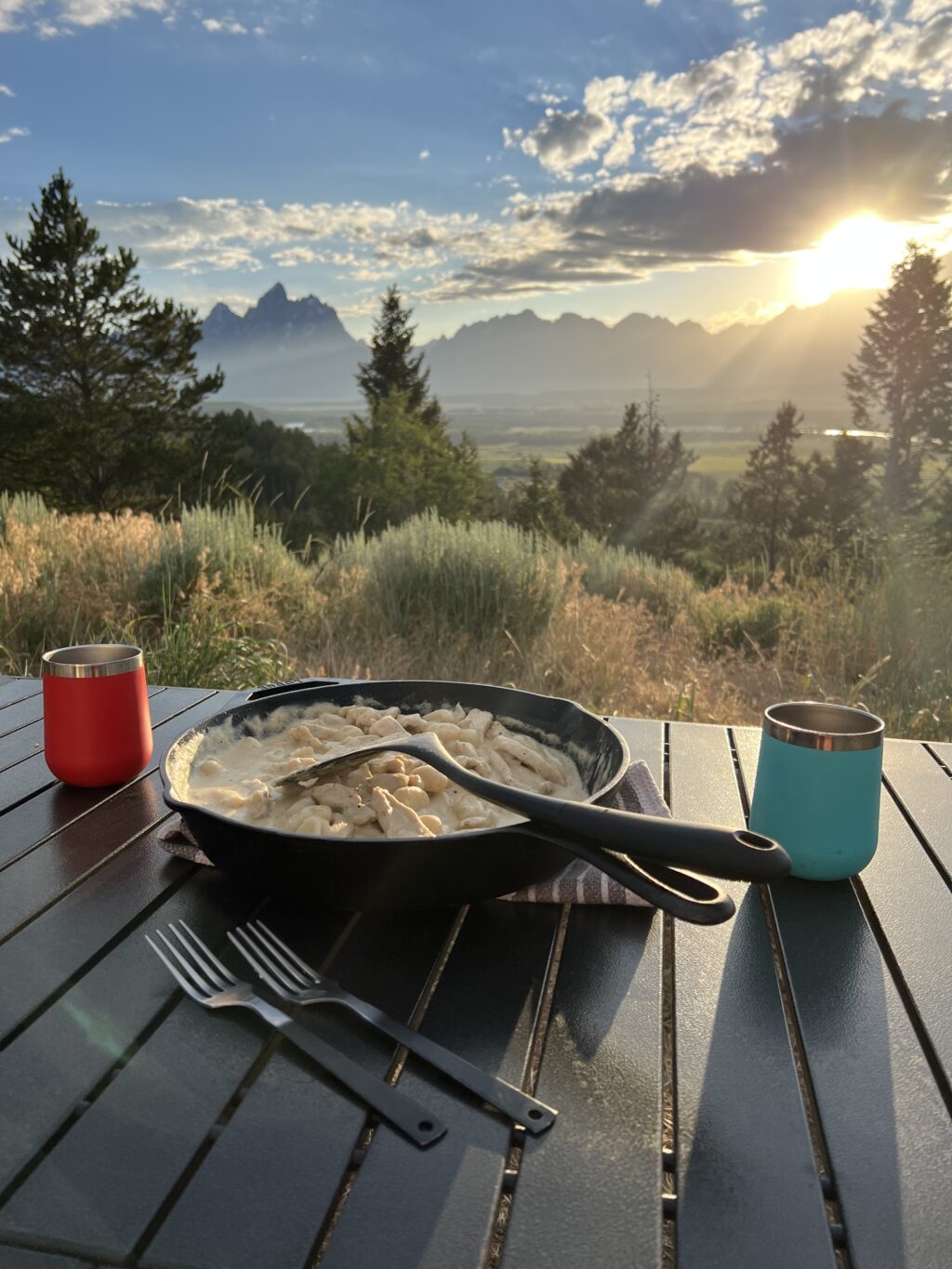 This means you need to prepare ahead of time to make sure you pack everything in (and are able to pack it back out!). Dispersed camping requires some extra flexibility and preparation, but is absolutely worth the work!
Where You Can Find Free Camping
There are many different places that allow free or dispersed camping in the United States, and some are more ideal than others. The first two listed locations are our favorites for epic campsites with amazing views and seclusion. The others act more as options for overnight stays while traveling or in desperate times, but are also free and are a great way to save money!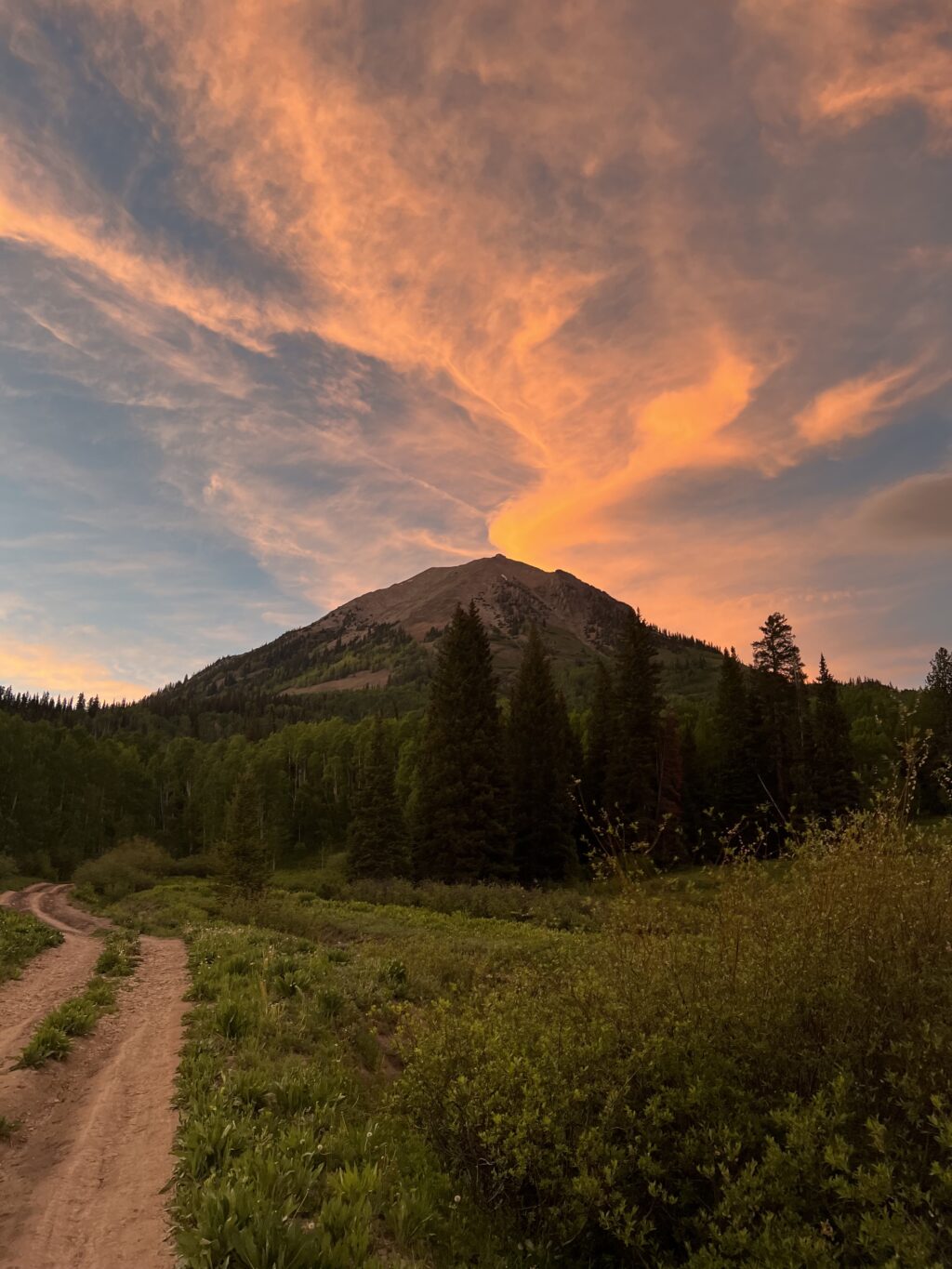 National Forest Land: The US Forest Service allows camping in many forests for free! The exact areas are determined by each forest, and these spots are usually more rural (i.e. not at trailheads or picnic areas). You can read more about National Forest camping here. Some regulations to expect in these areas are:

16 day stay limit. "After 16 days, you must move at least 5 road miles for camping in another dispersed area. Campers may not spend more than 16 days of any 30 day period at the same dispersed area." says the USFS website
Camp at least 100 feet from water.
Leave No Trace and know the fire restrictions before going.

Bureau of Land Management (BLM): BLM manages public lands across the country and offers dispersed camping on some of them! Not all BLM campsites are free (for example, they have quite a few in Moab that charge a fee), but many are. Read more about BLM dispersed camping regulations here. Expect:

14 day stay limit (this varies by location) within a 28 day period.
Follow Leave No Trace principles.
Check with the local BLM office for specific rules.

WalMart, Cracker Barrel, Costco and Other Parking Lots: These stores have been known to allow free camping in their parking lots for travelers. This definitely varies on location, and it's best to call before hand or go inside to ask about camping and to see if they have a preference for where you park. It's usually best to park closer to the back of the parking lot to avoid taking up spaces close by and for privacy. These stores don't need to allow this, so make sure to clean up after yourself and be respectful of the store, the lot, and employees!
Truck Stops and Rest Stops: These can be a great option for long travel days, as they're right off the highway and are pretty common to find. Usually you can park anywhere the large trucks are and stay the night. These stops can be pretty loud from the trucks running all night long, so we recommend bringing ear plugs and not expecting peace and quiet. We have actually stayed at both truck stops and rest stops quite a bit, and have never had any issues or felt unsafe! It's definitely a place you prefer to show up late and leave early.oyees!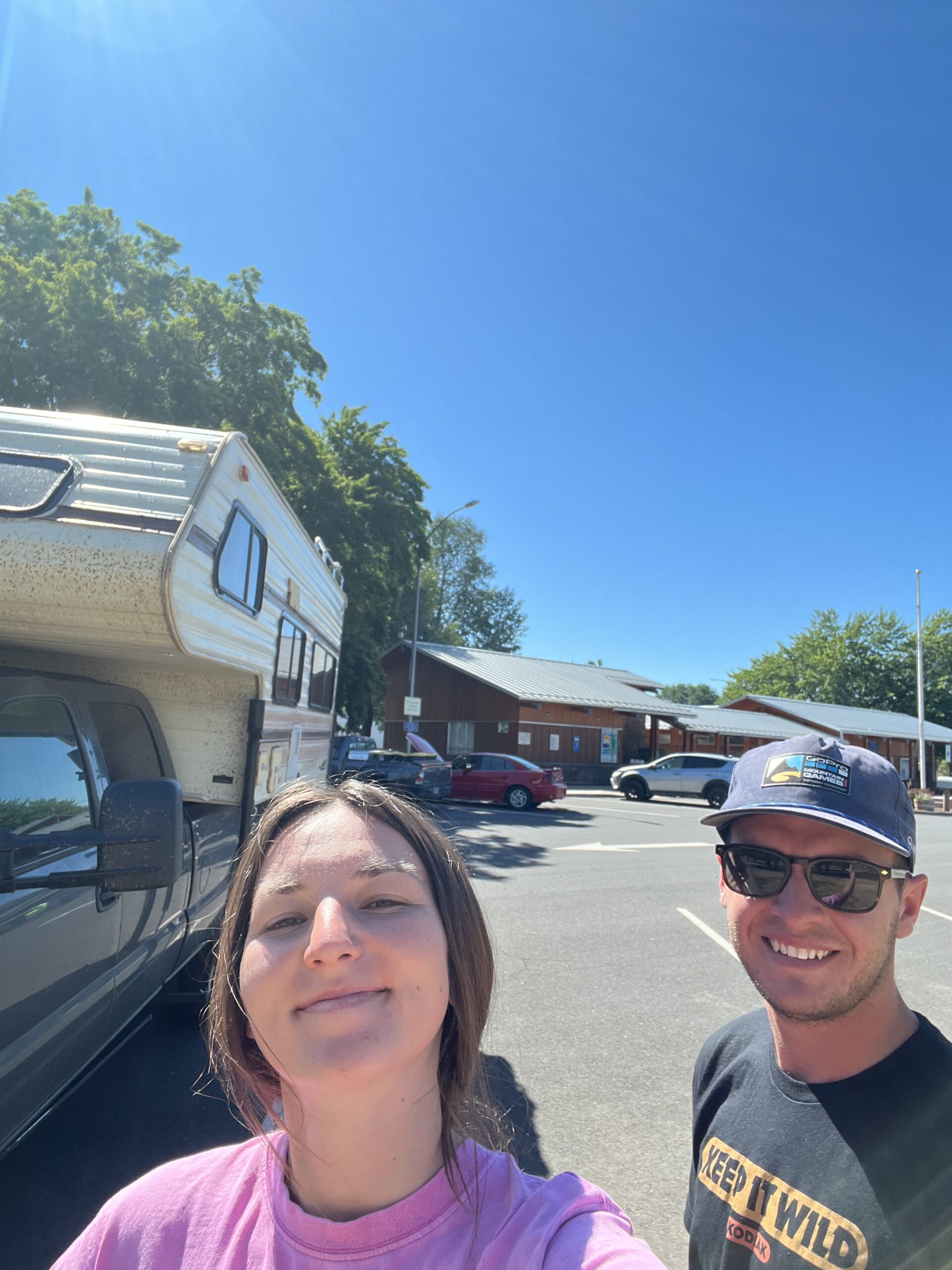 Fitness and Climbing Gyms: Anytime Fitness, Planet Fitness, and 24 Hour Fitness are common gym memberships for travelers and often offer overnight parking. Many climbing gyms are also hubs for people on the road and offer overnight parking in their lots. As always, it's best to call and make sure before having any issues!
Something to remember is that all of these places will differ based on their location, and some cities are much harder to find camping in that others. Sometimes cities will put regulations on any sleeping in cars, which will drastically change availability too. Many of these businesses don't need to allow overnight parking, and do so as a convenience for us! We always make sure to be gracious, respectful, quiet, and support the business if we can. This will help all of us continue to camp for free in the future!
How to Find Free Camping
There are tons of ways to find dispersed camping sites, from apps, to websites, to maps, to asking rangers, to word of mouth! We're going to cover the ways we find to be most useful to save you time on your next trip!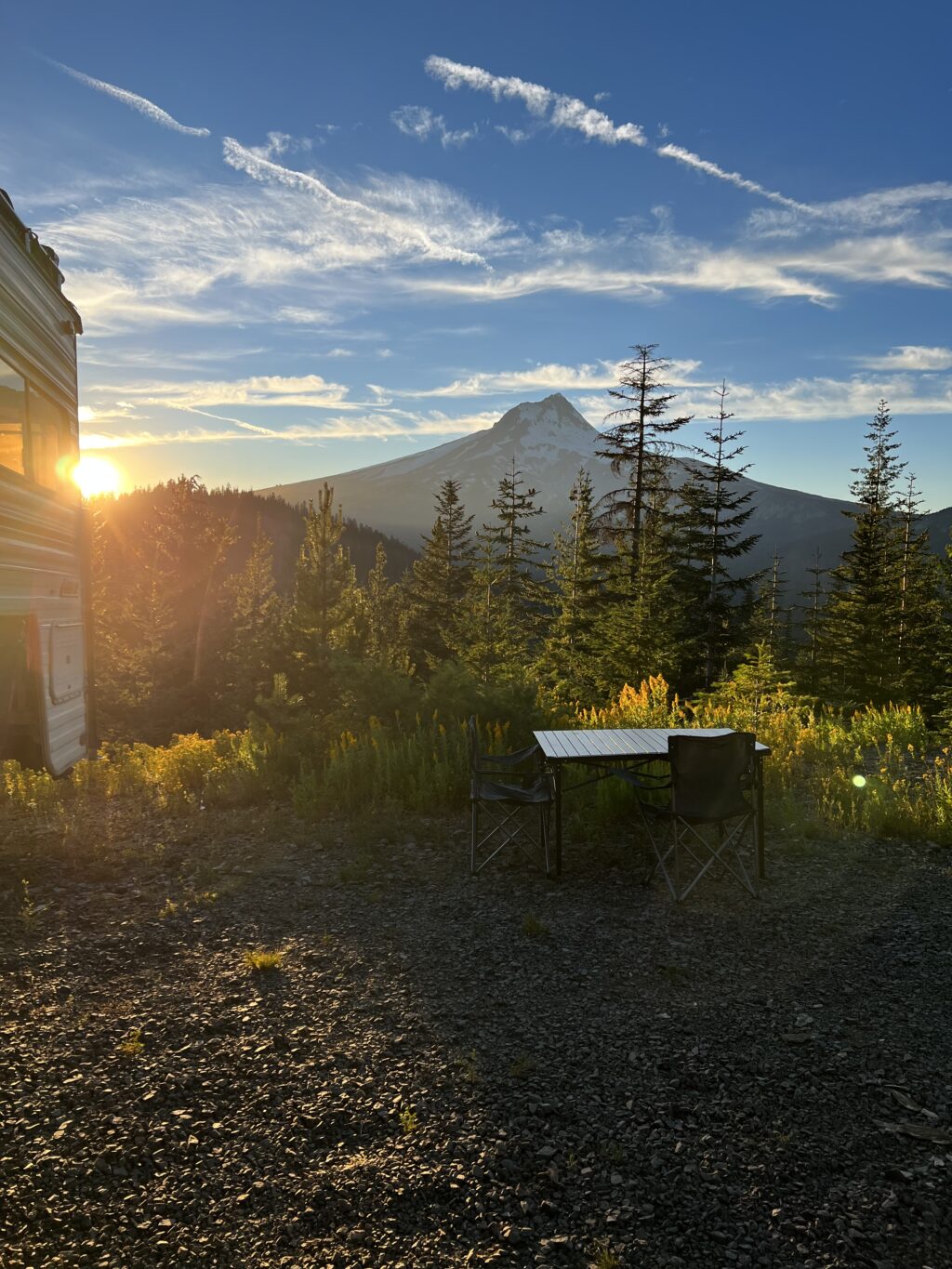 iOverlander: iOverlander is probably our number one source for all things roadtripping! The site is run almost completely by volunteers, and offers location finding for campsites (free and paid), water fill ups, dump stations, and other helpful places to know about for travelers and vanlifers. This website and app gave us the most detailed information about free campsites and seemed to have the most campsites listed. Free campsites are posted by people who have stayed there in the past, and they will often include photos, information about how to get to the site (or which sites are best), road conditions, and reviews from other campers.
Campendium: Campendium has been another great resource to use in conjunction with iOverlander. Looking through both will give you the most options nearby, may share spots the other app doesn't have, and gives you more access to reviews to determine if it's a good campsite. The best part about Campendium for us is that it has a section all about cell signal. Users can label how many bars of cell service they had by carrier, so we could tell if we'd be able to work at the site with our Verizon coverage.
USFS Motor Vehicle Use Maps: You can download these online here, or pick them up at local ranger stations. This is a great way to clearly understand where camping is allowed and where it isn't based on the map key.
Blogs: This is a great way to find those epic locations you've seen photos of! Blogs (like this one) can be incredibly helpful to find amazing campsites and get first-hand experience on what a stay is like.
Word of Mouth: Some of our favorite campsites have been ones we haven't been able to find on apps or websites, and purely find them from other people we meet while traveling or from others on social media.
Things to Note When Finding a Free Campsite
After sleeping at hundreds of free campsites, we've become much more used to searching for a few key things while looking for campsites to help us not waste time driving around, make sure we feel comfortable, and know ahead of time that we can access the site.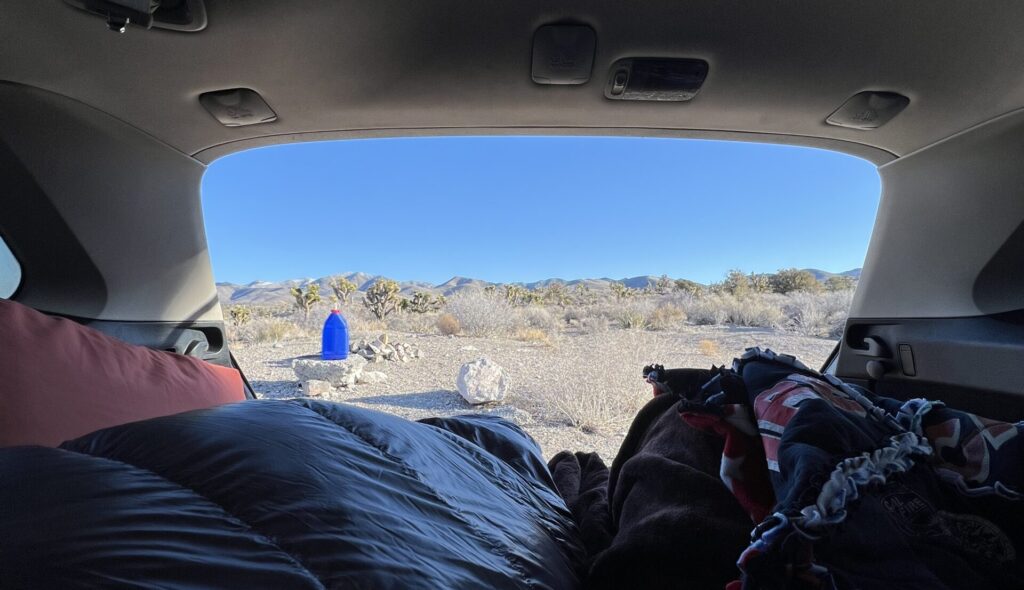 Recent Visits: These apps and websites have been around for a while, and sometimes the latest review of a campsite was in 2018. The likelihood that this campsite still allows free camping can be pretty slim, if no one has been there in a while. We usually will avoid going to these, as we find them to be possible time wasters if you drive all the way out and find out it no longer exists! We prefer to find reviews of someone camping at the site within the last 6 months.
Road Conditions: Many free campsites are located on rural roads that require high clearance and even 4×4. Reading the reviews of a campsite online can really help to determine if your rig can make it! Previous campers will often post the size of their vehicle and if they think you need 4×4 or high clearance to get there. This can also vary a lot on recent weather and rains, and roads can change drastically with some extra water.
Proximity to a Highway: Sometimes campsites will be right off of a highway or close to a road. These sites can be really noisy and not ideal for a good night of sleep! However, we have found that you don't need to be all that far from the highway to drastically decrease the noise.
Cell Service: It's really helpful to know if you are going to have cell service prior to getting to your campsite for the night. Many people will share on Compendium and iOverlander if they had cell coverage and what provider they use. If you aren't going to have cell coverage, we recommend bringing a satellite phone as a backup in case of an emergency. Make sure you also have the directions downloaded so you can continue onto the campsite once you lose cell service.
Popularity: Reviews can be really helpful for giving you intel into how popular a campsite will be. This will let you know if you need to arrive early in the day to claim a spot, or if you'll be fine rolling in after dinner. You'll also get a good idea for how loud it may be, and can decide if you're looking for more privacy or are open to a group camp!
Safety: We always prefer to find a campsite with numerous reviews. Sometimes the sites listed have only been used once and we have noticed that their experience could have been a "fluke." To ensure we won't get a knock in the middle of the night, we aim to find a site with plenty of reviews (and recent reviews) detailing a good experience, that they felt safe, and that there were no signs saying "no overnight camping." Ultimately, trust your gut and only stay in places you feel totally comfortable!
What to Pack for Free Camping
Because there are no facilities while camping in dispersed locations, you need to bring items you may not need at developed campgrounds. The most important factor is to be completely self-sufficient. You need to pack everything you'll need in, and pack it all back out too!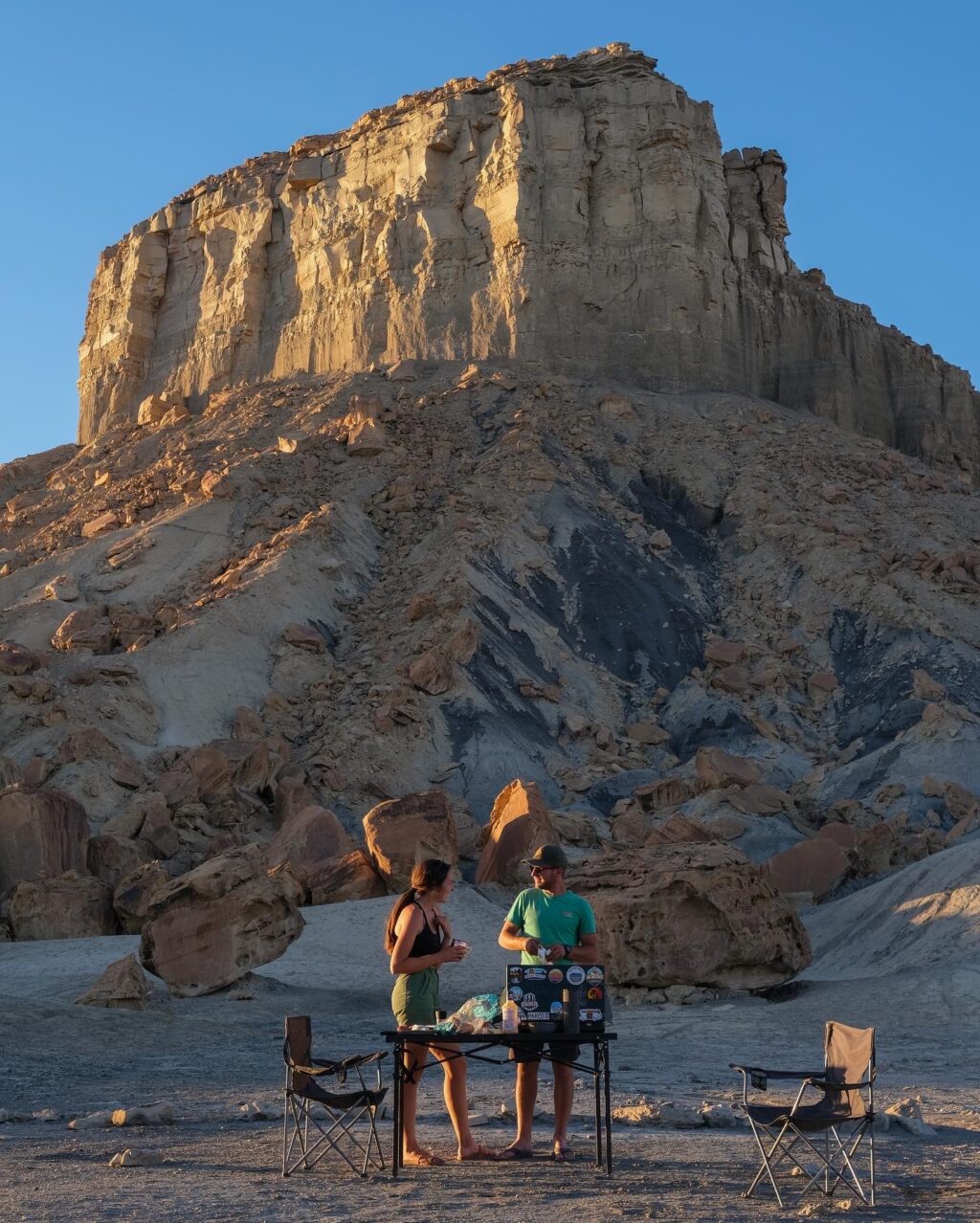 Every camping setup is different, but things we always recommend bringing are:
A tent: If you are going to be sleeping outdoors, getting a high quality tent is really important for protection from wind, rain, bugs, and the ground. This is a great option for 2 people (and they have a 4 person option too!).
Sleeping Bags: Check the weather and make sure you have sleeping bags that will keep you plenty warm! We currently use the REI Magma 15s for all of our cooler weather trip and can't recommend them enough.
Sleeping Pads: These are crucial for ensuring a comfortable night of sleep and for keeping warm! We use the same sleeping pads for backpacking and car camping, and sleep like a baby every time with them.
Pillows: For car camping, we always recommend bringing regular pillows because they're far more comfy! If you're tight on space, we use these pillows for backpacking and love them.
Camp Table: Because your free campsites probably won't have a table, you'll want to bring one. We love this table from Mountain Summit Gear because it's big enough to cook and eat on, and could sit 6 people around it. It's also super sturdy which we've found is hard to find in a folding table.
Camp Chairs: Good camp chairs are an essential! This is a simple and comfortable chair that will be tall enough to sit at the table with.
Water Jug: Bringing your own water is crucial and make sure you have enough or know where you can refill it. We use these 7 gallon jugs this will usually last two of us about 3-4 days if we're careful with dishes.
Cooler: This size will usually last two of us about one week. We prefer to freeze water bottles, as they often stay cold the whole trip!
Extra Propane: There is nothing worse than running out of propane mid-meal. We always have an extra propane bottle for our camp stove!
First Aid Kit & Safety Items: Something we always keep in our car!
Camp Kitchen Box: A box we keep stocked with all of our camp cooking gear so it's ready to go! Make sure to include extra batteries, lighters, matches, and multi-tools.
Extra Layers: Always always bring extra clothing to layer up!
Toilet Paper & Shovel: Not something you want to forget! Make sure to pack it out.
Plenty of Trash Bags and Ziploc bags
Dispersed camping can be an incredibly rewarding way to travel while saving money for future trips! We hope this post was helpful and inspired you to get out and find some amazing campsites. Please remember to respect the spaces you recreate in, so we can all enjoy them for years to come!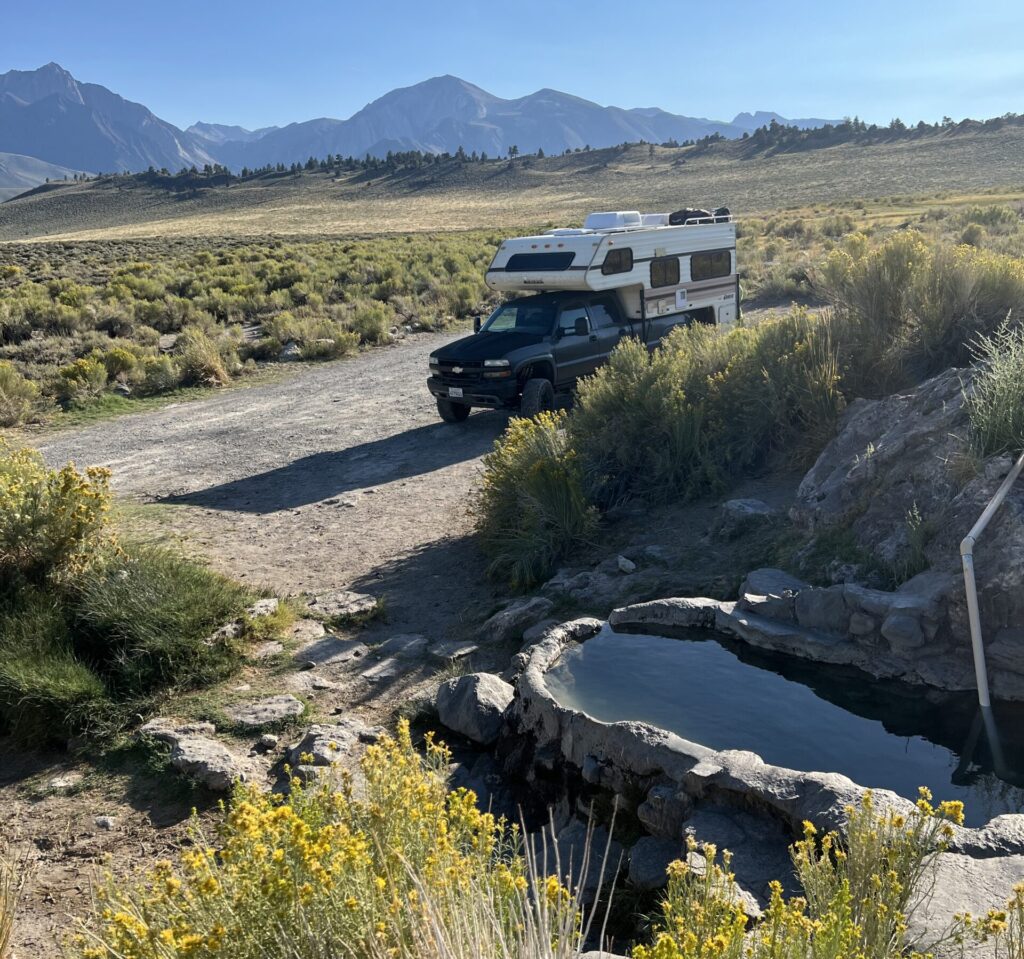 Want to learn more about how we car camp?