Disclosure: This post contains affiliate links. Some of these products link to amazon. As an Amazon Associate we earn from qualifying purchases. We may receive compensation if you click a link and buy a product we recommend. This comes at no extra cost to you! These products have been our favorite products for years, and we only recommend gear we absolutely love (and think you will too!).
One of the first steps to planning a backpacking trip is to make sure you have all the gear you need! We find it super helpful to have a written list of everything we plan to take. It makes it easy to check off items if we already have the gear, or once we buy it, and then check it off a second time once it gets packed the week before.
Having a list can make it much less overwhelming to pack, and its important to leave a few blank spaces for things you think of along the way (ie: a deck of cards, an extra jacket for cooler months, or some bear spray if you're headed into grizzly country).
We have compiled a list for a typical summer or shoulder season backpacking trip that you can download here!
We recommend printing it out and using both boxes for each item to make sure you don't forget anything!
Below you can read about each piece of gear we use, a little about it, and find links to buy it!
A few notes about this list:
We have created this list for a typical summer 2-4 night backpacking trip in the Sierras. Therefore, we talk about bear canisters, layers for cooler nights, and using a 65 liter pack. Your trip may differ from this! This list can still be useful, as most items are the same. Just tailor it to your location and trip length!
Everyone's needs and wants on a backpacking trip will vary! If you're headed on a summer trip in the desert, you likely will need more water carrying capacity, and less clothing layers and warm jackets. If you're going somewhere without bears, you don't need to bring a bear canister! If you're going on a one night trip, you'll likely be able to take a smaller backpack (50 L).
Human waste rules differ from place to place. If you're backpacking a more regulated trail (like Mount Whitney), you'll need to bring WAG bags instead of a trowel and toilet paper. This information can be found on National Forest websites.
We don't cover food in this list, and we will have a blog post (likely many) coming in the future regarding food! Our biggest tip right now: bring food you enjoy! If you don't eat it or like it now, you sure wont like it on the trail.
This is in no way an end-all, be-all list. If you don't mind wearing the same socks everyday, don't bring extra socks (although we recommend one extra pair in case your first gets wet!). If you really want to bring a deodorant and makeup, by all means, bring it! If you have a whole camera and tripod setup, and want to capture your trip, do it! Backpacking is meant to be enjoyable. Make sure you have the things you need and want, and ensure that you're going to be comfortable (relatively speaking). While not carrying too much weight is important (and a huge factor in comfort), its not about deprivation. It is about finding the things you truly need and want, and going from there!
Our Summer Backpacking Checklist: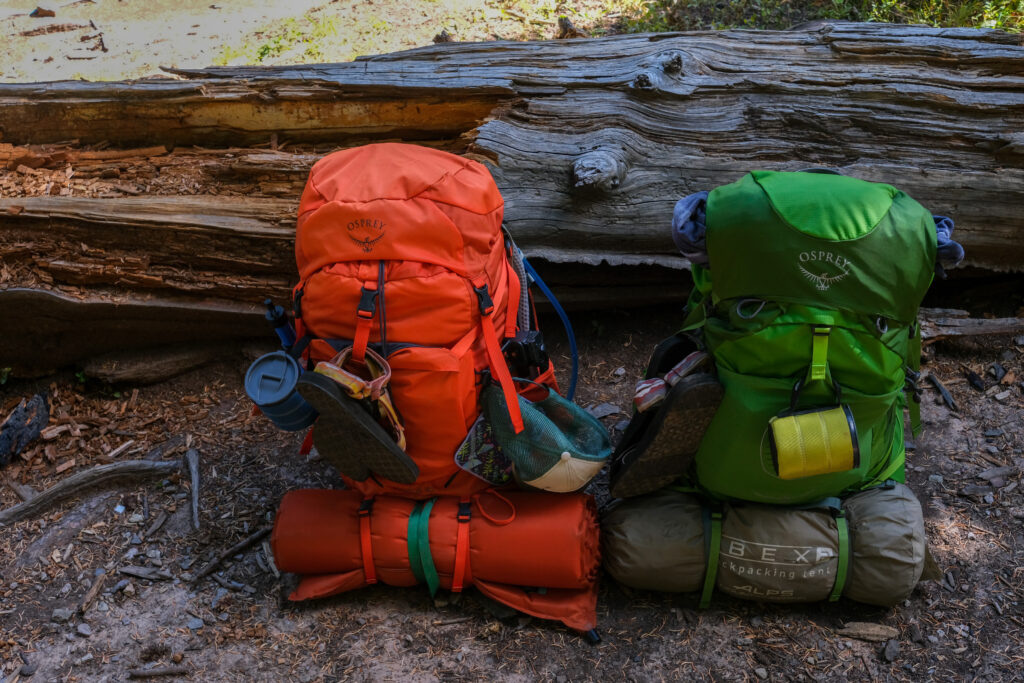 65 L Backpack: We are most often using the Osprey Aura 65L (Zoe) and the Osprey Atmos 65L (Kelby). The only differences are that the Aura is a women's style, and the Atmos is a men's. These backpacks are an investment! They are really high quality and will last as many trips as you can think of. They have plenty of small pockets for organization, a removable top pocket to make the pack smaller for shorter trips, and an Anti-Gravity mesh panel to keep your back cool on long hikes. We love these packs and couldn't recommend them more! They go on sale often also, so we would recommend looking out for those!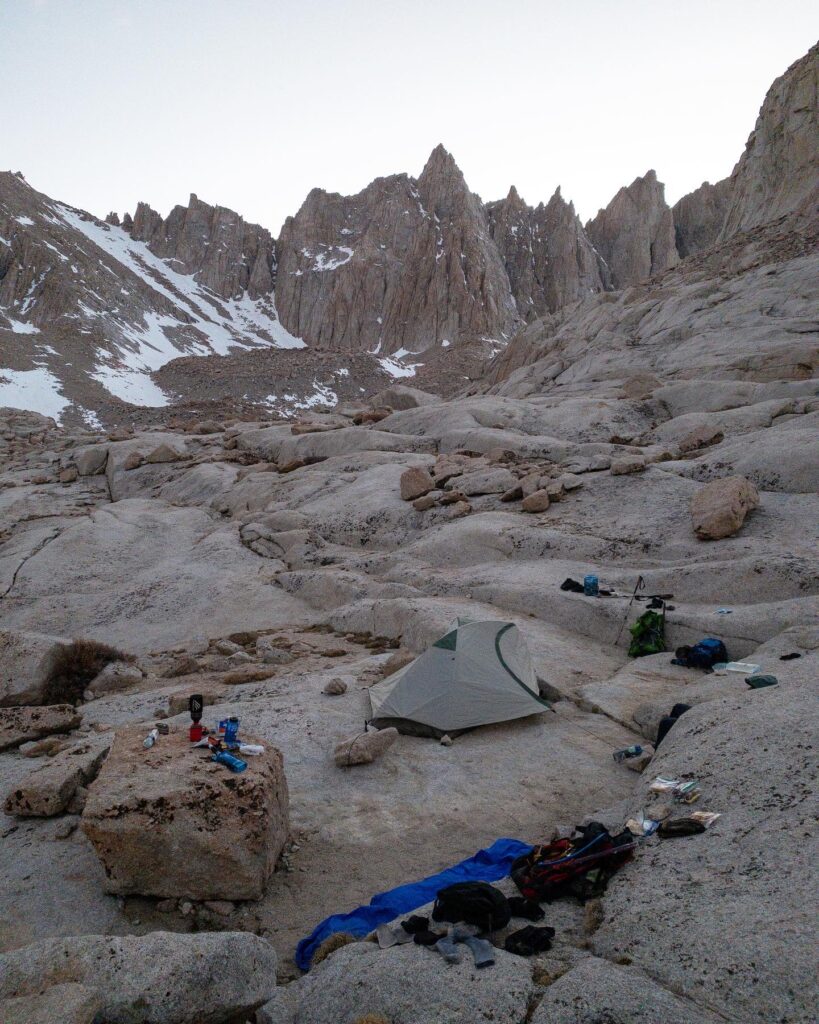 2 Person Tent: We have an Alps Mountaineering Zephyr 2 Tent that has worked perfectly for all of our trips! On warm nights, we leave the rain fly off and the entire top of the tent is mesh! This makes for great ventilation and stargazing. On cooler nights, with the rain fly on, we stay plenty warm. There are also 2 doors with 2 vestibules (covered areas by the rainfly) that fit our packs perfectly for when we think it may rain. This tent weighs in at 4 lbs 12 oz which is on the heavier side, however the price is unbeatable. This tent is a great price for the quality and use you will get out of it! Another similar great option would be this Marmot Tungsten 2 person tent (and it comes with a footprint!).
30 Degree Sleeping Bag: We currently use REI Trailpod 30s, however these are no longer sold. A comparable item would be the REI Trailbreak 30. We find a 30 degree bag is a great all around bag, as we can sleep on top of it, or with it unzipped on warmer nights, but stay plenty warm high up in the mountains. It can be hard to buy multiple sleeping bags, as you can only use one at a time. We feel for mountain lovers, a 30 degree bag is a great place to start! This bag weighs in at 2 lbs 8 ounces and is a synthetic fill (which is reflected in the price, as it is on the less expensive side). REI creates high quality sleeping bags that will last forever! You will need to buy a compression sack with the Trailbreak, as it doesn't come with one.
Sleeping Pad: Kelby uses the Thermarest Prolite, and Zoe uses an old Thermarest Basecamp from her parents. Both of these are great options and have kept us warm and comfortable on the trail! The Prolite is ideal for backpacking and packs up small enough to fit in the sleeping bag pocket of the Osprey packs with the sleeping bag.
Pillow: Zoe uses the Nemo Fillo Elite and Kelby uses the Klymit Pillow X. For the price and ability to stay inflated, we highly recommend the Klymit Pillow X!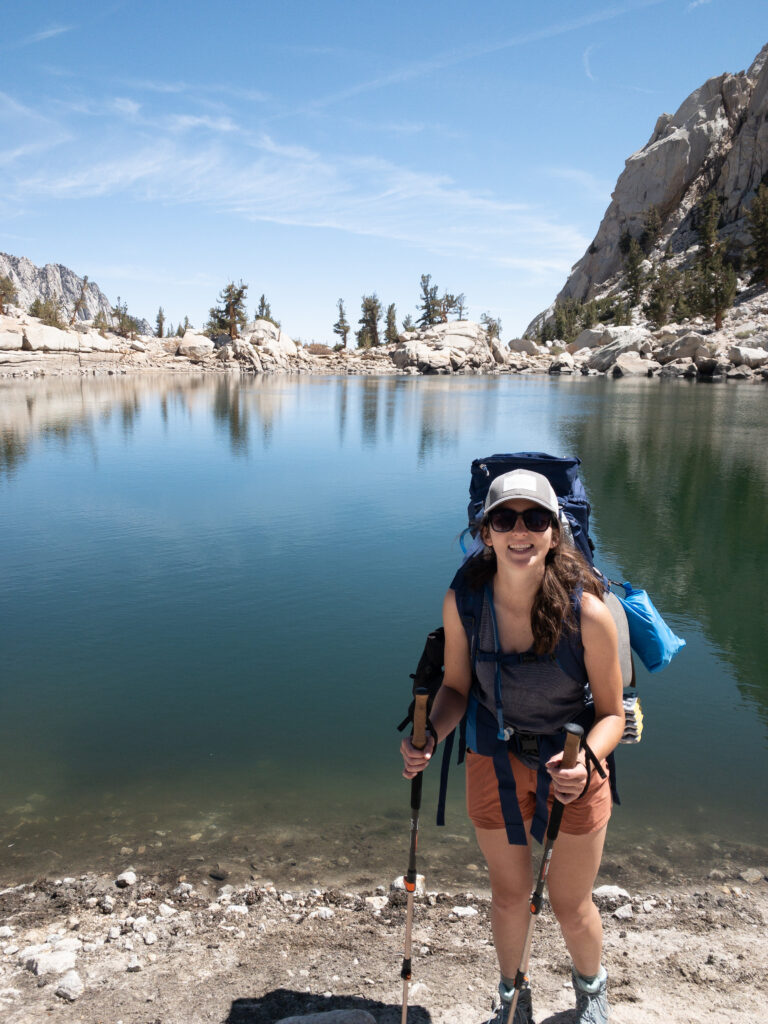 Trekking Poles: We cannot emphasize enough how much we love our trekking poles!! We have gone backpacking without them, and since we bought them, we cannot go back. They make steep inclines and declines way more manageable, and keep our knees happy on the descents. We use the REI Traverse Trekking Poles. We love these because they are easily adjustable and get very short for when we don't want to use them, and they have cork handles that don't get slimy when your hands get sweaty. Seriously, the most underrated backpacking item.
High Top Hiking Boots: We both (yes… both) have the Salomon Outline Mid GTX Boots. They're that good. These boots are so light that they feel like trail runners, but have ankle support and are incredibly comfortable. We both have never gotten blisters from these (even the first time out), they have little to no break in period, and they are even waterproof! What more could you want… really!
Camp Sandals: We love having a comfortable pair of shoes to put on once we get to camp and in the mornings. We love using our Teva Universals, as they are super lightweight, and you can wear them with socks in the cooler months!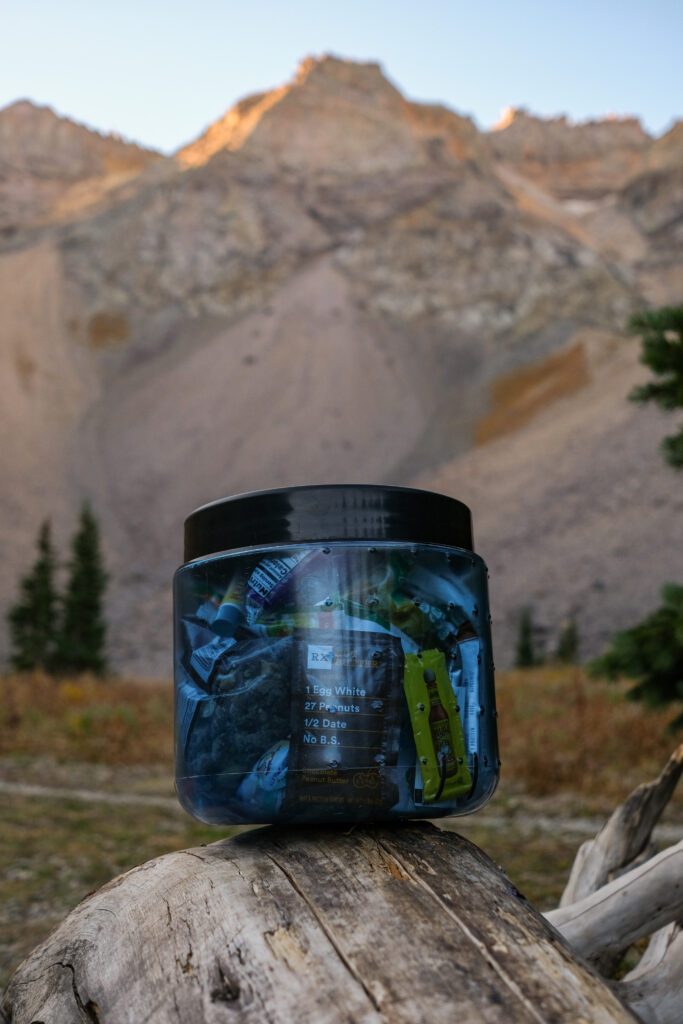 Bear Canister: We highly recommend using a bear canister when it is required and even just recommended. The Bear Vault 450 or Bear Vault 500 is a great way to ensure you will have food the following morning, and makes it super easy to put your food away at night! We have used hanging methods, but it often turns out to be a ton more work. We would rather enjoy our dinners, and not worry at night. We have actually been on trips in the Sierras where anyone nearby who hung their food got it taken by a bear. Meanwhile our bear canisters were untouched. Seriously, just do it.
Jet Boil/Fuel: We love bringing a Jetboil with us on all of our adventures, backpacking or just car camping! They boil water in 100 seconds, and make coffee and food so easy! Here is a link to the one we use. You can even add on the Coffee Press. For short trips, we will usually just bring a 100 gram fuel canister.
Mug: We both use the GSI Outdoors Infinity Backpackers Mug. Its lightweight, keeps our coffee and hands warm, and is great for oatmeal in the mornings too.
Spoon/Fork: We both use the Sea to Summit Alpha Light Long Spork. (Can you tell we like the same gear?) Its light, can hang from the pack to dry, and keeps our hands clean while eating dehydrated meals (long enough to get to the bottom).
Knife: We usually bring a multitool, because you never know what it will be good for. Heres a link to Kelby's favorite (but really any will do).
Buff: These are great for keeping your face warm, turning into a headband to keep sweat off your face, and just an all around napkin. Heres a link to some! You can also use a bandana!
Headlamp: A necessity, make sure it has fresh batteries! Heres one we use from Petzl.
Sunscreen: Whichever you use regularly! Then you can put it into a smaller container for traveling.
Toilet Paper: Just make sure you bring enough!
Trowel: We use TheTentLab The Deuce #2. Lightweight and gets the job done.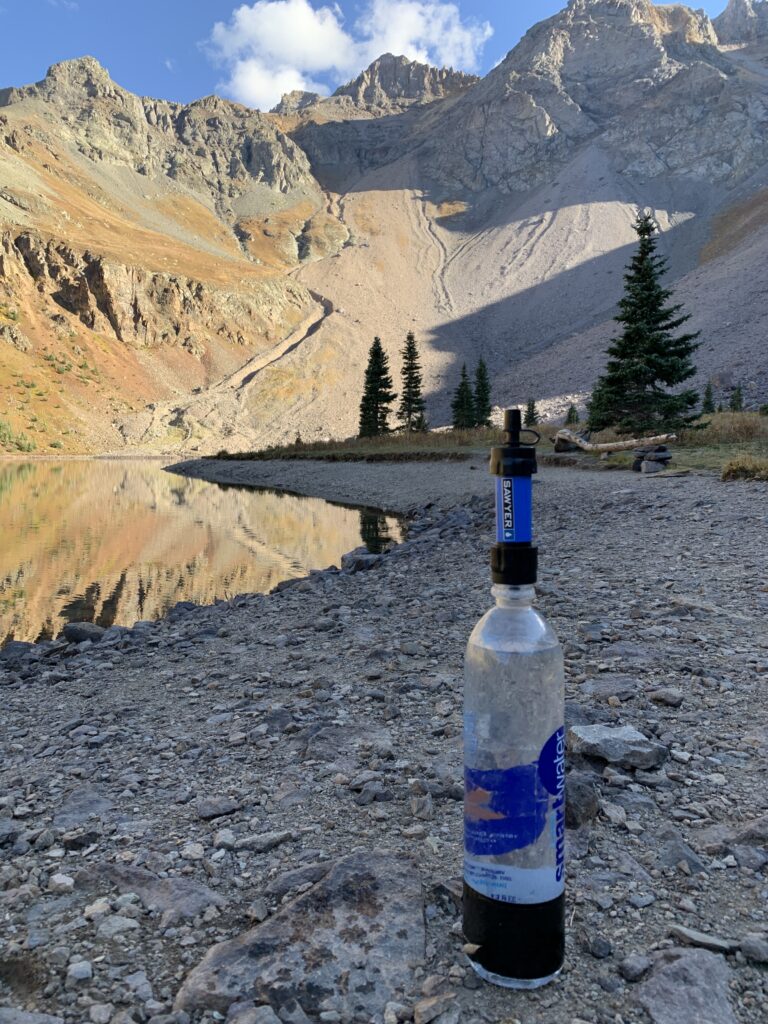 Kula Cloth: For the ladies! This is a relatively new member of Zoe's gear collection, and she cannot recommend it enough. They are antimicrobial pee cloths that help keep you clean, comfortable, and making it easy to Leave No Trace! Heres a link.
Zip Lock Bags: Always bring extra! These are great for wet clothing, dirty clothing, trash, toilet paper, and anything else you may need. They also come in handy if you find trash on the trails!
Navigation: One of the 10 Essentials is navigation, and this is crucial for safety on a trip (as well as peace of mind!). We currently use the AllTrails App for navigation. We each have a pro account, and can download the trail we are using prior to the trip, and see where we are on the trail. Some other great options (with the ability to call for emergency services) are the Garmin InReach and Spot.
Water Filter: We use the Sawyer Minis. They are super light and easy to use, and will last forever with proper care! They also screw right onto smart water bottles, and you can drink right from the filter! Plus, the price is unbeatable.
2-3 L Bladder: We like having a bladder we can drink from while we are hiking, rather than pulling out a water bottle. It keeps us hydrated and drinking water all day. Platypus has a great bladder that is easy to fill and close, and doesn't leak. We highly recommend using these Big Zip Evo Resevoirs by Platypus.
Extra Water Storage: On trips with ample water, we will usually bring a smart water bottle and a CNOC Outdoors Vecto 2L. The Sawyers screw directly onto these. The CNOC Vecto is easier to fill than the sawyer bags, and holds more water. On trips with less water available, we will bring an extra Nalgene to fill.
Lighter: We always bring 2 lighters (one for each of us). These are usually for lighting our jetboil (the self-lighters don't always work) or a fire (if they are allowed). They also are good for emergencies!
First Aid Kit: We go to a pharmacy and gather the things we need/want in our kit. We will cover this more in depth later, but a general list is: an ace bandage, benadryl, ibuprofen, zyrtec, bandaids, neosporin, alcohol wipes, and gauze. You can also buy a premade one here.
Moleskin/Blister Care: Crucial for possible blisters!!
Duct tape: You can wrap some a couple times around your water bottle. Just in case, it has saved us a few times!
Paracord: Another just in case… A few yards should do. We wrapped Zoe's boots with paracord when they fell apart on the Mount Whitney Trail.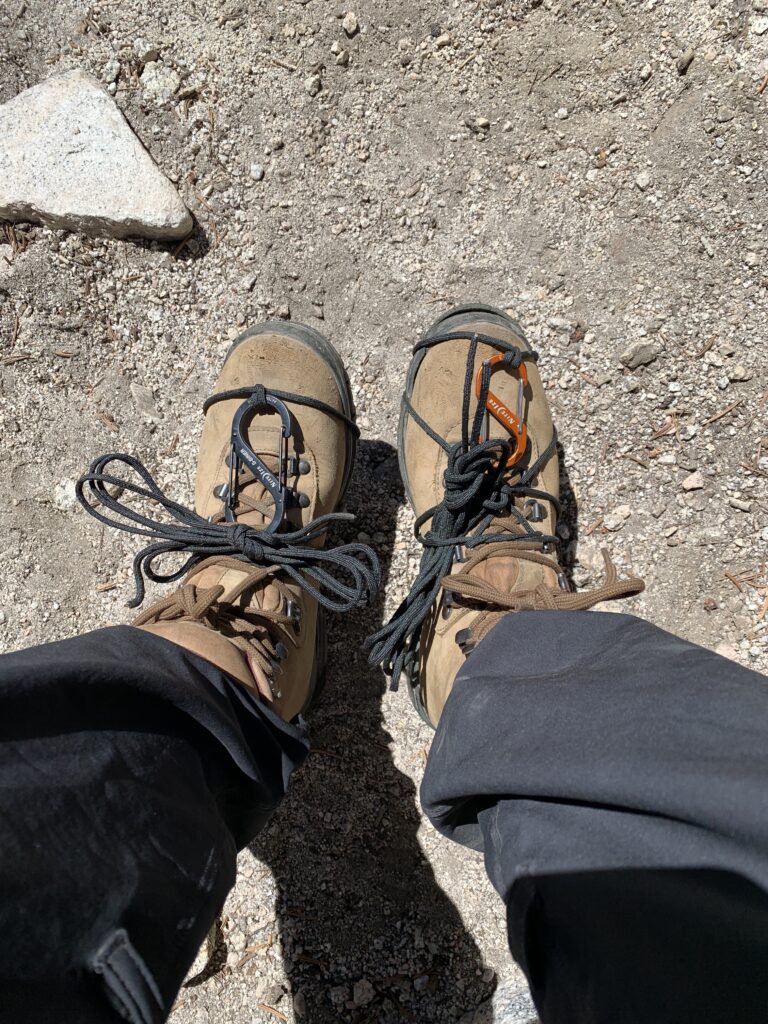 Battery Pack: We use these for charging our phones and cameras (keep your phone in airplane mode and the battery lasts way longer). We use the Anker PowerCore 20100. It charges our phones at least 5 times each!
Hat/Sun Protection: The sun can be super intense in the mountains or the desert, and it is crucial to keep yourself cool and protected from the sun. We always bring hats and sunglasses, sunscreen, and long layers in case the sun is intense! Avoiding a sunburn will keep you much more comfortable, and having sun protection can keep you cool. Dehydration and heat exhaustion/stroke are no joke!
Emergency Bivy: This is a piece of gear you'll need to purchase and hope to never use! We use the LifeBivy. This is for an emergency shelter and survival shelter, for use in emergency situations. We have never had to use it, but bring them on every single trip! Being prepared for emergencies in the backcountry is absolutely necessary.
Socks: Good socks are super important! They keep your feet happy and prevent blisters. We love wool socks! We really LOVE these wool socks from REI. They are great for hiking and also for hanging out at camp.
Underwear: Anything but cotton!
Rain Jacket: Even when the forecast doesn't call for rain, this is a nonnegotiable for us. Weather patterns in the mountains change very quickly, and staying dry is KEY! We use the Marmot PreCip Jacket.
Fleece Jacket: Fleece jackets keep you super warm, and don't stay wet like cotton does. We both have fleece jackets from Patagonia and bring them on every adventure.
Puffy Jacket: We may bring a puffy jacket depending on expected temperatures! We love our puffys from Black Diamond. Here is Zoe's. Here is Kelby's.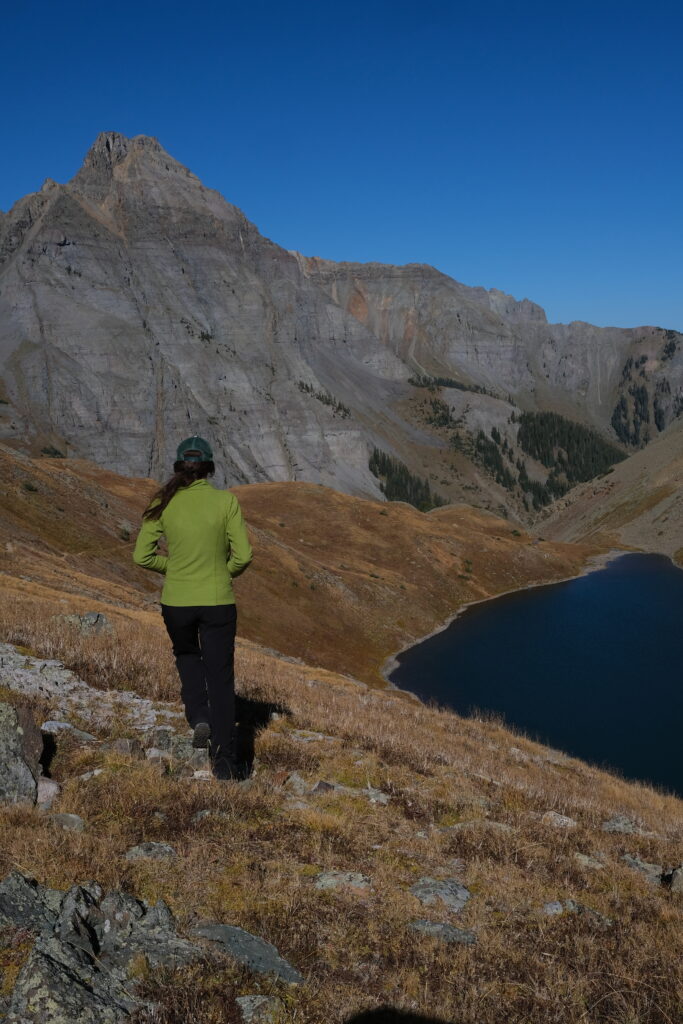 Long and short sleeve: Anything but cotton! Its great to have one of each depending on weather and also for layering! We both use athletic shirts from companies like Nike and Colombia.
Shorts and pants: Kelby usually brings a convertible pair of pants, and Zoe brings one pair of shorts and one pair of pants. We will also both bring a pair of long johns/leggings if we are going somewhere colder.
We hope this was helpful! Feel free to ask any questions regarding any of the gear or what to bring on your next trip. Remember, gear does not have to break the bank! All of our gear has been gathered over years and years. Gear can also be rented, bought used, and borrowed! Whatever gear you can get your hands on is great if it gets you outside!