Disclaimer: This post contains affiliate links. We may receive compensation if you click a link and buy a product we recommend. This comes at no extra cost to you! These products have been our favorite products for years, and we only recommend gear we absolutely love (and think you will too!). We really appreciate your support!
Hiking footwear is one of the most important pieces of gear in our collection (and should be in yours too!). Finding a good pair of boots can be a ton of work! Everyone's feet are different, some boots rub in the most uncomfortable places, the sole will have too much or not enough arch support, and some shoes last less than a season of hiking. We are here to tell you, it doesn't have to be this way!
We have become super passionate about hiking footwear in the past couple of years. A good pair of hiking shoes will keep you happy and moving with ease. A bad pair (or an ill-fitting pair) will make your adventures miserable. We have had numerous bad pairs of hiking shoes. Between blisters, aching arches, boots that completely fall apart, and shoes that wear out after one hike, we've been there, and are never going back! There aren't many other pieces of gear that can make or break your trips like footwear! Happy feet equal happy hikers!
What type of hiking shoes do you need?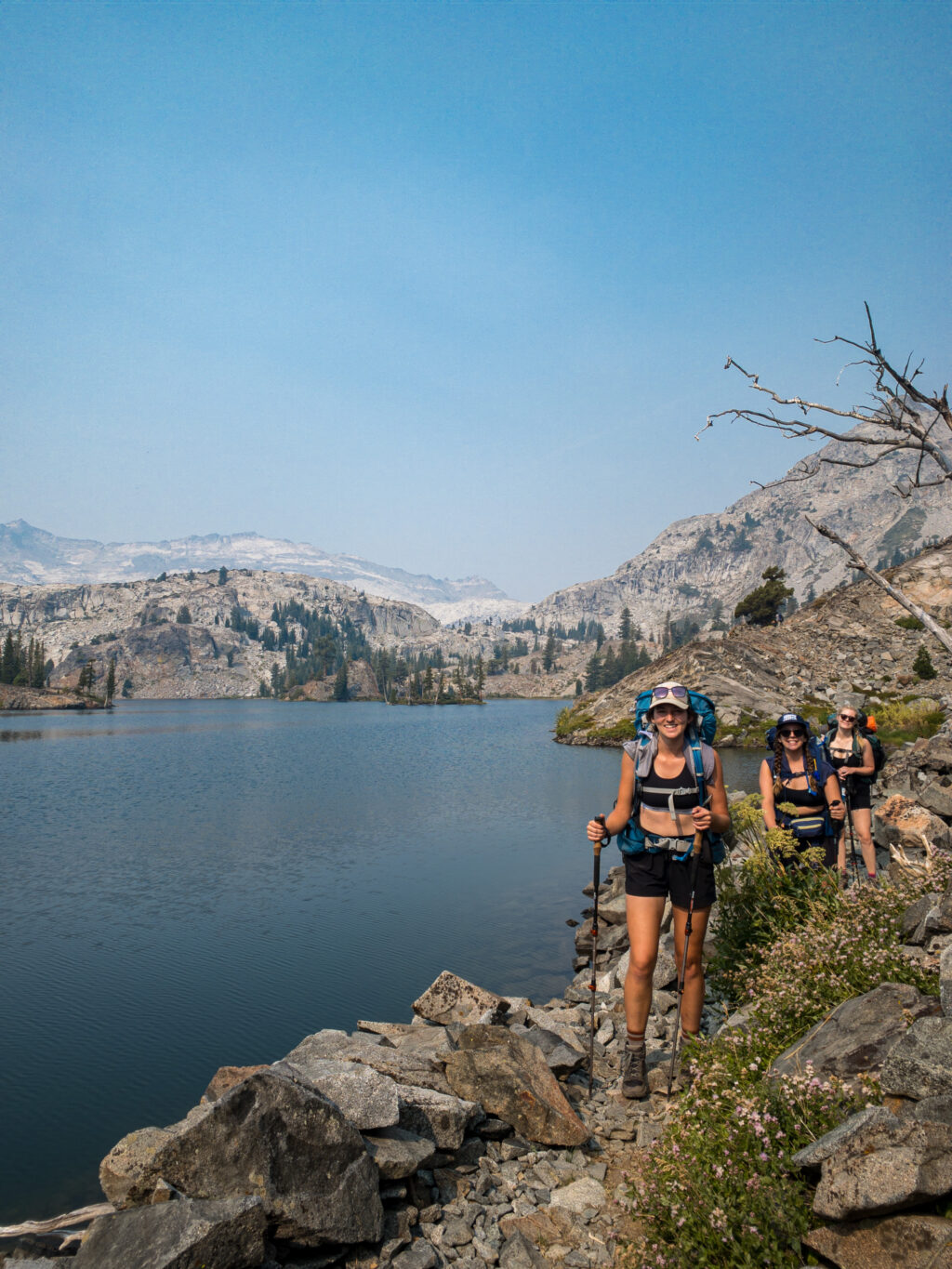 The first step to finding the best hiking shoes is deciding what they will be used for. There are a few styles to choose from: hiking shoes/trail runners, lightweight hiking boots, or heavier boots. If you are planning to only go on day hikes, you will likely want a trail runner or lightweight hiking boot. These will be much more flexible, comfortable, have a quicker break in period, and will feel closer to a normal tennis shoe. Trail runners will have less ankle support than boots, which is something to consider based on physical strength (and ability to not roll your ankles on unsteady ground!).
For backpacking purposes, most people will want some sort of ankle support. Having a boot that covers your ankles makes a huge difference when carrying 30+ lbs on your back. Boots come in so many different styles, and the most important factor is that they are comfortable! Heavier leather boots are best for colder trips, snow travel, and when your pack is very heavy. Backpacking boots can also be great for people without strong ankles or really long days on the trail. Lighter hiking boots are great for most summer and shoulder season trips.
What should you look for in a hiking shoe?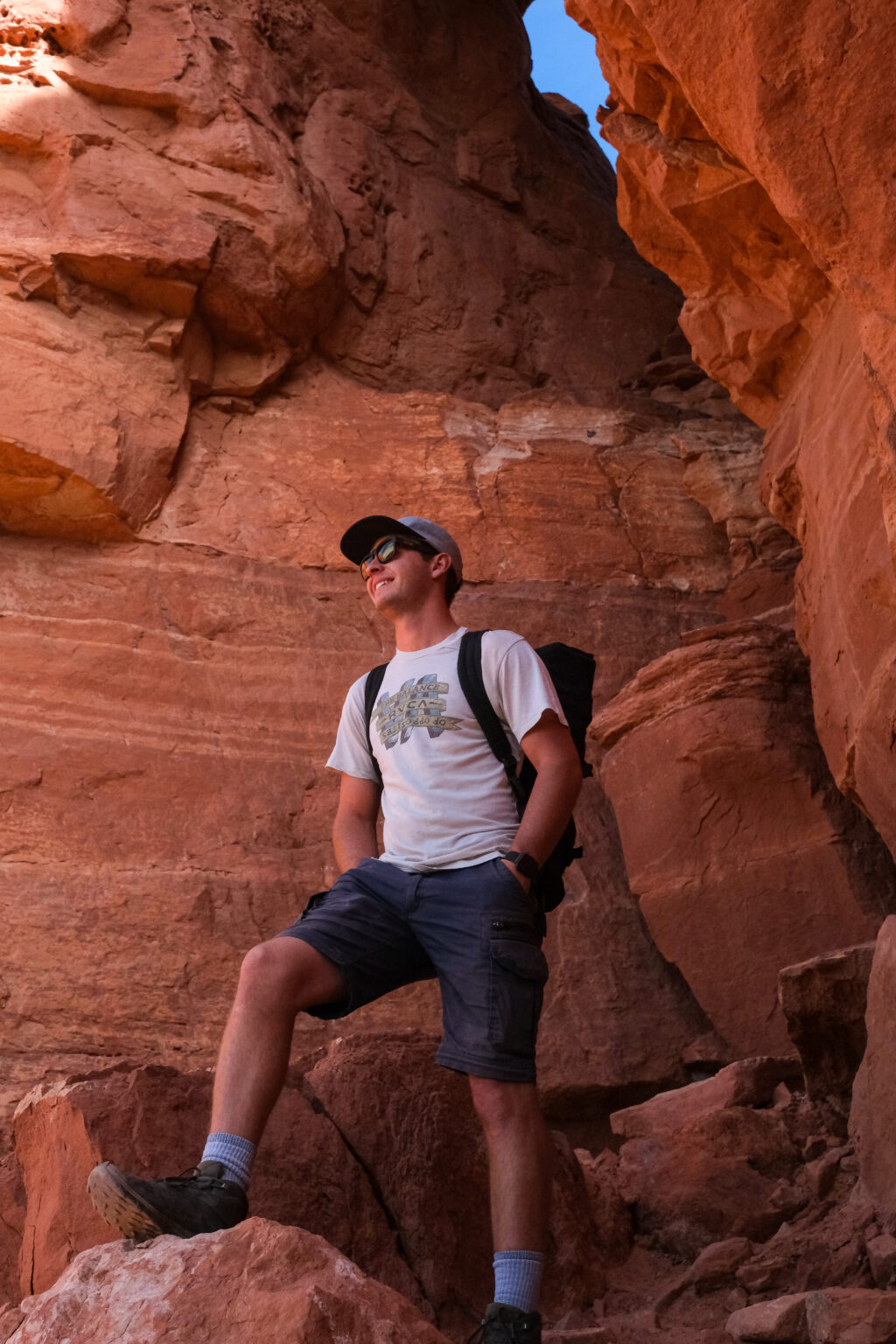 Comfort: First and foremost, your hiking shoes should be comfortable! We have both tried on tons of hiking shoes before we found ones that fit our feet properly. Going to a store like REI can be great to try on numerous brands and styles of hiking shoes to figure out exactly what you like. Make sure to wear socks you would wear on the trail (thicker) (we love these ones from REI), and walk around the store in them! Seriously, do some laps. This is the only way to be sure they are feeling good after a few minutes!
Material: The most common materials hiking boots are composed of are leather or a synthetic material. Leather boots will often be heavier, more supportive, and more durable, but will require much more break in time. Synthetic boots are usually lighter, more comfortable, and have a much faster break in period. We have had much better luck (and a lot more comfort) with synthetic boots, and we really appreciate not having to break them in as much!
Fit: When you try on hiking shoes, lace them up as you would on the trail. There should not be any spots that feel like they are poking, pinching, or causing discomfort. If you are already feeling these, they will amplify on the trail! There also shouldn't be any voids when the shoes are laced. Try walking on an incline and decline, and make sure your toes aren't hitting the front of the shoe. If you have felt this on long downhills before, it can be brutal.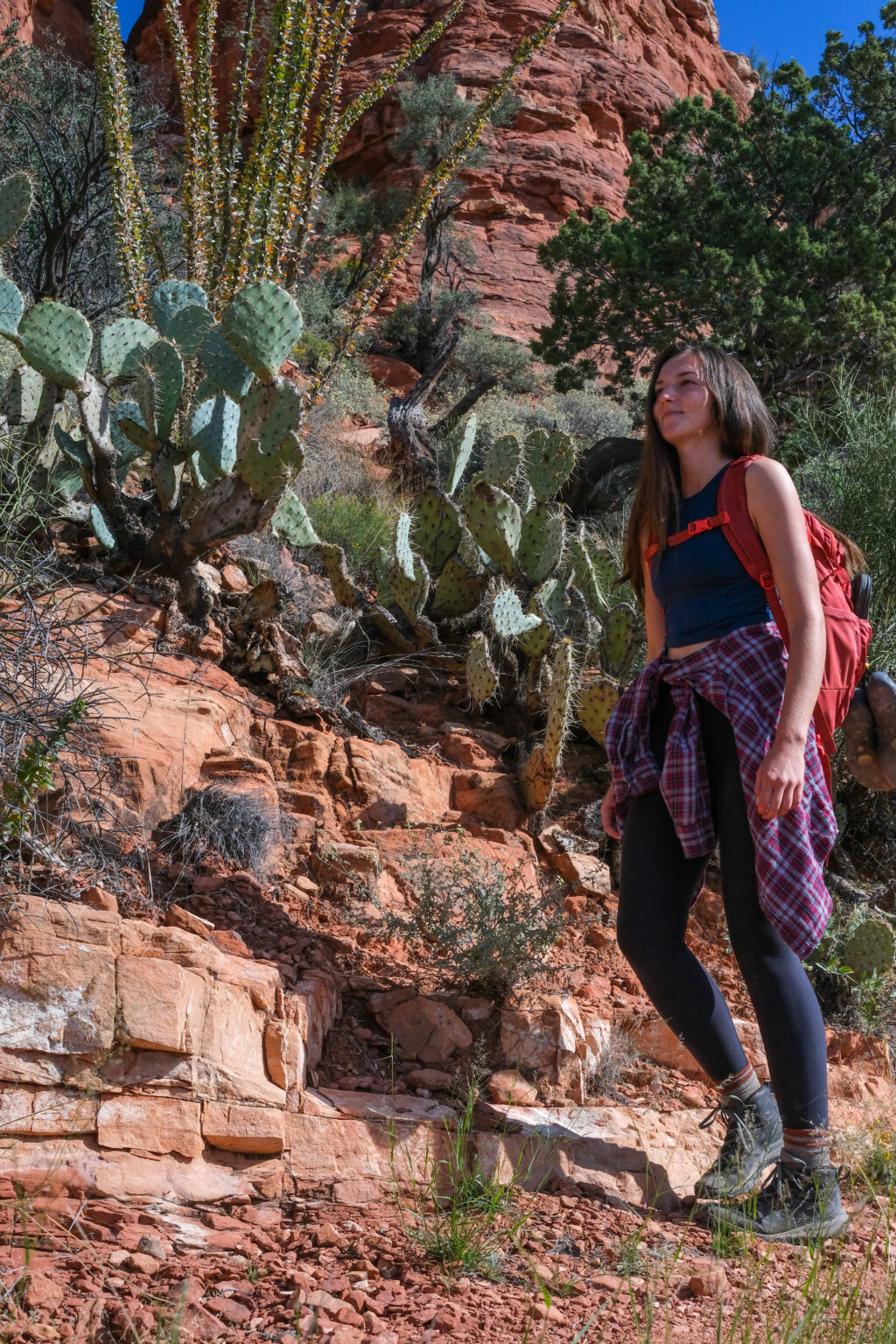 Waterproof: Choosing to buy waterproof shoes or not can be a difficult decision! If you are going to be spending more time hiking in the desert, don't plan to hike on trails with creek crossings, or aren't going to be in an area with possible rain, waterproof boots may not be necessary! We choose to buy shoes (most of the time) that are waterproof, as many trails in the mountains require crossing shallow streams or are prone to afternoon rains. Having the ability to cross water and not having to worry is super important to us (and comes in handy often!). That being said, waterproof shoes are typically more expensive and can be hot and sweaty on summer hikes, as they aren't as breathable. Also, contrary to how it may seem, if you are planning on crossing deep water (anything deeper than your shoes), a non-waterproof shoe is the way to go, as once waterproof shoes get wet from the top (inside), they will take much longer to dry than a non-waterproof shoe. Our Salomon shoes all have Gore-tex which guarantees a high degree of waterproof-ness (no hiking shoe is 100% waterproof forever) in shallow water.
If I am going to buy one pair of hiking shoes, which ones should I buy?
Everyone has their own opinion on hiking shoes and boots, and which ones are best. In our opinion, if you are looking for one shoe to cover all your trips, we recommend a lightweight hiking boot. We love having the ankle support on backpacking trips and steeper hikes, but also appreciate the lighter weight and breathability! Our packs are already heavy enough, lets not make it any heavier!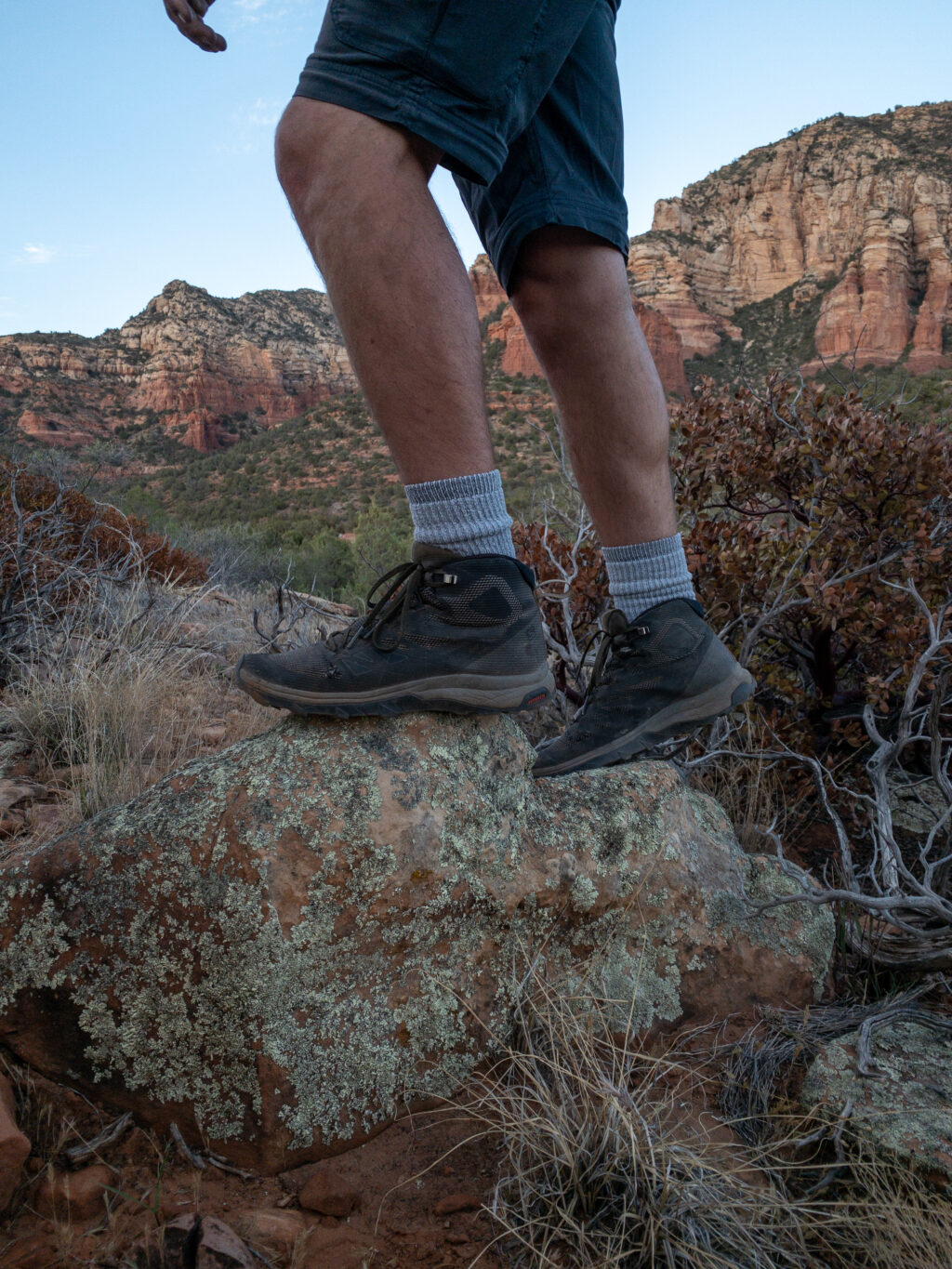 We both have a pair of Salomon Outline Mid Gore-Tex (GTX) boots that we wear on 90% of our trips. Whether its a summer desert trip, a spring backpacking trip with some snow patches, or a fall hike with numerous river crossings, these boots keep our feet super happy. A pair of lightweight, Gore-Tex, comfortable hiking boots is a great option to cover most trips. If you are hoping to get away with buying one pair for all of your adventures, these boots are a great way to go!
The Salomon Outline Mid GTX boots have been our favorite hiking shoes either of us have ever owned. They are so great, we both had to buy a pair! They had little to no break in period and have never given us blisters! That's HUGE! No hot spots, no discomfort, no pinching, nothing. They have gotten us to some beautiful alpine lakes, across huge rivers, the tops of peaks in the Sierras, and across the slickrock here in Sedona for the past 2 years. Best of all, we are never dying to take them off when we get back to the car. These are boots we can hike in all day, and then wear to the brewery to grab dinner after.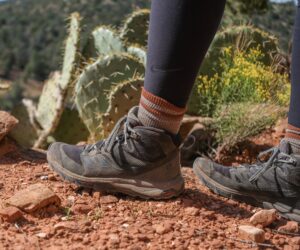 If you still aren't convinced, back in February of 2021, we went on a backpacking trip in the Sespe Wilderness in southern California. On our final day, Zoe managed to fall into the river while we were boulder hopping across, and was soaked from head to toe. Gore-tex shoes are known for staying wet once they get wet on the inside (because of the waterproof lining). We had 10+ miles left in the day, and there was no way to dry them fast enough. She hiked the entire rest of the day in sopping wet shoes, and STILL didn't get a single blister or hotspot. Her feet were totally fine when we got back to the car. That sealed the deal for us.
Aside from these shoes, Zoe has the Salomon X Ultra 3 Gore-tex, which are great for cooler temperatures and are sturdier. They are also super comfortable and easy to break in!
Zoe also loves her Salomon Spikecross 5 Goretex trail runners for hiking and trail running! Both of these styles are available in Men's and Women's!
All in all, Salomon has been a brand we trust with all of our adventures, and feel you cannot go wrong with any of their shoes. These shoes will last years and years and will keep your feet (and you) happy and ready to hike!
Curious about other gear we love? Check out our backpacking checklist and all of the gear we have been bringing on our trips!
We recently wore these boots on our trip to the Blue Lakes Trail in Colorado!